Are you considering a new worktop for your kitchen or bathroom? It's one of the quickest ways to add visual impact and functionality to these practical spaces if you're looking to enhance your home post-lockdown. 
There are a huge range of worktop materials to choose from, all with different pros and cons to consider. Natural stone worktops, though, tend to be the material of choice for savvy homeowners who value timeless, impactful renovation materials that are made to last. 
If you're considering installing a natural stone worktop in your bathroom or kitchen, there are lots of exciting decisions for you to make and the journey starts with learning more about what's on offer. Read on to find lots of helpful information to help you learn more about the beautiful world of natural stone worktops and how they can transform any bathroom or kitchen space: 
What Are Natural Stone Worktops? 
Natural stone worktops are beautiful, durable and robust slabs of marble, granite or quartz. 
Marble and granite worktops are high-grade, 100% natural products, cut from huge slabs of uniquely patterned stone that comes with all kinds of toning, marbling, veining, speckling and colouring. 
Quartz is a little bit different, and is created using a mixture of natural stone and manmade materials. This innovative combination creates a highly sought-after natural worktop result, because it has all the qualities of natural stone, but with added resiliency, strength and durability. 
Why Choose Natural Stone Worktops? 
Natural stone worktops can be more of an investment compared to options like laminate. Whilst laminate has a place when it comes to budget-friendly, lower quality worktop choices that provide a purpose short-term, options like marble, quartz and granite are undoubtedly of a much higher grade. 
With natural stone worktops you can expect elevated functionality, aesthetic and durability that is designed to last. It's an investment, and an instant upgrade, as the professional installation of any natural stone worktop transforms the space quickly into one that oozes quality, timelessness, class and the kind of premium quality you only get from stunning marble, granite and quartz products. 
Key Natural Stone Worktop Benefits: 
Easy to clean 

Beautiful aesthetic

Boosts the value of the property

Retains value over time

Can last many years with the right maintenance

Scratch and chip resistant

Many unique styles to choose from

Marble and granite are heat resistant

Quartz does not require resealing
Natural Stone Worktops – The Perfect Addition To The Bathroom And Kitchen 
If you're considering a natural stone worktop for your home, the two rooms that most lend themselves to the functional and aesthetic benefits of marble, granite and quartz are the bathroom and kitchen. 
Both rooms require a substantial investment to upgrade them to a high standard. For that reason, higher grade materials like marble, quartz and granite make sense, because the money and time you put in is returned in a boost in house value, room functionality and visual impact. 
Both rooms also benefit from the vast amount of tone, texture and patterns on offer with natural stone worktops. Whether you want a rich, sumptuous, moody en-suite with just a touch of silver sparkle, or a neutral and serene taupe kitchen with added flow and interest across sandy coloured streaks, there's a worktop to suit your needs. 
To help you, here are some ideas for incorporating natural stone worktops into a bathroom or kitchen: 
A Touch Of Sparkle
Bathrooms and kitchens look phenomenal with a granular natural stone worktop. This look can be found naturally in granite worktops, or in quartz worktops where the crushed stone has been added to create special flecks of light-reflecting colour and visual interest. It's the perfect choice if you love neutral tones, but you want a little something that catches the eye and enhances the room overall, without being too overpowering. 
Solid-Colours Are Anything But Boring
Many people choose to use solid-tone natural stone worktops in their kitchen to keep the look clean and simple. A combination of grey tones can maintain this simplicity, whilst also adding a little more interest and depth overall. 
Minimalism
If you're on board with Japandi or Swedish Minimalism, these serene and calming interior design aesthetics are an especially great match for natural stone worktops. 
Aesthetically, there are endless neutrals to choose from, with lighter granite, quartz and marble working particularly well with the Scandi-wood that dominates the style, and the splashes of black metal introduced by Japandi. In addition, the entire minimalist lifestyle leans away from consumerism and encourages the use of high-quality products that last a long time. Marble, quartz and granite worktops are designed and installed with high-quality craftsmanship, and with the stone's natural durability and hard wearing features, this timeless addition to your kitchen can last decades. 
A Touch Of Luxury In The Ensuite
Post pandemic there are some strong signs that we are all, globally, taking care of our health more, especially in the UK as health care systems like the NHS seem to be further out of reach week by week. For many people, this has meant adding health features to the home. Yoga decking outdoors, cosy nap corners for mental wellbeing, home gyms and, in particular, spa-like en-suites and bathrooms. 
Family bathrooms don't see as much health luxury in their design because it's not necessarily functional to go in that direction when you have a family. En-suites, though, are getting a real makeover with: rainforest showers, integrated smart-tech, steam technology, jacuzzi baths, and, of course, luxurious finishes like marble stone worktops. Natural stone worktops provide that upmarket, spa-like feel in an en-suite, so that the decadence you seek surrounds you during the restful hours you spend in your own private sanctuary, escaping the chaos outside. 
Stunning Worktops Supporting Your Foodie Enthusiasm
The average Brit spends over £4,500 a year on food, including takeouts, groceries and meals out. Although there are some exceptional foodie experiences out there to be enjoyed, there's also a rise in home chefs and cooks making the most of their kitchen, many of which started cooking as a hobby during the Covid-19 pandemic lockdowns.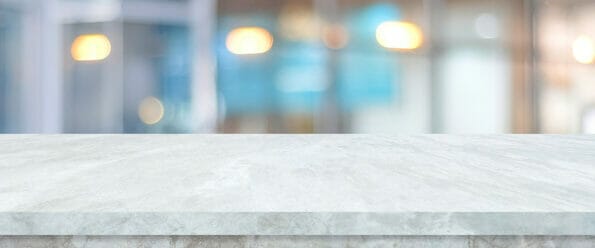 If that sounds like you, you'll know all too well that you need the right knives, pans, gadgets and ingredients to cook up a storm for your family. You also need a great work surface too. 
You need the space to put all your pinch bowls out, to practise your knife skills, to roll out pastries, and to flour and knead a yummy sourdough loaf before proofing. It's also handy to have a surface that's easy to clean, and that maintains its aesthetic so that when you're entertaining, the preparation space looks as impressive as the meals you've whipped up. 
Natural stone worktops are a home cook's best friend. Marble, for example, stays cool and is perfect for rolling out dough, making pasta and for tempering chocolate. Marble and granite are all durable, chip and stain resistant, especially when sealed. Quartz, in particular, is highly durable and able to withstand heat and the dings and scratches to be expected when you're in the midst of making a culinary sensation. All of these qualities are packaged inside a unique, stunning, natural stone aesthetic that's sure to impress any guest. 
If you're considering natural stone worktops for your bathroom or kitchen, why not visit a professional showroom today? 
You can get many more ideas on the tones, textures and patterns on offer, as well as information on prices, design and installation. Just be sure to choose a reputable, trusted natural stone worktop company, so that when you invest in this exceptional kitchen or bathroom feature, you can be sure that you'll get stunning, functional and beautiful results designed to last.  
Image Source: BIgStockPhoto.com (Licensed)
Related Categories:
General