When choosing the right plate carrier, it all comes down to the sizing. Getting the wrong size will make it uncomfortable, uneasy, and impossible to move around smoothly. Many people worldwide struggle with getting the correct sizing, and it is not the same as picking out clothes from the shop. 
There are several types of plate carriers in the market that offer benefits. Finding the right one can be different if you are new to body armor, as they are specific pieces made for different situations. If you haven't checked for plates already, at Bulletproof Zone, you will find a collection of Plate Carriers that will fit perfectly for you.
In this article, we will explore some essentials steps that will help you with your plate carrier sizing:
What Size Plate Should You Get?
People worldwide face problems with their plate carriers because they fail to measure the right fit. Some people do not understand the need to get the right fit and end up with the wrong choice. The most common reason people opt for larger plates is that they believe they get more coverage. 
Wearing an oversize plate restricts your movement and even reduces the fluidity of handling your weapon efficiently. Another reason why you shouldn't do this is because it will add more weight to your movement and affect your shooting stance. So make sure that you purchase the right plate that fits your armor. 
The most common armor plate size is 10" x 12" as it fits the majority, also considered a medium-sized plate. However, if it does not fit you, you need to take specific body measurements that will help you get the right fit. 
3 Things to Remember When Choosing Plate Carrier 
Placement Height 
The first thing you should watch out for is the placement height of your plate. This measurement is based on your torso size and changes amongst individuals. The goal is to ensure that the plate is 1-2 inches above your navel and centered to fit your clavicular line. Similarly, the back armor plate should be lower than your vertebra prominens.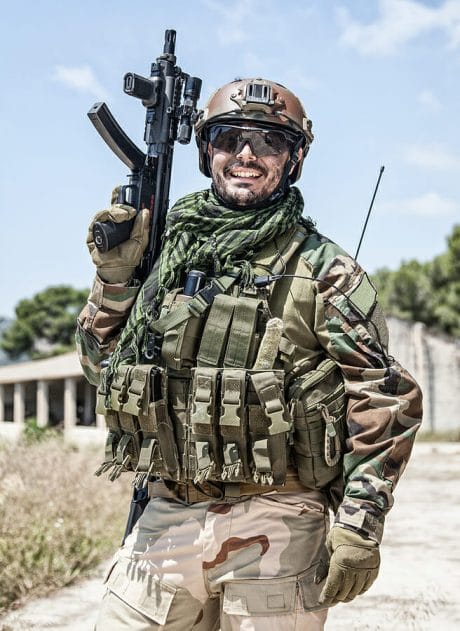 Movement 
The next important step in choosing the right plate carrier is movement. When you select your desired type of armor plate, you need to check whether you can move efficiently. Some quick things that you should consider are bending to touch your toes, moving your arms up and down, twisting your torso in different directions, and even doing a burpee if needed. The goal is to ensure that you are free to move around without any obstruction. 
Interference 
When looking for armor plates, it is essential to note that your plate won't be the only thing on your person. As a civilian, you won't have many utilities on hand, but if you are in the police or army, you will probably have several body kits with you. So make sure that the gears you are wearing do not conflict with each other.
Final Thoughts 
Choosing a suitable carrier is easy if you have the right approach. The last thing you would want is to carry dead weight as you travel or on duty. If you do not have proper fit armor, it may not be as effective as it should be. 
While a larger plate may be comfortable for some, you should try wearing your plate before purchasing it. Because, in the end, a strong defense is a strong offense. If you are at home and choosing plates online, you can even consider some DIY methods with cardboard to give you a rough idea about your plates. 
We hope you have found everything you need when choosing a carrier plate in this post. If you wish to wear your body armor while traveling, here are some quick things you need to know, whether traveling domestically or internationally. 
As you narrow down your options you should focus on your strengths and see what works best for you. And always do your research into the desired field or industry. So before you choose your desired franchise, there are several factors that you need to consider. In this article by Nurse Next Door, you will find what entrepreneurs need to know before buying a franchise. 
Image Source: BgStockPhoto.com (Licensed)
Related Categories:
Guns
,
Reviews
,
Safety