Have you ever consider purchasing a coffee maker thing for yourself. If the answer is no then this piece of article is for you. This jura e8 is one of the best coffee maker things for a common person. Yes, it is pretty much true that many people face issues while making a high-quality coffee for themselves or for the guest. But from now onwards this scenario might completely change because you can go for this coffee maker. Making a good quality cup of coffee is very easy if you are processing it in this maker. However, it is one of the top makers that tend to deliver the best-in-class coffee in just no time.
This machine is capable of generating much coffee instantly, this is because of the functionality that this maker has in it. The technology used here is unique and up to date. While making coffee is very easy here you can easily set the commands and can even do other work simultaneously till your coffee is ready to be served. If you are active in the coffee world or such types of the community then you would have listened to the word several times. This is because the company is highly-rated on the top in the production value. Here in this entire Jura e8 review, we will take a brief look at the entire way and process of this coffee maker: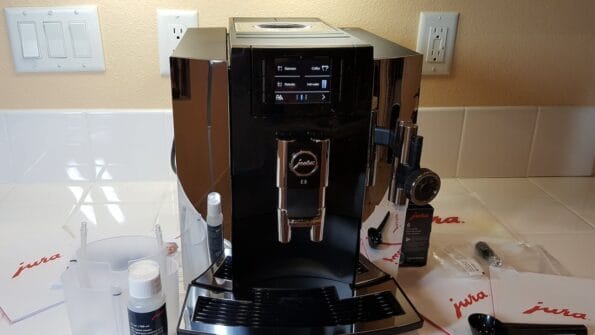 First and for most, the thing should be the specification or the feature of this machine. Hence without it, this piece of information will be of no use. This is not a simple coffee maker that you would see while roaming in some random market this is a high-end maker. That is filled with some high-quality material and with some new technology. This machine disperses top-quality brews that taste like an awesome coffee that is been served in some five-star hotel. This is possible because it has some really high-end specifications in it which are TFT color screen, 12 special brew recipes, with a bean capacity of 9.9 ounces. This is also coupled with a water capacity of 63.6 ounces with a 6-level aroma G3 Grinder. And on top of that is the self-cleaning aspect.
Good performance with deep inbuilt functionality 
The jura e8 is designed to perform like a professional-grade coffee maker that will provide you with the best taste. It has cutting-edge technology which is packed with the number of features. One of the coolest features is the ease of making it. It is a common notion that making a world-class coffee is sort of tough but with this, you can go for it in while spending just a few minutes. The top end of the machine is well managed and developed by the team of experts that ensures that a user may attain world-class coffee. The machine is packed with eight programmable coffee steps and with twelve types of special brew recipe. Hence it is fully automatic that seriously helps the person to develop a barista level coffee. Some of its key features are mentioned below: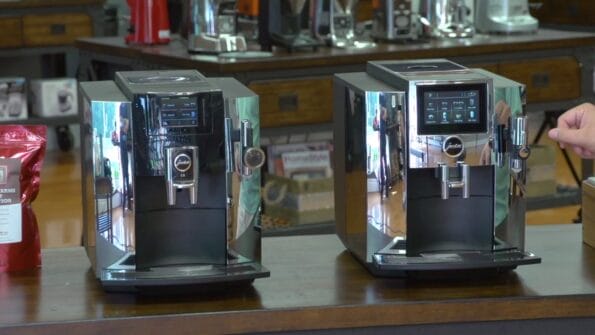 As I talked earlier, it is pretty much easy to use. There is nothing like some rocket science that is completely impossible. Therefore here you will find all the easy settings for you. With the eight strength setting the dose is adjustable to between 5 to 16 grams, which is great in itself. Even it has two separate grind features when brewing with the PEP that is a pre-infusion for coffee.
Here the maker is also filled with the mixing capabilities which mean that you can easily make cappuccinos, lattes, macchiato, etc. And all this is possible through just a single touch. Everything is pre-programmed and gives a good feeling while going for a jura e8.
Whatever the things or control you needed to operate it is nearby you. You just need to press a button for a color display, height adjustment of approximately 6 inches for a tall glass. Control to heat the milk to a pre-defined temperature is also available. Even also packed with support of grinder, hopper, coffee setting, etc. To adjust a type of froth is also a new feature that is also there. However, if you get confused then, you could easily customize the setting according to your taste and knowledge. This sort of feature is absent in many coffee makers. It also has a radio frequency chip basically; it is an ID chip that is built-in with the coffee maker. Whose main objective is to check all the aspects of the process and work according to it. Even it also provides you with the alerts that when certain parts need to be changed and what's the next procedure.
Access to smartphone application
To take this to the next level the company has also launched the new application for this machine this means that most of its features can be used with this application. This smart app can manage all sorts of functions and it works fine with Android and iOS. The only one thing that should be remembered with this application is that it only works with your jura e8 only.
Some of the important aspects that one should remember are that the machine prompts automatically when the time comes to rinse or to clean the machine. The excellent and professional quality of coffee brews generates the new and amazing quality of output in terms of coffee. However, it also saves your time and has two nozzles that simultaneously work and provide you with two coffees at the same time.
Conclusion
Hence the product not only saves your time but also generates high-quality of coffee for you and for your entire family. Definitely, it packs lots of features that are completely high-end and has the facility of even managing the entire machine with your mobile phone application. However, it surely delivers premium coffee but does it really worth it and the answer is complete yes. As it has many features, it can be bought and used in the long run. Hope that this article as Jura e8 review will help you to make a right purchasing decision.
Related Categories:
Food
,
Reviews