Instagram is a really popular networking platform that is bringing many businesses to life globally. It provides great opportunities to people who know how powerfully digital media is dominating the world and how they can take full advantage of the opportunities provided by this platform.
But growing followers on Instagram from zero to an unlimited number is not a piece of cake. It takes time, money, and a lot of effort to be known there. However, there is a way that can help you to get free Instagram followers instantly and to save your money.
GetInsta – Get Free Instagram Followers Easily and Quickly
GetInsta is a useful asset. It is bringing ease to Instagram user's lives by facilitating them to grow unlimited followers and likes. Organic growth of an Instagram account is a slow process that takes time, energy, and money. But you can save all these things and speed up your account's development with this free tool – GetInsta. It is available for Android, Windows PC, and iOS users worldwide. It requires Win10, Win8, Win7, Vista, or XP in computers. This easy to use tool has a community of Instagram users who are interested in growing their following naturally. Here users follow each other to collect coins and later make use of these coins to get free Instagram followers instantly. It is offered in 16 different languages.
How to Use GetInsta on a Windows PC?
This tool is made user friendly to assist millions of Instagram users. Anyone who has an Instagram account can use it. To make its usage clearer we have taken screenshots of different steps so that you do not get confused during the procedure.
1. Open GetInsta website.
2. Create a new account on GetInsta by providing them a username of your choice, your email address, and a password.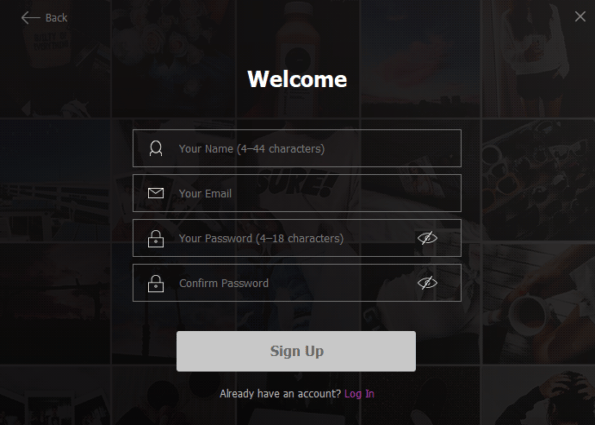 3.Now it will ask you to provide your Instagram account username. Username of the account that you want to grow. Your Instagram account attached to GetInsta is fully secured as they do not take your Instagram password. So do not worry about it getting hacked and whatnot.
4. Now you have your GetInsta account that is attached to your Instagram account so follow the basic instructions to get started. First, they will give you 1,000 free coins. Next, you will be given some tasks that you must complete to earn more free coins. If you like another user's post you will get 20 coins in your coins collection. If you follow another Instagram user you will get 100 free coins more.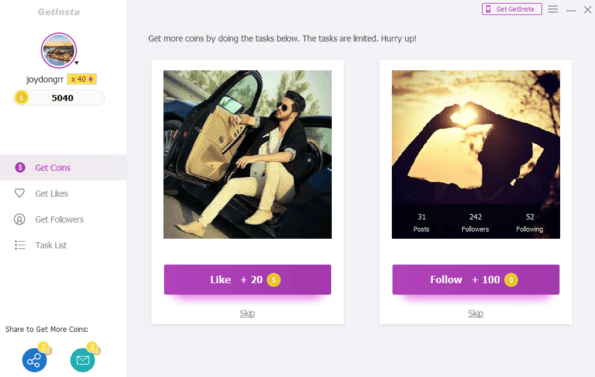 5. Now comes the time for you to create similar tasks and receive unlimited likes and free Instagram followers instantly. Diverse packages will be mentioned there, you can choose one based on your preferences. Other users will like your posts to receive coins.
6. Likewise, various packages will be provided to choose from to increase your free Instagram followers. Some packages can be bought with free gold coins and some with a very reasonable amount of money. From the option below 'the task list' you can check the growth rate of your tasks.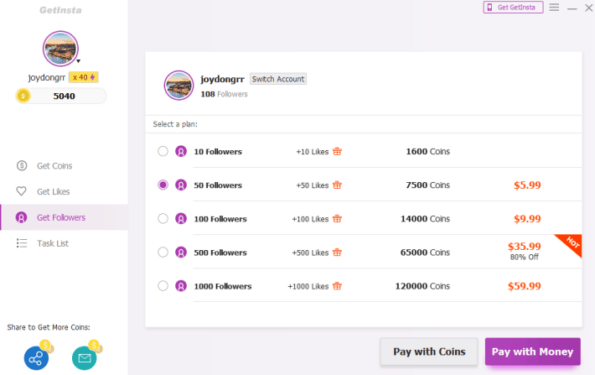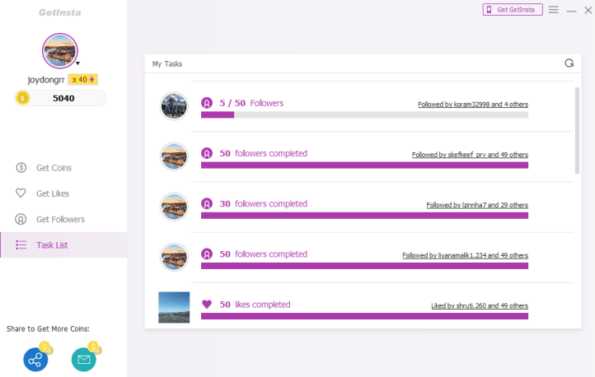 Prominent Features of GetInsta
1. It can be easily accessed by all android, iOS, and Windows users globally. For your ease, it can be used in 16 different languages.
2. You can create your free account and get Instagram followers and Instagram likes free You do not have to wait for months or even years to get unlimited followers.
3. It's all users are real which means followers and likes that you will receive will also be real.
4. It is a secure platform formulated for those who want to see their business grow rapidly.
Related Categories:
Work
,
Reviews