Do you want a job that has a good pay, doesn't require a college degree yet brings to you respect and a good social status in the society?
If so, you might want to look into applying for the role of a forklift operator with the assistance of a reputed executive recruiters Canada. This job is an industrial role and can be performed by men and women both. All you need is a training certification and some experience that will land you the job of forklift operator in a good organization.
However, before you begin to look for a forklift operator, there are a few things that you need to know.
How to get the training certification?
To get the training certification, there are a just few steps you need to follow
Find a school that offer forklift operator certification course and enrol in the course.
Complete the classroom training, practical training and written test followed by final evaluation to get your certification.
Get your forklift operator card printed and also have a digital copy of the same.
Start looking for forklift jobs in the region or around the world.
One thing you need to make sure of is that you get the forklift training certification that is OSHA regulation compliant. This will make you officially certified to work as a forklift operator.
What skills do you need to become a forklift operator? 
As mentioned above, you don't need a college degree, but you do need certain soft skills that will help you become even more proficient.
Most forklift operator jobs are in working conditions that are hazardous. Although you will be trained to follow the safety protocols and your employer will also have safety protocols in place.
However, you need to practice discipline as forklift operator by following a set of rules. For example, you need to ensure that you always stay in the forklift zones, check your forklift machine every day before operating, and so on.
As mentioned above, most workplaces that need forklift operators have hazardous conditions. Hence, you need to have extreme concentration while using a forklift machine. Slight neglect can cause major injury to you or your colleagues.
Now, we have said it multiple times that you don't need a degree to work as a forklift operator. But knowing basic maths can greatly help you in the job.
Knowing how to calculate the total load weight, capacity of the truck, the distance to travel with the said load, and the height, slopes, and angles at which you need to unload the weight can make you more efficient.
Most industries that need a forklift operator will have some peak times when the workload will be high. In times like these, you mustn't feel stressed. Instead, you should try to be calm and be ready to change the way you work.
You might have to take on more responsibilities or maybe work long hours during these peak hours. So, make sure you can stay calm under stress and pressure. This way you will be able to operate the machine effectively and safely.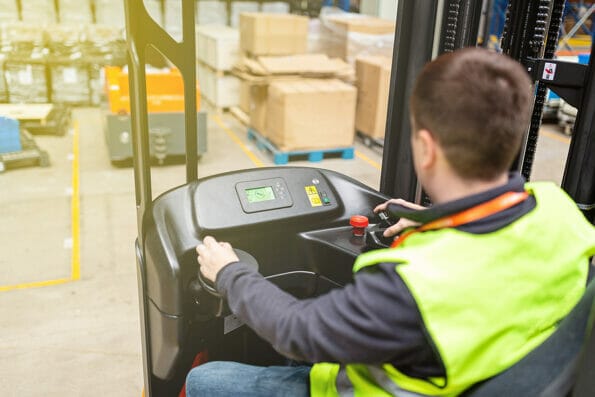 You need to have the skill of being highly aware at your workplace. You are driving a forklift machine that can cause potential injuries due to negligence. Hence, being aware of your work surroundings will certainly help you.
There will be other vehicles that might be driven around or pedestrians that can come in your way. You might find something that can block your movement or knock off the balance of the forklift machine. Being aware of all the conditions around will make you an efficient forklift operator.
As a forklift operator, you need to be adaptable to your work surroundings too. For example, in the construction business, there will be other machines too other than forklifts. You need to be adaptable to work on these machines too.
It will always be beneficial for you to get training on other such heavy-duty machines other than forklift machine. It will be beneficial for your employer and your career growth too.
When you are working as a forklift operator, you will be a part of team. You might have to collaborate with other forklift drivers, supervisors, store owners, lorry drivers, and more. So, any reputed job recruiters Toronto would suggest you to be ready to work in a dynamic team.
Why forklift driving is a good job?
Like any other job, you might wonder why forklift driving is such a great job. Several reasons make it a great career option.
Firstly, you won't need a degree to apply for a forklift job. Moreover, you will get a fine salary that will bring respect and good lifestyle.
Once you are certified in OSHA compliant forklift training program, you can work anywhere in the country.
You don't need to sit behind a desk all day. Instead, you will get a chance to work with your favourite organization.
You will always find some forklift jobs around you. There are always some jobs in every region.
You will never get bored of your job. There are always new opportunities and work environments to explore.
What are the types of forklift jobs in the market? What are the popular companies calling for forklift jobs?
The different types of forklift jobs in the market are forklift mechanic, forklift operator, warehouse manager, dock worker, warehouse worker, retail employee, construction employee, and so much more.
The most popular companies that are always looking for efficient forklift operators are Nestle, Coca Cola, PepsiCo, Dr Pepper and more.
Bottom Line
With just a training certification and by developing some soft skills, you can land a forklift job in your dream company.
If you want assistance on the same, you can get in touch with us at Career1. We are a leading staffing agency Canada that can help you find the right forklift job as per your certification.
We have been in the recruitment industry for several years and have access to a large network of employers in different industrial sectors. Our team will guide you in the right direction and assist you in finding not just forklift jobs by machine operators, salespersons, and more,
Contact us now to know more.
Image Source: BigStockPhoto.com (Licensed)
Related Categories:
Jobs
,
Reviews