In the US alone, around 2.8 million nonfatal accidents occur every single year. That translates to approximately 2.8 out of 100 people getting injured on the job.
The statistics certainly are shocking, so it makes sense that you want to do everything in your power to keep your business operating smoothly. This doesn't just benefit your company's reputation but also ensures that your employees are free from harm.
Below we are going to take a look at five things you should check to determine if your workplace is safe.
Let's get started.
Clutter and Cleanliness 
Mess and clutter around the workplace may seem harmless, but it's also one of the leading causes of accidents. Those boxes stacked in the hallway could lead to slips and falls, and unclean surfaces can grow mold and attract dangerous pests.
It's critical to keep a tidy and clean place so that everybody can operate in a safe environment. If you haven't got one already, it could be worth hiring a cleaning service so that they can take care of the hard work for you.
Safety Precautions
Depending on the nature of your business, you may also have to take specific safety measures. Say you operate a warehouse, for instance. It's extremely important that you assess it regularly.
Precautions such as warehouse guard rails, signage, and high-visibility gear are essential to prevent accidents. They may even be required by law in most cases, so make sure you know the legalities before conducting business.
Plans and Policies
Every company requires policies and procedures—these outline your expectations and how certain tasks should be handled. It almost acts as a guidebook for your employees.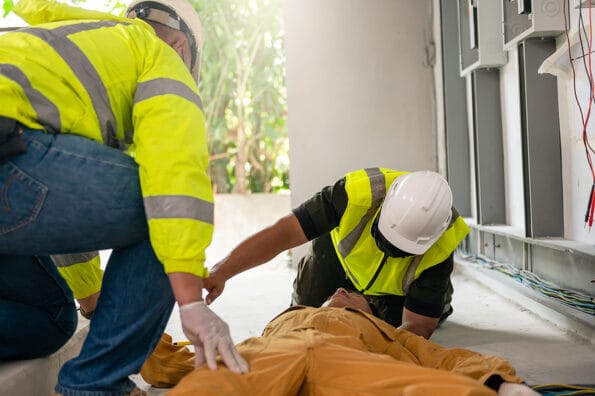 If you haven't already, it might be time to review all of your policies and procedures so that you know they are still relevant. As your business grows and changes, how you do things will also be altered. Your employees will need to be aware of that.
Equipment Maintenance 
Another one of the biggest causes of workplace accidents is faulty equipment. Therefore, it's extremely important that you have some type of plan in place to maintain what you use.
Preventative maintenance is critical in identifying problems early on, and you'll reduce the risk of downtime, which can lead to significant losses. Some people choose to use a simple checklist, but it might also be worth investing in software to easily manage each piece of equipment.
Employee Knowledge
Finally, the last thing you want to look into when observing your workplace is your employee knowledge. To keep accidents to a minimum, you need to ensure that they have had the proper training.
Review your onboarding process, regularly assess your employees and consider hosting training days for them to gain more experience. The more qualified your staff are, the better.
Final Words
And that's it! These are five things you should check to ensure that your workplace is safe. Then, if you notice any red flags, you can focus on improving your practices.
Remember, the key is to be vigilant and regularly assess each area. By staying on top of the above, you'll be able to keep your employees, customers, and business safe.
Image Source: BigStockPhoto.com (Licensed)
Related Categories:
Work
,
Reviews