Mobile apps have become a crucial part of our daily lives, and businesses are vying for their share of the market. However, creating a successful mobile app is not a cakewalk.
One of the biggest challenges businesses face is ensuring that their app provides an excellent user experience.
As per a study carried out by NAU, over half of the users (52%) claimed that a negative mobile experience had a detrimental effect on their willingness to engage with a company.
In a world where first impressions matter, user experience can make or break a business. A well-designed and easy-to-use app can lead to increased user engagement, higher retention rates, and ultimately, better business results.
But how can businesses ensure that their app provides a great user experience? What are the best practices in mobile app design and development? We will explore the answers to these questions in this article.
Reasons Why User Experience is Crucial for Mobile Applications
With the exponential increase in mobile app usage, businesses are struggling to maintain customer loyalty, acquire new users, and ultimately generate revenue. One solution to these problems is to focus on providing an exceptional user experience (UX) for mobile app users. In this article, we will discuss the top five reasons why UX is crucial for mobile app success and what businesses can do to ensure their app provides a great user experience.
1.    Keeps Your Users Hooked
Great UX design in mobile apps makes them easy to use, navigate and interact with, improving user engagement. Users are more likely to return to an app that allows them to find what they need easily, complete tasks efficiently, and enjoy doing so.
In fact, according to a study by Kinesis, 75% of users judge a company's credibility based on their website or mobile app's design.
One example of how UX design can improve user engagement is the app Headspace, a meditation app.
Headspace is highlighted as a UX best use case because its clear and simple interface, user-focused design, intuitive navigation, and engaging content all work together to create an app that is both functional and enjoyable for users. This has led to over 70 million downloads and a 4.9-star rating on the App Store.
To improve UX in mobile apps: conduct user research, simplify design, use clear language, intuitive navigation, optimize for different screens, update based on user feedback.
2.    Happy Users = Happy Business: Creates a Mobile App that Sparks Joy
Providing a great user experience can significantly impact customer satisfaction and loyalty. According to a survey by Gartner, more than two-thirds of customer loyalty is influenced by customer experience, surpassing the combined influence of brand and price.
If users enjoy using an app, they are more likely to recommend it to others and become loyal customers.
One of the best ways to increase customer loyalty through UX design is by providing a personalized experience. For example, Amazon's app provides personalized product recommendations based on users' search history and purchase history, which encourages repeat purchases and customer loyalty.
Creating a mobile app that delivers a great user experience can increase customer loyalty. By prioritizing user needs and continuously improving based on feedback, businesses can build stronger relationships with their customers and enhance brand reputation.
3.    Helps in Mastering the Art of Conversions
A well-designed mobile app can have a significant impact on a business's revenue. A great UX can increase conversions, reduce cart abandonment rates, and encourage users to make purchases. A Forrester study suggests that an effectively designed user interface can potentially increase website conversion rates by up to 200%.
One example of an app that has achieved success through its excellent UX is Uber. The app's intuitive design makes it easy for users to request rides, track drivers, and pay for rides. This seamless experience has contributed to Uber's success, with the company reporting $3.5 billion in revenue for Q4 2020, according to Statista.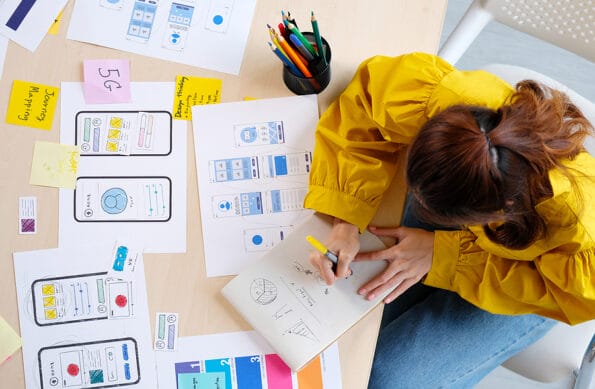 To increase conversions and revenue, businesses should focus on designing an app that makes it easy for users to complete tasks, find what they need, and make purchases. Ongoing optimization and A/B testing can help businesses identify and address issues that may be preventing users from converting.
4.    Outsmarts the Competition
Providing a great user experience can give businesses a competitive edge in the crowded mobile app market. A well-designed app can differentiate a business from its competitors and attract and retain users. As Yogesh Choudhary, the CEO of Finoit says, "Outsmarting the competition is not about being better, it's about understanding your user's needs and designing an app that delivers an experience they can't resist."
Duolingo is a great example of an app that has gained over 300 million users worldwide through its intuitive and gamified design. To stand out from the competition, businesses should prioritize ongoing user research and feedback to design an app that meets user needs and delivers a unique value proposition.c
5.    The Secret to App Store Stardom
A great user experience significantly impacts the app's discoverability and ranking in the app store. The app store ranking algorithms take into account the user rating and reviews, which determine the app's position in the search results and visibility in the app store.
One example of a mobile app that leverages UX to improve brand loyalty is the Starbucks app.
The app's user-friendly interface also provides a loyalty program, exclusive deals, and personalized recommendations based on past orders. As a result, the Starbucks app has over 23 million active users and accounts for 44% of Starbucks' total U.S. transactions.
The best tip for customer satisfaction and loyalty is to focus on simplifying the user experience.
Conclusion
Developing a mobile app is not just about coding and functionality; it's about delivering an excellent user experience. A well-designed app can make all the difference in engaging users and driving business success.
It's crucial for businesses to prioritize the user experience in their mobile app development process, and seeking help from a reputed mobile app development agency can make the process smoother.
They can guide businesses to create an app that not only meets the needs of their target audience but also delivers a seamless and enjoyable user experience. With the right approach, businesses can create a mobile app that stands out from the crowd and leaves a lasting impression on users.
Image Source: BigStockPhoto.com (Licensed) and Finoit (with permission)
Related Categories:
Tech
,
Reviews
,
Work