Christmas is just a few days away! It's time to think about the perfect Christmas gifts for those special women in our lives. We all have a mom, sister, grandmother, or friend that deserves something thoughtful this holiday season. The key to finding the perfect gift is understanding what makes them happy and then going from there.
For example, a DIY nail kit will make your mom happy. She can relax and enjoy doing her nails after a long day at the office or taking care of the family.
In this article, we will go over different categories of presents that will please any woman on your list by giving you some ideas and inspiration for each one!
A book or magazine subscription is a gift that keeps on giving. 
There are so many options out there, and the best part about this idea is how easy it is to choose! No matter her interests, she will be excited to see something interesting in her mailbox each month as a surprise from you. The problem with gift cards is that they won't be used until they decide to use them. Subscriptions are a great way to give your loved one something she can enjoy regularly and get her thinking about you every time a new edition is delivered!
A spa day is another fantastic idea for any ladies in our lives this Christmas season. 
A spa day at home or getting pampered is one of the most relaxing things you can do, and it will be an experience she won't soon forget. You don't even need to go with her if there's somewhere nearby that offers services for men as well! Sometimes just knowing someone was thinking about them makes their day better.
A custom-made piece is always a great idea for anyone in your life. 
Whether it's a painting of their favorite place or even an item they have loved for years that you get fixed up to look new again, this will be something she can treasure forever! Maybe the headboard has seen better days and is looking pretty worn down? Get it recovered to its former glory so that she can feel even more ready for a great day when she wakes up in the morning.
You don't have to spend an arm and a leg or go into serious debt just because you want to get your loved one something nice this Christmas!
There are so many ideas that won't break the bank but will still let you show her how much she means to you.
A makeup kit is a good idea for any woman on your list. 
Almost every female loves to be confidently beautiful, and there are so many different kinds of sets out there that you can't go wrong! Even if she's never worn eyeshadow before in her life, buying her an all-inclusive kit that has everything she needs for a full face of makeup is sure to make her feel amazing.
Ladies love getting their nails done, and there are so many colors out there it will be easy to find something perfect!
Whether you do the shopping yourself or ask around, anyone on your list would appreciate one of these thoughtful presents this holiday season.
A pampering basket is another great idea for anyone who enjoys indulging in some self-care every once in a while. 
Bath bombs, scrubs, lotions, and soaps are just the beginning of this one! You can also include candles or even aromatherapy oils if she has time to relax in a nice scented bath. This is another great option for someone who doesn't want to go out of the house or spend too much money but still deserves something special and relaxing this year!
Remember that giving gifts should make others feel happy and appreciated, not just spending more than you can afford.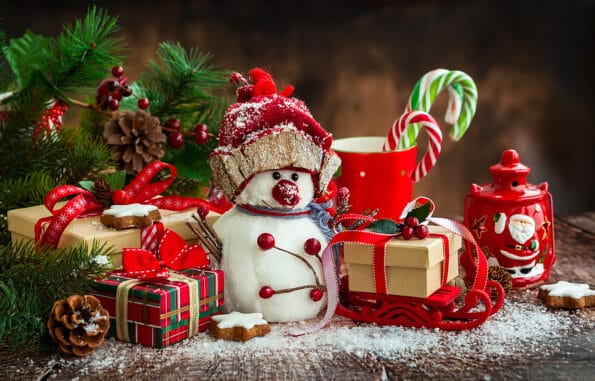 A new fragrance
This is an excellent gift idea for women who love to look and smell their very best. There are many different fragrances available, such as fruity ones or even more musky scents. Consider buying a small sample of the latest perfume before you buy the full-sized bottle so she can try it out first and see if it's her favorite scent.
A nice bottle of wine
There's nothing better than enjoying a glass of your favorite drink with someone you care about. This is why many women would be happy to receive this as a present from their friend or family member. You can either buy one for an entire night out or even just the starter and the main course if time doesn't allow for anything more.
A book about her hobby
Some women love to read, while others prefer something a little more hands-on such as knitting or painting. As such, consider choosing a gift that matches their interests and personality perfectly so they can enjoy it in peace whenever they have some free time for themselves. For example, if she loves reading books, then a novel is sure to be appreciated.
A nice box of chocolates
There's nothing better than enjoying some sweet treats with someone you care about. This is why many women would be happy to receive this as a present from their friend or family member. You can either buy one for an entire night out or even just the starter and the main course if time doesn't allow for anything more.
Conclusion
This year, give the gift of relaxation and self-care with a spa day or a custom-made piece. If you're looking for more ideas, how about a Christmas dip powder nail or a makeup kit? Picking the perfect present doesn't have to be hard, but it does take a little thought. If you spend too much time trying to find something amazing, you may forget that it's not about how expensive or flashy your gift is. The best presents always show her how deeply she means to you and makes her feel special.
Image Source: BigStockPhoto.com (Licensed)
Related Categories:
Gifts
,
Reviews