It may be the most wonderful time of the year, but it can also be confusing when it comes to the rules and dynamics of gift-giving.
Obviously, you want to wow your friends and family members with gifts from the heart, but what about people in the workplace?
"Giving gifts to others is a fundamental activity, as old as humanity itself," says Celebrity Doctor Andrew Weil. "Yet in the modern, complex world, the particulars of gift-giving can be extraordinarily challenging."
Is it appropriate to give your boss a gift, or is that crossing the line in some weird way?
It's a question that's on everyone's mind, so let's get to the bottom of it right now.
Read the Situation
There is no definitive answer to the question of whether to give your boss a gift for the holidays. Instead, you'll need to do some digging and determine what the appropriate course of action will be.
This means asking around, getting a feel for the holiday customs in your workplace, and making sure you're not the odd one out when the end of December rolls around.
"If you're compelled to give a gift, by all means, do so," said Lauren Kleinman, Co-Founder of The Quality Edit. "However, you don't want to be the only one who gives a gift, nor the only one who doesn't. Figure out how things work at your company and make a choice from there, because you ultimately want to go with the flow."
Further research may help determine the appropriate cost or kind of gift that you should give to a supervisor, manager, or team leader.
"Maybe there's an office limit on the cost of a gift, or a theme for that holiday season that can help guide you in the right direction," said Jeremy Goldstein, CEO of Navitar. "You want to piece together the puzzle and give your boss something within those parameters. It's best not to rock the boat if that's not your personality."
Consider a Small Token
In some cases, you'll want to give a gift to your boss no matter what anyone else says, and despite all precedents set in the past.
"The holidays are about giving freely and not caring so much about the prim and proper rules, in my view, " said SponsorPulse. "Who cares what other people are doing, really? If you get along with your boss and have a good rapport, give them a token of your appreciation and don't overthink the other stuff."
On the subject of small tokens, these may be the best gifts for bosses and coworkers in general. Not too much money – between $10 and $30 maybe – and that should send a good message.
"In most workplaces, a gift card for a meal or an affordable bottle of wine is more than enough," said David Wolfe, Founder and CEO of Oliver's Apparel. "These are universal gift ideas that never miss. When you try to get too creative or fancy with it, that's when things may get awkward. Keep it simple unless you are sure of a 100% brilliant idea."
There is no such thing as too small of a gift, either. A thoughtful cup of coffee or round of drinks will never go unappreciated by your boss or team leader.
Orchestrate with Others
You may not want to present a gift to your boss in a face-to-face scenario – we understand.
Instead, you can make things way smoother and more equitable by teaming up with coworkers and making a coordinated gesture.
"Turn it into a team thing and take some pressure off everyone," said Tyler Read, Founder and Senior Editor at Personal Trainer Pioneer. "You can pool funds and get your boss something they actually want, whether it's a nice new article of clothing or a piece of tech they've been talking about. You won't be singled out and that's a sigh of relief for sure."
In smaller company settings, coworkers may also want to organize a party or show a bigger gesture of appreciation for the ever-stressed CEO at the helm. After all, they're steering the ship!
This event can involve food, drinks, impromptu speeches, and all the other hallmarks of holiday cheer that make for a memorable experience.
"While most office events are excruciating, your boss will be eternally grateful if you surprise them with a small gathering in their honor," said Matt Woods, Co-Founder and CEO of SOLD.com. "It doesn't even need to be that extravagant, as long as the right people are there and the vibes are good."
A gift of any kind is often more meaningful when the whole team is involved, so use this group dynamic to your advantage and have some fun with it.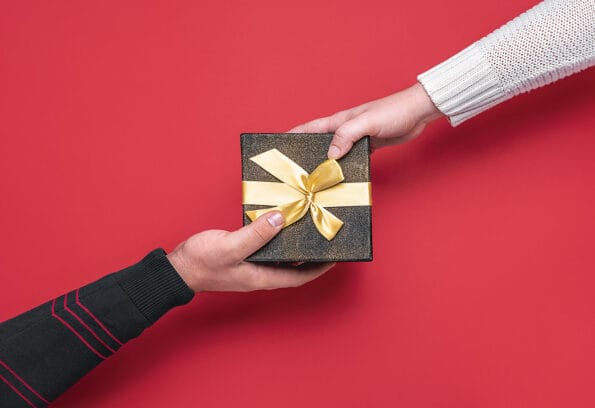 Stay Focused on the Task
What is the big deal anyway – this is a simple holiday gift we're talking about, here! It's easy to get caught up in office politics and second-guess your every move.
But at the end of the day, you're at your job to work and get things done – your boss can't expect much more from you than that.
"Your mental energy and effort is probably better aimed at doing a good job at work and not fretting about getting the right gift, let's be honest," said Schuyler Hoversten, Co-Founder and President of Swoopt. "Your boss just wants you to show up and give it your best, and that's all you can really do."
If your boss is more of a mentor, on the other hand, it's your obligation to go above and beyond. Instead of giving a gift card or a coffee cake, aim to evolve and outperform in every way.
"The best gift you can ever give your mentor is to grow," said Author and Speaker John Maxwell. "They feed off your growth. I believe that everyone has the seed of success inside, but too many people can't find it in themselves and as a result, do not reach their potential. Raising others to a higher level is a mentor's joy and sustenance."
The holidays should be about fun, friends, and showing your appreciation for the people that matter most. Give your boss a gift if you want, or simply wish them well with a holiday greeting.
Like anything in work and life, your decision will depend on your personality and how you want to navigate the world around you.
Image Source: BigStockPhoto.com (Licensed)
Related Categories:
Gifts
,
Reviews
,
Work