As a dynamic city filled with multicultural citizens and many opportunities for people of all ages, Toronto often welcomes new residents. Toronto is consistently ranked at the top for global competitiveness, innovation and quality of life.
Along with its diverse culture and booming economic sphere, the city offers many reasons to become home to new people. Here are some reasons why you should consider moving to Toronto.
1. Access Quality & Affordable Healthcare
Living in a city that prioritizes healthcare can improve your standard of living. Whether you're looking for treatments for medical or aesthetic purposes, the city is equipped with renowned clinics to serve almost every purpose.
If you're looking to get eyelid surgery, also known as blepharoplasty, you're in luck because you can find a qualified Toronto blepharoplasty surgeon to perform the procedure. One of the most incredible things about getting surgery in Canada is that you might be covered by the government's healthcare plan or by your private insurance company if you are undergoing treatment for a medical reason.
2. Witness Cultures Blending In
Many Toronto residents come from different backgrounds regarding ethnicity, faiths, and culture. You can witness a range of cultures blending in to live happily together. This will allow you to meet new people, learn about various cultures, and enjoy different activities or food from various backgrounds. Toronto has several neighborhoods representing a unique culture, allowing visitors to enjoy a new environment.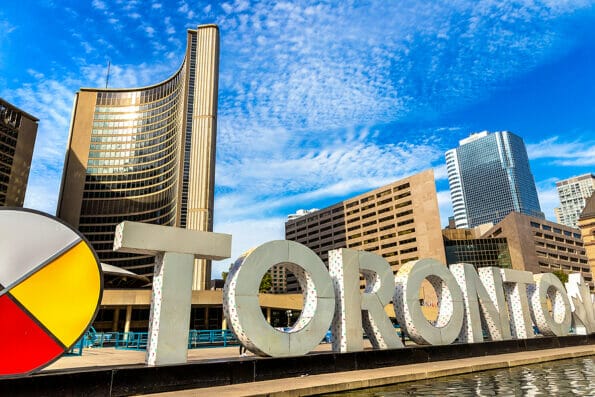 3. Join the Competitive Workforce
Canada ranks number one for workforce competitiveness due to favorable economic performance, government and business efficiency, and robust infrastructure. Moving to Toronto will allow you to be a part of the globally renowned workforce and utilize your skills at work.
Due to the booming business sphere in Toronto, you will have various work opportunities, depending on the industry. You may even gain interest in other fields and pursue education or training to become skilled at a new interest.
4. Commute with Efficient Public Transportation
Most of the public transportation routes make commuting easier to meet the commute needs of the immense population of the city. Whether you need to travel outside the city for work or leisure purposes, the transit routes can simplify things. You can use the subway system, streetcars, buses, and commuter rail.
5. Indulge Food Made by Culinary Experts
Toronto is home to many world-class restaurants led by skilled chefs. The city offers a range of food options, from fine-dining experiences to unique cafes and fast takeout.
One of the top reasons Toronto is a foodie's paradise is its multicultural palate. Every part of Toronto is equipped with vast dining options, allowing you to try out different cuisines and ambiances based on your preference.
There are many reasons why moving to Toronto might be the ideal option for you. If you've been thinking about moving to Toronto, this might be your sign to start looking in the process of finding a new place to call home.
Image Source: BigStockPhoto.com (Licensed)
Related Categories:
Real Estate
,
Home
,
Reviews