So you're working on selling your San Diego home in the Spring – you're in luck, because Spring is a promising time to sell a home quickly, and San Diego is a hot housing market at the same time. The key when it comes to decorating is to acknowledge that this is a season of renewal and new beginnings but don't go overboard; the season fits well with people looking for a home, which is a new beginning itself! Focus on making things look clean, uncluttered, and open to possibility, rather than too many specifically-Spring-related design choices, and you'll be ready for a quick Spring sale.
Curb Appeal Matters: The Best Decor Are Spring Blossoms
While not traditionally considered "decor," your yard matters more than usual in the Spring. This is when all of the winter weather has brought new growth to the garden, which can be a truly beautiful thing but may also look a bit unkempt if everything has suddenly started growing. Make sure that in the days immediately before photographs and showings, you have a professional landscaper check out the property and do some basic maintenance: you can also do this yourself to make sure everything is top-notch right up to the moment. A well-kept yard is going to leave a lasting impression on your potential buyers, who will see your home as one that was well-cared-for simply because of that first moment that they pull up to view it.
Indoors, Lean Into Freshness and Simplicity
From a simple floral bud vase to neutral art that features landscapes, you can lean into the simplest and most clean-looking decor for the interior of your home. You'll find that a depersonalized home is the best way to help buyers envision themselves living there – make sure that every part of their sense experience is oriented to a fresh start. This means that "decor" encompasses things like a light, fresh scent (no heavy perfumes; ideally, just open those windows and air the whole place out after cleaning!), and lots of natural light by using sheer curtains that let in the sunshine.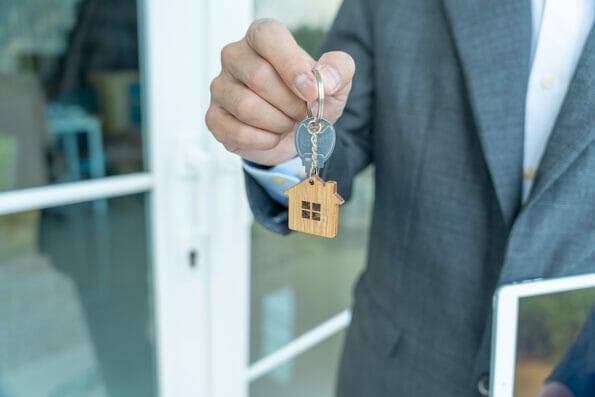 Timeless Details on the Front Stoop Help
If you're going to focus on any spot for decor, aim for that front stoop. Buyers stand there as they wait to be admitted to a showing, and they'll notice the details: floral arrangements/design, a light spring wreath on the door, fresh paint and clean accents on the front door, and even a nice welcome mat! If you're going to put some effort into decorating for spring, make that front porch or front stoop the spot. Everything from pressure washing concrete to its brightest look to cleaning off the siding will help to make this space feel special and treasured, helping buyers to see that they too have found a treasure.
While you may feel like spring decorating means adding things, remember that what you remove can also help a lot to make a place feel well-suited to a wide range of buyers: removing clutter and personal photographs can make a space feel larger and ready to welcome a new family's memories and treasures.
Image Source: BigStockPhoto.com (Licensed)
Related Categories:
Real Estate
,
Reviews