Cryptocurrencies are one of the most popular investment options. Virtual assets allow you to receive a stable income and, at the same time, maintain complete anonymity. Tokens are increasingly being used as payment for goods and services. Therefore, users actively create wallets and buy WBT and other coins.
This popularity has led to the fact that the issue of cybersecurity is becoming more and more relevant. Let's see what it is and how you can increase the safety of virtual assets.
What you Need to Know About Cryptocurrency Security
Cryptocurrency security is a set of measures that prevent unauthorized access to user accounts. It ensures that your tokens are safe and attackers cannot access them.
Each cryptocurrency has its own protection. Virtual assets run on the blockchain. It ensures speed and anonymous operation. The system encrypts user information, the number of tokens, and other data.
There is a cryptocurrency security standard. It is a three-level security system. The main elements are:
Level 1 Security: Wallets with a high level of security.
Level 2 Security: Enhanced security with additional identity verification procedures.
Level 3 security: involvement of third parties for authentication and decentralization of assets across different points.
All cryptocurrency exchanges are required to adhere to these standards. If you are looking for a reliable platform for working with virtual assets, use the services of WhiteBIT. It is one of the largest exchanges in Europe, which guarantees the safety of cryptocurrencies.
If you use cryptocurrency, you should be aware of all the risks. Virtual assets are not as protected as the traditional financial system. Therefore, additional measures need to be taken to help increase the security of cryptocurrency.
A Reliable Wallet is a Basis for the Security of Virtual Assets
A cryptocurrency wallet is what keeps your assets safe. Therefore, it is essential to choose a reliable option that will provide cryptocurrency's maximum security level. There are two types of wallets:
A cold (hardware) wallet is a unique device that stores your assets. The main advantage of this option is that it is not connected to the Internet. That is, fraudsters cannot hack into the vault to take your tokens.
Hot wallets are constantly connected to the Internet. These can be special programs or electronic versions that store information on the server.
Most users choose hot wallets. They are easy to create and manage funds. An electronic wallet allows you to carry out a transaction quickly. But it should be borne in mind that such options are more vulnerable to hacking. Therefore, if you have such an option, carefully study the security rules and install multifactor login verification.
Some Tips on How to Increase the Security of Cryptocurrency
Additional measures are what will help you increase the security of virtual assets. The most important rule: do not share your login information with anyone. Password, login, security keys — all this should be kept secret. Also, use different combinations everywhere. Plus, it would help if you changed your password regularly. Thanks to this, attackers cannot access your assets and personal information.
If you are looking for options on how to secure cryptocurrency, take a look at these tips::
set up two-factor authentication;
avoid using public networks for trading;
use a private network connection;
buy a cold storage wallet;
separately store login information.
You can set up an exchange wallet login using an additional code. The system will send a one-time password if someone tries to log into the account. Or you can set the login using a fingerprint or face scanner.
Choose your exchange and e-wallet carefully. It is better to study all the security features of the selected system and read the reviews of other users. Yes, you will have to spend your time. But then, you do not have to worry about the safety of the cryptocurrency.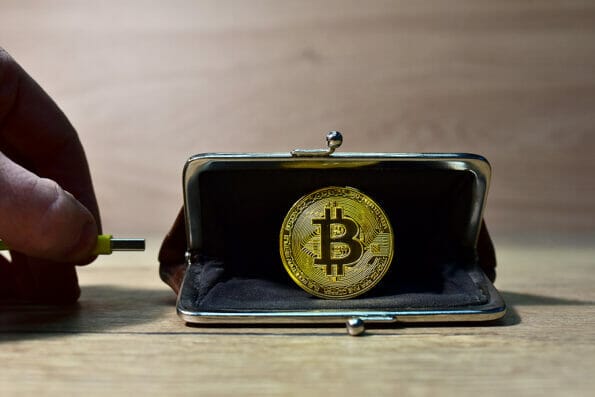 Last Words
It is essential to understand that not only the exchange or the wallet is responsible for protecting the cryptocurrency. The investor should also make an effort to secure assets. In this way, you will reduce the risks of losing coins and becoming a hack or cyberattack victim.
Image Source: BigStockPhoto.com (Licensed)
Site Disclaimer
The Content in this post and on this site is for informational and entertainment purposes only. You should not construe any such information or other material as legal, tax, investment, financial, or other advice. Nothing contained on our Site constitutes a solicitation, recommendation, endorsement, or offer by HII or any third party service provider to buy or sell any securities or other financial instruments.
Nothing in this post or on this site constitutes professional and/or financial advice. You alone assume the sole responsibility of evaluating the merits and risks associated with the use of any information or other content in this post or on this site.
You recognize that when making investments, an investor may get back less than the amount invested. Information on past performance, where given, is not necessarily a guide to future performance.
Related Categories:
Cryptocurrency
,
Reviews