The smartphones we all hold in our hands today have more processing power than anyone could have imagined even just ten years ago.
While televisions, cinemas and live entertainment certainly still have their place, it's incredible how something the size of your palm (or a bit bigger) can provide all of the tools necessary to create your own entertainment hub, wherever you are (as long as you've got a data connection).
You no doubt already have a few different apps that you use on your phone for entertainment purposes. However, to take it a step further, this article will give you a rundown on how to completely transform your phone into a portable entertainment hub.
To start with, here are just 3 of the many kinds of apps you can use to, quite literally, amplify your leisure time. 
3 of the Best Apps to Turn Your Mobile into an Entertainment Hub
1. Video streaming apps
There's no doubt that everyone in the world that has ever had access to a mobile will have watched a YouTube video. While YouTube has expanded its service to include music streaming, most people will know the app for its free videos.
By using the mobile app, you'll have access to millions of free videos and channels. No matter what you're into, there is sure to be a channel to suit your preferences, or a YouTuber to follow that will inspire you.
Other video streaming apps also include Vimeo, which is home to many documentaries and branded content. In addition to this, Netflix, Hulu and Amazon Prime are some of the most popular paid video streaming apps.
In fact, thanks to an advancing algorithm on these types of platforms, you'll be able to craft your own personalised dashboard, which will pull together shows based on your preferences and previous choices. With this kind of personalisation at your fingertips, you're sure to be entertained for hours on end!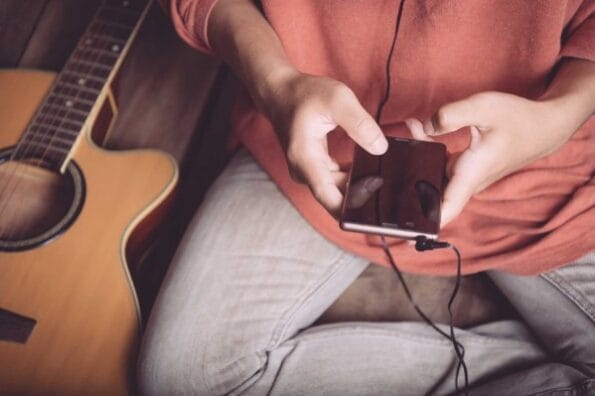 2. Music streaming apps
How would anyone get through the day without music? A while ago, it was quite tricky to get hold of music, unless you happened to purchase the MP3 or the CD, and could play it on your own device.
Nowadays, listening to whatever song you want doesn't even require a second thought, with a variety of music streaming apps available. Some of the most popular ones include Soundcloud, Spotify and Apple Music. You can listen to music, read about artists, and increase Spotify playlist followers.  
Depending on the type of phone you have, you might only be able to use the first two. While all of these have their own paid options, you can listen to a limited amount of music on all of them for free, or for a trial period.
Soundcloud seems to have hit on DJ sets as a main form of music sharing, which is great for parties. Apple Music and Spotify also both specialise in creating personalised playlists for you, although word on the street is that the Spotify algorithm is a bit more sophisticated, and can help you more easily find new music that you like. 
Either way, with any of these apps, you're sure to find a plethora of music genres, songs and albums to suit your individual taste. 
3. Mobile gaming apps
Of course, what would a commute be without some mobile gaming to pass the time? 
While gaming in itself is a massive industry, with PC and console gaming dominating, mobile gaming has come into its own, allowing players to play modified versions on their mobiles.
This has led to the creation of a separate industry in itself when it comes to games like PUBG and Fortnite. To link to the point above, Twitch is also one of the most popular video streaming apps, which allows you to watch other people play games.
In fact, apart from battle royale and survival games, Minecraft and Candy Crush, mobile gaming also has a vast variety of games to offer. These include many mobile versions of popular games, as well as indie puzzle games especially crafted for mobile. These include games like Pavilion and Monument Valley.
Of course, gaming isn't all about fantasy and first person shooter scenarios. For many, gaming means trying your hand at a game with higher stakes, like poker, which you can easily play on your mobile. All you need to do is connect to a reputable platform like Bet MGM, (there is also a BetMGM casino Android mobile app) available in New Jersey, share your details, and bluff away.
In fact, the online realm has expanded many brick and mortar casino offerings online, to the point where you can even take part in sports betting on your phone. 
The list above will no doubt have given you some more ideas on how to optimise your mobile and turn it into your very own entertainment hub. However, your idea of entertainment might be different to another person's, so there are sure to be some categories of leisure apps that we haven't covered. 
In fact, while we have listed some of the most popular forms of leisure apps above, there are so many more out there, so why not go and have a look for yourself and see what you can find?
By expanding your experience of mobile entertainment, you might just stumble upon some of your most favourite apps ever, which can provide hours of fun for you, as well as your family and friends. 
If your focus is on the first two categories, all you need to do is invest in a good quality screen, connection device and a bluetooth speaker, and then you'll be good to go!
Image Source: BigStock.com (licensed)
Site Disclaimer 
The Content in this post and on this site is for informational and entertainment purposes only. You should not construe any such information or other material as legal, tax, investment, financial, or other advice. Nothing contained on our Site constitutes a solicitation, recommendation, endorsement, or offer by HII or any third party service provider to buy or sell any securities or other financial instruments.
Nothing in this post or on this site constitutes professional and/or financial advice. You alone assume the sole responsibility of evaluating the merits and risks associated with the use of any information or other content in this post or on this site. 
You recognize that when making investments, an investor may get back less than the amount invested. Information on past performance, where given, is not necessarily a guide to future performance.
Site Disclaimer 
IncredibleThings.com is not a gambling operator or sports betting operator or a gambling site of any kind, and none of its affiliates or subsidiaries constitute gambling operators or sports betting operators. IncredibleThings.com does not offer or provide real currency gambling services of any kind. 
IncredibleThings.com will hold no liability for the consequences of actions that occur at offshore casinos that accept players from the locations where online gambling is prohibited and/or restricted or if a visitor is below the legal gambling age. The content of this site is for entertainment and informational purposes only, and as such, we do not condone financial dealings with any of these sites. It is the sole responsibility of the person playing to ensure that their online casino play falls within the realm of local, state, and federal law. If you use a link that exists on our site to navigate to a third party casino, this is something that is done of your own free will and also at your own risk. You acknowledge and agree that IncredibleThings.com shall not be liable to you or any third party for any losses, damages, claims, suits, costs or expenses of any kind.
Related Categories:
Casino
,
Entertainment
,
Reviews