Including animals in one's house, home and heart has been an accepted part of the human experience since ancient times. Anthropologists have found bones of domesticated animals in the dwelling places of early man. Ancient folklore integrates accounts of animal companions into the tales. Throughout history animals were included in the lives of royalty and common man alike.
In recent years animals have been recognized as helpmates who can anticipate epileptic attacks coming on, guide the blind, soothe fits of rage, sense onset of disease and perform other tasks for elderly, children and impaired individuals. Animals are incredible for what seems to be innate insight, intuition, loyalty and love.
For the most part, these animals receive nothing more than quiet love and little acknowledgement. But every once in awhile, an amazing animal comes to the public's attention for going above and beyond what one would expect of a four-legged critter. Regardless of whether you enjoy playing animal-themed online casino games (Grande Vegas is restricted to individuals of legal age who are residents of jurisdictions where the use of Grande Vegas and its games are not prohibited by law), hearing animal stories on video or reading animal stories in books, you'll enjoy learning these unique stories about some incredible animals.
Shadow the Flying Therapy Dog
Dan McManus, who suffers from night terrors, panic attacks and ADD and has been diagnosed as bipolar, loves to hand-glide. It's one of the things that keeps him calm. Shadow, Dan's therapy dog, keeps Dan safe and alerts him when he's about to have an anxiety attack or night terrors.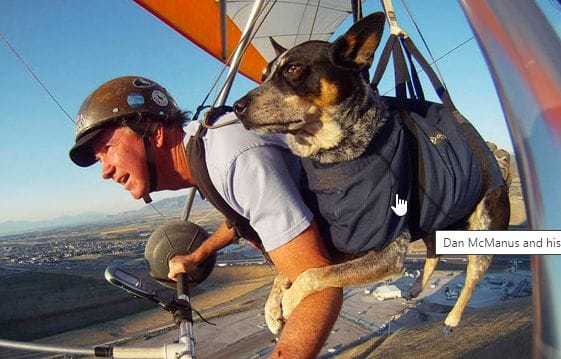 Dan used to go hand-gliding on his own but Shadow didn't want to let him go alone and would chase him as he launched and glided. So after McManus built Shadow a heavy-duty harness the dog and took Shadow up, the dog became an enthusiastic "shadow" as he rode with his owner with his front legs straddled around his human like, says McManus, "a kid in a carnival."
Today McManus owns a hang-gliding business and Shadow, in his own way, helps to keep the business running.
Oscar the Hospice Cat
Oscar the Cat was brought to a hospice to cuddle with the patients.  Unfortunately, Oscar wasn't a very social cat and he generally hid in a supply closet or under a bed in the dementia unit where he was "assigned."
Slowly, the staff of the hospice began to notice that Oscar would come out and go into rooms of people who were about to die. The staff started to pay attention to the fact that whenever someone passed away, the last creature that was in that person's room was Oscar.
Somehow, Oscar sensed that those were the people who needed him most. When he got that feeling, he'd come out of hiding and go into the person's room, jump on their bed and cuddle with them until they passed. After several dozen episodes, it was clear to everyone that Oscar was a special cat who felt the need to comfort the person in his or her last minutes and then honor them in their passing.
Richochet the Surfer Dog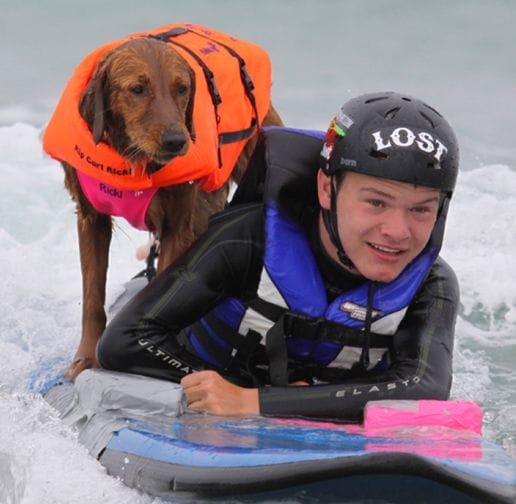 Ricochet was born into a program that trains dogs to serve people who have impairments. Starting from early puppyhood, she was trained to carry, open doors, undo zippers, fetch and perform other tasks for people who were unable to do those things for themselves.
Unfortunately, Ricochet also had an independent streak and she couldn't be broken of her instinct to chase birds. The danger that, in the middle of taking care of someone, she could run off to try to catch a bird made her too much of a risk to continue in the therapy dog training program.
One thing that Ricochet would totally focus on doing was surfing. Her trainer taught her to surf, first solo to raise money for charity and later on, as a tandem surfer who would surf on the board with people with disabilities to balance the board and make it easier for them to enjoy the surfing experience. Ricochet has raised thousands of dollars towards the physical therapy of one of her "clients" with whom she loves to surf.
Gimpy the Seal
Gimpy, an elephant seal, was found after she suffered a head trauma off the coast of California that left her partially blind and paralyzed. She was brought to the Marine Mammal Care Center where she developed a friendship with Hugh Ryno, a volunteer who fed her and cleaned her pen. Once, while feeding her, Ryno slipped and fell and was quickly surrounded by a group of angry young male seals. Gimpy rushed to keep them away, barring her teeth, while Ryno got up and made his escape.
Roselle the Guide Dog
Roselle was living a quiet life as the guide dog for her blind owner, Michael Hingson, when the Twin Towers were hit and she and her owner found themselves on the 78th floor of the Twin Towers. Roselle refused to let Hingson give up as she led him down the stairs to safety in the midst of the attack. Once on the ground, the heroism of Roselle came through as the two were forced to make their way through Lower Manhattan, through the smoke and terror, to safety.
Balto
When an epidemic of diphtheria broke out in Nome, Alaska in January 1925 Balto, a Siberian Husky, led the final relay of a sled dog team through a blinding blizzard on a 674 mile trek to bring medicine back to the village. The diphtheria antitoxin was sent from Anchorage, Alaska, to Nenana, Alaska by train and the dog sled team, led by Balto, brought it to Nome.
So give your dog, cat, bird, lizard or whatever a special little hug today – afterall, everyone's pet is a hero!
Image Source: BigStock.com (licensed)
Related Categories:
Casino
,
Pets & Animals
,
Reviews