Thank you cards are a way to show your appreciation for gifts or services rendered at your wedding. They can also be a way to keep in touch with your guests long after the wedding is over. Thank you cards should be sent out as soon as possible after the wedding and should include a personal message from the newlyweds.
Wedding thank you cards should always include several key elements and personal touches. You'll want to be sure to thank your guests for their gifts and mention how much you enjoyed having them at the wedding. It is also best to include a thoughtful message about how grateful you are for the support of your friends and family. You'll want to hand-sign each card at the end of your message. Your wedding cards should demonstrate your gratitude and serve as another memento for your guests. Let's take a closer look at your thank you cards.
Design
There are no set rules or etiquette for how to design thank you cards for your wedding, but there are a few things to keep in mind. First, your cards should be personal and handwritten, not printed. This will ensure that your guests know how much you appreciate their support and add a personalized element to your cards. As for the design of your thank you cards, there are many options. You can choose a simple design with your names and the wedding date or get creative with a photo or illustration. You can choose special foil lettering or go with a more simplified look.
Whatever you choose, make sure the design is cohesive with the overall look and feel of your wedding. You'll want to try and keep with the same fonts and envelope style as your other wedding correspondence. If you used a monogram on your invitations or other items, you could incorporate that on your cards as well.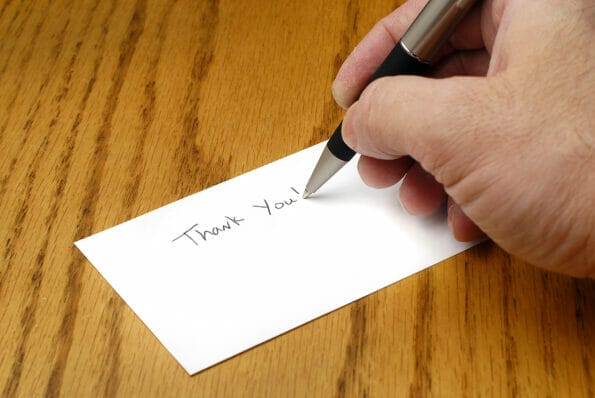 Messages
When your guests receive a wedding thank you note, one of the most important elements is a personalized message from you. More important than fancy fonts and embossed envelopes, your handwritten message will be essential to your thank you notes. It shows that you appreciate your gift and the person's presence at the wedding. Even though the note may be short, the fact that it is personal shows that you care.
A personalized message also shows that you and your spouse are grateful for the gift. You may want to mention how you will use the gift or how much you will appreciate it. This lets your guest know that their gift was appreciated and not just sent out of obligation. A personalized message is a perfect way to show your appreciation for a gift. It shows that you and your spouse took the time to write a message just for the guest, and this is a gesture that will be appreciated for a long time.
Names
When you're writing your thank you cards for your wedding, it's important to make sure that you get everyone's name correct. After all, you don't want to leave anyone out. Before you start writing, you need to take a few minutes to double-check who's signed on the card. Once you've confirmed everyone's name, it's time to get started on your thank you notes.
More than likely, you will probably get gifts from couples. In this instance, you will want to include both of them on your card. However, in other instances, you may get a gift from a group of people like your co-workers. If this is the case, you will need to send each person a thank you note on the card. While this might seem like a lot, each person contributed to the gift, and you'll want to thank each one personally for their thoughtfulness.
Thank you cards are a must after a wedding. They are a way to say thank you to all of the people who helped make your wedding day special. Be sure to include everyone who gave you a gift and craft a personalized message for each person or couple.
Image Source: BigStockPhoto.com (Licensed)
Related Categories:
Weddings
,
Reviews