A garden no matter what size has the potential to improve your life and the way you feel. With a few hanging baskets, well laid paving, decent outdoor furniture sets and a bit of imagination, you'll create a space that you want to spend time in and appreciate.
So with this in mind, let's explore ideas that can bring a small garden space alive.
Think Plants
Working with plants in a garden is a rewarding experience. From the initial planting to cultivation nothing brings a garden alive like flora. The mix of colours and smells can make a small space such as a balcony appealing and glorious.
There are options too. All you need is a few pots and some well chosen plants that are suited to the lighting conditions and you'll soon see the space transform. Other options include growing vegetables or fruit. There is nothing quite like sitting down to dinner where nearly everything on the plate has been grown by your hand. It is very rewarding.
Other ideas to think about are hanging baskets and utilising the border.
So, with this in mind, decide where your plants are going to go and make it happen.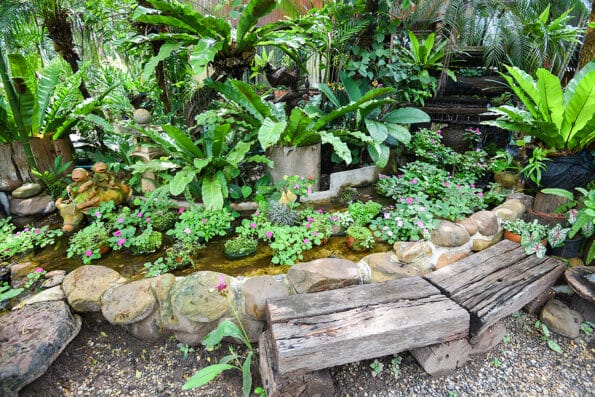 Think Furniture
There is nothing quite like sitting in the garden on a hot day with something cool. This is aided by the presence of garden furniture so you have something to sit on. Consider something like Vidaxl tables as they offer quality and different size garden furniture that can easily fit into a small space.
When you choose furniture ensure that it fits in with the garden design and ideally, it gives you a nice view of your freshly planted flowers and vegetables. This offers an enormous boost to your well being.
Think Themes
If you're stuck for ideas you may want to consider basing your garden design on a theme. The good thing about themes is that a few web searches can give you ideas. Whether you take inspiration from Africa, the Middle East, England, France, or anywhere in the world you can let your imagination run wild and get creative. Sometimes all it takes is that eureka moment when you find the theme that is for you.
Think Features
Other things you may want to include in your garden are aspects such as water features, statues, and creative ways to allow plants to climb. They tend to like doing that. It is astonishing how something tasteful and well thought out can make all the difference to your small space garden design. It becomes especially rewarding when your friends compliment you on it.
It is wonderful to have a beautiful spacious garden where you can potter away in it to your heart's content. The smaller garden, however, also has potential and if you design it well, gives pleasure both aesthetically and in its creation.
All it takes is a little thought and being open to ideas. The inspiration will come and soon you'll be spending more time in your garden than you ever thought you would. Have fun.
Image Source: BigStockPhoto.com (Licensed)
Related Categories:
Home
,
Reviews