Buying an old home that's a bit of a fixer-upper can be an excellent investment, especially if you're a handy person that is able to perform the majority of the work yourself. However, no matter how accomplished you are at home maintenance and repair, one area that you must always leave to a professional electrician is replacing wiring.
How to Tell If You Need to Replace Your Wiring
Even an old home that's still in excellent condition or has recently undergone extensive renovations may still contain an old wiring system that is dangerous to leave in place. The best way to be sure about whether the wiring in your property isn't a hazard is to consult with electrical services for your home or business to get a professional assessment and replace any components that are not up to grade.
That said, there are a few sure signs you can check to let you know when it is time to consult with an electrician:
Aluminum Wiring and Knob and Tube Wiring
If your home is equipped with either of these styles of vintage electrical work, then you could be at risk of dangerous electrical problems. While replacing all of the wiring in your home will be an expensive renovation, both of these kinds of wiring increase your risk of electrical fires substantially, so it is essential to accomplish lest you leave your entire investment at risk.
You may be able to recognize aluminum wiring if your electrical equipment is imprinted with the words aluminum, AL, or ALUM. Knob and Tube wiring may be more difficult to recognize if you've never seen it before, but one sure sign will be that none of your outlets contain a grounding prong. If you notice any electrical devices or wiring components in your home, it is an excellent plan to consult with an electrician.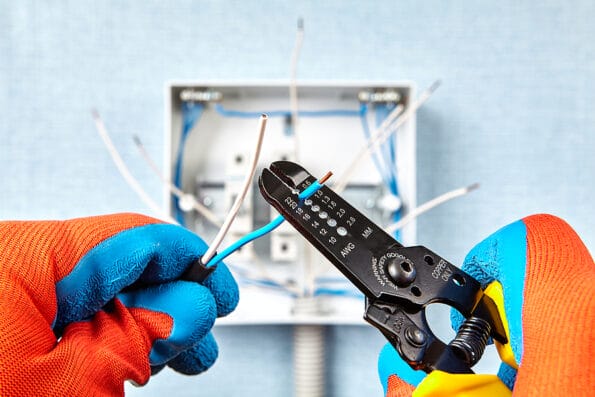 Flickering Lights
If you notice that your lighting flickers frequently, it could be a sign of a more severe problem. You should contact an electrician to determine the problem and find a solution in such cases. While it may be a sign that your home requires new wiring, the fix might also be quick and inexpensive.
Discolouration Around Outlet
As in the case of your lights, if you notice any problems with your electrical outlets or discolouration around the connections, you should inform an electrician and request a visit for an inspection of your electrical system.
Burning Smell
While it is normal to smell burning dust on the day that you first turn your heating system on in the winter, if you smell something burning around any part of your electrical system at any other time, it might be a sign of a significant problem. Again, you'll want to contact an electrician in this situation and try turning off any power source if you suspect you have located the source of the problem.
While an old home might offer you a way to save money on your next property, no savings are worth putting your family at risk of danger. Hire an electrician to inspect your wiring to ensure it is safe.
Image Source: BigStockPhoto.com (Licensed)
Related Categories:
Home
,
DIY
,
Reviews