Electric gates are far more convenient than traditional gates. Since more of the tasks we've always had to do manually have become automated over the years, it's no doubt why most people prefer electric gates. Gates Scotland offers a range of automated gates that are based on your security needs and style preferences. 
Before getting an electric gate, you've probably wondered how they work, and because they work with electricity, you may also be concerned about how they work if a power failure or malfunction occurs. The uncertainty surrounding what could potentially go wrong often makes people wonder if it is worth it to get an electric gate. 
For assurance whether an electric gate is the best security gate option for you, it's necessary to understand how it works.
What is Gate Automation?
Automated gates are growing increasingly popular for residential and commercial properties. Not only are they comfortable to open and operate, but they provide safety to the premises of your entire home or business. 
Electric gates work with a group of components with different purposes, that when combined, create a piece of machinery that opens or closes the gate with the press of a button. These components mainly include a gate motor that moves the gate and a safety device to stop it from moving.
Opening and Closing Systems
The best way to open an electric gate is with a transmitter, otherwise known as a remote control – a small device with a few buttons. The total number of buttons is the total number of channels that exist, which also amounts to the number of systems the transmitter can operate.
Usually, transmitters are designed with a button that, when clicked, allows you to open or close the gate. Once pressed, the transmitter sends a signal that will make contact with the receiver that is connected to the motor controls.
In the United Kingdom, two frequencies are used for this signal, including 433MHz and 868MHz. However, for the electric gate to open and close, the transmitter and receiver must have the same frequency. If new remotes are required, they must have the same frequency and coding for the transmitter to work with the receiver.
Gate Access Solutions
Electric gates have access control systems that allow you to open the gate. This is usually done with a button outside the gate that is connected to a buzzer inside of your house. Once pressed, the buzzer will sound off in your house. There will also be a button on the buzzer that can then be pressed to open the gate. Unfortunately, there is no communication system with electric gates if you use this alternative gate access option. However, if you have a security camera set up around your home, you can see who is pressing the button outside of the gate. Usually, security systems also have an intercom that can allow you to communicate effectively. In this case, radio wireless technology is your best option. Mobile phone technology can also be used and is an option gaining more popularity as technology progresses over time.
Access control systems can be modified according to your security needs. You can even add additional security to the access control system with the help of a simple keypad, which uses programmed number combinations. It will allow you to operate your gate. Alternatively, proximity readers can also work well with keypads. Another alternative option is a card reader that can operate the gate similarly.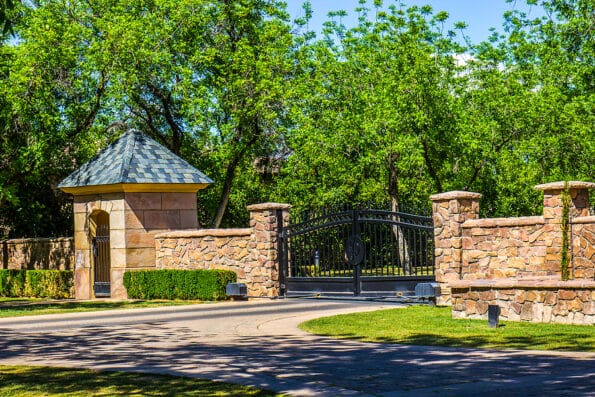 How Does an Automatic Gate Motor Work?
The automatic gate motor works with a specific signal that gets sent from the remote, intercom, or keypad, which instructs the motor control to open or close the gate.
Electric gates can have one or two motors. A single gate motor is usually located on a sliding gate, while two motors are used on swing gates. These motors either have electric or hydraulic systems to move a gate. 
Swing gates work by rotating around hinges on pillars or posts of your gate entrance while sliding gates run along tracks, which are laid across the entrance on wheels, supported by the motor using a roller retainer. Swing gates also use articulated arms, linear screws, and hydraulic rams. Sometimes, it also uses hidden underground motors to operate the gate instead of a motor above the gate. Sliding gates use a single static motor, which rotates the gear, moves the rack and the gate.
Gate Safety
Electric gates are perfect if you want to add security to your home or business. To make your gate safe for your household and pets, you can physically block any hazardous areas on the gate. 
For added safety, you can also implement electronic safety measures. This can be done by using infrared photocells, which operate in pairs – one emitting an invisible light beam onto another. These beams must be placed on access points to stop the gate if anyone enters it. Rubber safety edges can also be added to the edges of moving gates to stop or reverse the gate, should it come into contact with anyone or anything.
Image Source: BigStockPhoto.com (Licensed)
Related Categories:
Home
,
Reviews