The Most Popular Patio & Deck Designs For 2022
Outdoor living spaces have become increasingly important in recent years. This is because decks and patios are quickly becoming new and unforeseen extensions of the home. As a result, now is the ideal time to get an early start on planning the perfect patio and deck upgrades for your backyard. When it comes to deck and patio design in 2022, there's a lot to be enthusiastic about, from cooking to exercising, entertaining, relaxing, and so much more. Your only constraints are those of your own imagination.
Whether you're simply planning ahead or ready to start looking at patio furniture and outdoor fire features, there are a few trends to keep in mind this year as you move forward with your design. Considering that, patios and decks can be created in a variety of ways depending on their intended usage. To that end, we asked the Toronto Landscaping professionals at M.E. Contracting for their take on what to expect next in outdoor design to help you create your perfect (and perfectly on-trend) patio and deck this season. This article will explore these top 5 patio and deck design trends and give you some ideas on what they could look like in 2022.
Update your deck with some of the year's top trends. These trends will make your deck more appealing, welcoming, and functional. Whether you have a large or small deck, these deck and patio trends will help to make your backyard the envy of your entire neighborhood. Please read on for more information on what's trending in 2022.
1. Updated Railings
Regardless of the type of deck or patio in your backyard, almost all will have some form of railing system implemented into the overall layout and design. That being said, deck railings were previously considered an afterthought in deck construction, though they are now considered a must-have by many homeowners. To that extent, one of the simplest and most feasible ways to ensure your deck or patio is on-trend this year is to update your railing system.
Deck railing systems are simple to install and can be designed to fit almost any style, making them a no-brainer! Presently, more modern metal balusters are found to be quite on-trend, followed by having the balusters run horizontally rather than vertically. Moreover, adding a personalized touch that goes beyond the conventional baluster, such as a deck board drink rail, is becoming increasingly popular and can add a modern aesthetic to any area! Horizontal balusters or cable rail infills, both available in aluminum railing options, add a contemporary touch to any area.
2. Pergola Additions
With more Torontonians using their Toronto decks and patios for extended periods of time throughout the seasons, there has been an increased desire for privacy while spending time outdoors. To that extent, the implantation of more permanent decking and patio structures, like pergolas that provide that much needed element of privacy, has become increasingly trendy in 2022. What's more, these structures not only add flair but also much-needed functionality to any outdoor living space. This is a terrific way to dress up your deck while also offering shade. Whether you string lights to the rafters or let vines grow around them, the possibilities are nearly limitless.
Pergolas are extremely useful additions to any patio or deck design. This is especially true for locations with colder winters since they allow you to enjoy the outdoors for much longer. Moreover, pergolas provide shade in addition to protection from the elements and privacy, while still allowing you to enjoy the beauty of your surroundings. Not to mention, they can be built to accommodate any budget. This makes them one of the best trends right now!
3. Modern & Minimalist Design
Modern design is on the rise now with minimalism that is sleek, light in color, and uncluttered. To that extent, the very old saying of "less is more" couldn't be truer for describing popular patio and deck design trends for 2022. Patio and deck designs that use simple and clean lines thereby reduce bulk, and provide a sense of peace as well as beautiful, unobstructed views of your backyard, landscape, and surrounds.
When it comes to designing your patio as part of a more modern area, clean lines and color are key in 2022. To that extent modular, geometric patterns are a big trend this year, offering clean lines and an uncluttered aesthetic. This is particularly true in the layout and design of your deck, with the addition of patterns such as hexagons and herringbone to spice up the arrangement. What is more, modular materials also simplify installation, allowing you to spend less time on construction and more time enjoying your new or improved patio. Additionally, we're seeing an interesting trend of monochromatic color schemes with varied tones of the same hue, as well as splashes of color in outdoor furniture, plants, and other decorations as a means of sprucing up your backyard patio design. In that regard, color is especially effective for establishing zoning effects in your outdoor environment.
4. Stone Retaining/Accent Walls
In 2022, sustainability is at the forefront of our minds. To that end, putting up walls can be advantageous. That is, if you are discussing retaining wall ideas for your outdoor spaces. Stone retaining walls can be used to add contrast and texture to any space within your backyard. It provides an opportunity to mix materials in a way that would otherwise not be possible with other surfaces. Stone retaining walls offer a unique look that is unparalleled by other surfaces.
Moreover, you might assume that retaining wall ideas are all about function—after all, they prevent soil erosion and minimize the risk of flooding—but these structures can also beautify an outdoor environment by establishing levels, leveling out a hillside, and even constructing a pathway with pavers. That being said, retaining walls have become increasingly on-trend in 2022, with regards to patio and deck design. Provided that they offer a variety of benefits to any homeowner's backyard. In particular, retaining walls made of stone, brick, or cement are attractive design components that help with drainage.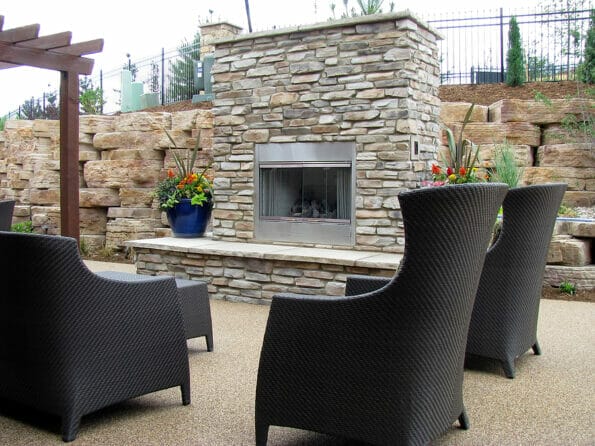 5. (LED) Deck Lighting
More decks are gaining nighttime functionality, from illuminating a walkway with inlaid stair lights to hanging bulb lights along a pergola or posts to help set the tone come dusk. That being said, deck lighting is one of the most popular outdoor décor trends for 2022. Provided that, deck lighting is a low-cost solution to improve almost any outdoor space. The incorporation of deck lights makes it easier to see where you're going and adds lighting to every area of your deck, rather than just one spot.
Moreover, homeowners appreciate the versatility that lighting provides for their lifestyle. Deck lighting enables you to enjoy your deck at any time of day. On a deck with illumination, movie evenings, drinks, and yoga beneath the stars are all possibilities. It's one of the main reasons why more homeowners are considering including LED lighting in their next project.
Best Deck Material for Your New Deck in 2022
The most crucial decision you'll make when constructing a deck is deciding on a decking material. Different situations necessitate different types of decking, and each has its own distinct aesthetic appeal, maintenance requirements, and other key factors to consider while selecting. Choosing the best decking material for you is a combination of personal and practical preferences.
To that end, the best deck material for 2022 is composite decking. Composite decking is made from a combination of wood and plastic. More specifically, composite is made out of wood fibers that have been enclosed in plastic. That being said, composite decking is often the top choice for decking material in 2022 due to the fact that it can endure longer than traditional decking materials if installed properly and without the risk of splinters. However, the trick to composite decking is to ensure it is properly installed and that you have an idea of everything you plan to put on the composite deck. This will allow you to determine the amount of support that is required. For more information on composite decking, contact the licensed outdoor solutions company, M.E. Contracting, for further assistance.
Conclusion: Redefine You Patio In 2022
Whether you're looking to completely transform your backyard or redefine your outdoor living spaces, a new patio or deck is the perfect outdoor solution for you! In this article we have provided you with a variety of key trends to ensure you stay up to date and on budget for the spring of 2022. That being said, it is our hope that after reading this article you will have a better understanding of how to make the most of your patio and deck design with help from the experts at M.E. Contracting, Toronto's premier outdoor solutions company. For more information, visit their website today!
Image Source: BigStockPhoto.com (Licensed)
Related Categories:
Home
,
Reviews