Do-it-yourself (DIY) home improvement projects can significantly save money and express your creative flair. However, completing DIY tasks often requires the right tools. Fortunately, you don't have to break the bank, stocking up on every tool available. Equipping yourself with essential equipment is a good start and will ensure you can handle most basic home improvements and repairs. This article looks at essential tools that every homeowner needs in their toolbox.
A hammer
A hammer is an essential tool for any homeowner's toolbox. It's one of the most versatile pieces of equipment and can be used for various tasks, from driving nails into wood to removing unwanted nails or even prying objects apart. Hammers come in various shapes, sizes, and weights, so it's essential to choose an appropriate option based on the job at hand. A claw hammer with a wooden handle is typically best suited for general use, while a specialty hammer such as a ball peen hammer may be necessary for more specialized tasks. Padding between your work surface and the hammerhead will help reduce vibration and noise when pounding in nails or other fasteners.
Measuring tape
A measuring tape is another essential tool for any homeowner's toolbox. It's a must-have for any job involving precise measurements, from hanging artwork and shelves to laying tiles or cutting wood to size. Measuring tapes come in various lengths, from three to ten meters, so choosing one that meets your needs is wise. When buying a measuring tape, look for features like an integrated lock switch that will prevent the tape from sliding back into its housing while you measure. An auto-lock mechanism can also be helpful when making quick measurements, as it will keep the blade in place without manually holding it down with your finger. Additionally, look for a durable casing and ergonomic handle to ensure the tape stays in good condition and is comfortable.
Screwdrivers
Screwdrivers are an essential tool for any homeowner's toolbox, as they come in handy when working with screws of various sizes. Look for a set of screwdrivers equipped with replaceable tips and adjustable torque settings so you can work on different materials without damaging them. Additionally, look for ergonomically designed handles to ensure comfort while using the tools. It's also wise to purchase a few specialty screwdriver bits, such as Torx and Phillips head drivers, as these are often required for specific projects. Finally, invest in a cordless screwdriver if you plan on doing a lot of work away from an outlet, as this will make your life much easier.
Level
A level is another essential tool for any homeowner's toolbox and can ensure accuracy when installing shelves, hanging artwork, mounting TVs, and other tasks. Most levels are equipped with a spirit bubble vial which shows the degree of tilt using air bubbles suspended in the colored fluid inside the enclosed tube. Choosing a level with durable construction and rubberized edges is also essential to protect surfaces while you work. 
Low-cost plastic models are typically not up for the job, so investing in a good-quality aluminum model is critical. Some levels also come with laser pointers to help you draw perfectly straight lines.
Wrenches
Wrenches are an invaluable addition to any homeowner's toolbox, as they can tighten and loosen nuts, bolts, and other fasteners. Standard wrenches come in various sizes and shapes, such as the adjustable wrench, which can accommodate different sizes of fasteners without switching tools. Other types of wrenches include box-end (for gripping nuts), open-end (for a quicker grip on smaller screws), combination (a combination of both ends), ratcheting (increases speed during assembly/disassembly jobs), and socket wrenches, which require an adapter to fit on a ratchet handle. 
Quality and durability of the material used in construction are essential, as wrenches are typically subjected to heavy use and wear and tear over time. Therefore, buying a good quality wrench set is essential for any homeowner looking to take on DIY projects.
How to ensure you choose the best quality tools
Choosing the best quality tools is essential when building a well-stocked toolbox for DIY projects. Selecting the right tools for your needs can make completing a project quicker and more accessible and ensure accuracy and precision. Knowing the features to look for and what questions to ask can help you make the most informed decision when selecting the right tools.
Research
Before making any purchase, it is essential to research the different types of tools on the market. Look for reviews from trusted sources such as roushardware.com to ensure you buy a quality product that meets your needs. Additionally, take note of features like ergonomic handles and adjustable torque settings, which can make using the tool more manageable and more comfortable.
Compare prices
Comparing prices also ensures you get a good deal on quality tools. Check out online stores like roushardware.com for competitive pricing and compare prices between different stores to find the best bargain. Additionally, look for special offers or discounts to help you save money on your purchase.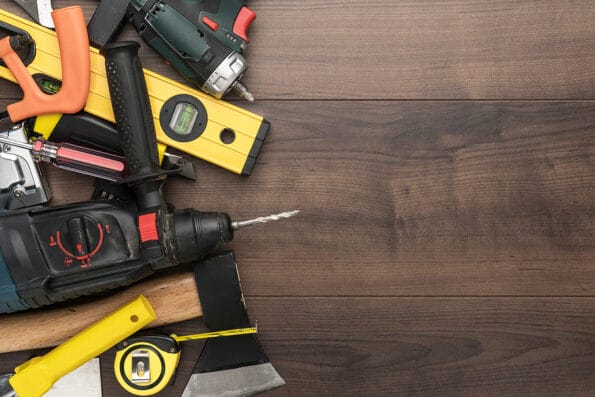 Ask questions
It's also a good idea to ask questions about the tools you are considering buying. Inquire about product warranties and return policies, as this can assure you are investing in a quality product that can be easily replaced if it becomes defective over time. Additionally, ask about the types of materials and construction quality, as this can help you determine the tool's longevity.
Read the instructions
It's also essential to read any instructions with the tool before using it. Many tools have complex parts and functions, so understanding each of these will help you use the tool correctly and safely. Additionally, taking a few minutes to read the instructions can prevent costly mistakes or damage to your property.
Image Source: BigStockPhoto.com (Licensed)
Related Categories:
DIY
,
Reviews