If you're looking to update the look of your home, you should consider the Southwestern style. This traditional decorating style showcases the beauty of the American Southwest and injects vibrant pops of color into your home.
A key component of creating your very own little corner of the Southwest involves using strategically placed Southwestern area rugs. These colorful handcrafted Navajo tapestries with striking geometric patterns will accent and elevate the design factor in your space and are a secret weapon used by many interior designers to achieve this rustic décor.
With that said, there are various other techniques that you can use to perfect the Southwestern style—let's have a look at some of the most effective options.

Define the Space
Do you prefer lighter airy backgrounds, or would you rather have rich, dark tones to define your space? Before you consider any other design aspect for your home, you should first choose the primary colors that will drape your walls and doors.
Whites, pastels, tans, teals, mauves, and purples provide stunning backdrops for the Southwestern theme. Wood floors, doors, and ceilings are also perfect for Southwestern style and complement this rustic décor beautifully.
Choose Leather Upholstered Furniture
After all, were channelling cattle country! Besides being very comfortable, leather also references the desert landscape and cowboy culture.
A sturdy Chesterfield sofa placed at the center of your living room or a leather club accent chair placed next to your fireplace will define your living room.  Leather is warm, easy to clean, and durable too.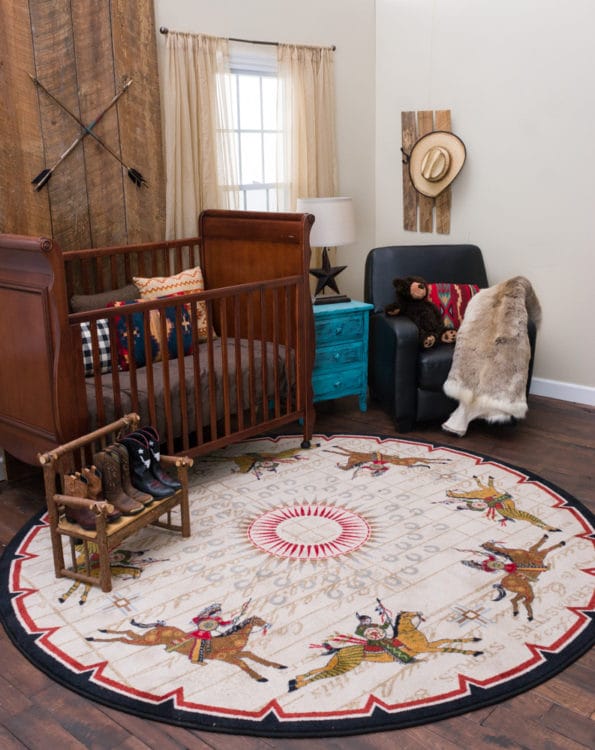 Leverage Warm Lighting
Warm lighting enhances any décor, not just Southwestern style. Think sunset in Nevada and sunrise in New Mexico— warm, soothing, and inviting. Warm lighting accentuates your furniture, wood, paintings, or Southwestern area rugs, giving them a more vibrant hue and making them stand out.
Use track lighting in the kitchen, floor, and table lamps in the living room, and occasionally candles on your mantelpiece, or better yet install a wall mounted fireplace to achieve a warm and cozy ambiance.
Cactii and Other Flora
Bring the desert indoors and beautify your space with desert flora. Don't overdo it though, as this might overwhelm your design. Potted cacti and succulents would do nicely indoors, and cornflower, desert marigold, and calendula would do very well on the porch and garden, adding color to the outside of your house.
Rounding Out the Design with Southwestern Rugs
To clinch this décor, you can use Southwestern area rugs to accentuate your overall interior design. These rugs have a Native American inspired design and are beautiful with intricate hand-woven patterns.
Use these Navajo style rugs as your main living room carpet, or place them as area rugs to delineate the space between your living room and dining room, hallway or kitchen. Drape them prominently on walls instead of art, or an accent chair.
Enjoy the Southwest at Home
It's essential to make your house feel like a home. If a Southwestern style is what you aspire to, these tips should certainly help you achieve this warm, colorful, and quintessential American style.
Image Source: BigStock.com (licensed)
Related Categories:
Home
,
Reviews