Creating a sanctuary to escape to after each day's challenges and activities requires thoughtful consideration in design and furnishings. Whether you are most comforted by a bedroom full of your favorite things or only find peace in minimalist surroundings, there are five essential furniture pieces required to create the most advantageous foundation.
Below we've outlined each essential with suggestions and rules of thumb for creating the nest of your dreams. Bedrooms set with these must-haves will provide the basics in comfort and functionality you'll enjoy for years to come.
Essential #1: Inviting Bed
When it comes to creating a sanctuary, or nest as some like to call their bedroom, the bed is the centerpiece for providing comfort and relaxation. You'll want to choose a bed to fit your way of sleeping and relaxing. The bed size will be determined by two factors, the room size and whether you sleep solo or with a partner. If your bedrooms set to handle a king size bed, this is the ideal size for two people. It offers spaciousness to stretch out and sleep without disturbing each other. For smaller rooms or a single sleeper, a double or queen bed will provide ample space.
For those who enjoy watching TV, working on a laptop, or reading in bed, a tall cushioned headboard on your bed will provide comfort and support while sitting up. If sleep is the only thing on your mind once you are in your room, a minimalist platform bed with low-profile bedhead will work nicely.
Essential #2: Ideal Mattress & Bedding
Enough cannot be said about the importance of having the ideal mattress and bedding. Whether you desire firm support or like to sink into your mattress, there are practically endless mattress choices. A pillow top style mattress made of high-density memory foam around an innerspring core can offer the optimal in sleep for those who have issues with pressure points, back pain, or arthritis. If price is not an issue, a sleep number type bed may offer you and your partner individualized options for your best sleep ever.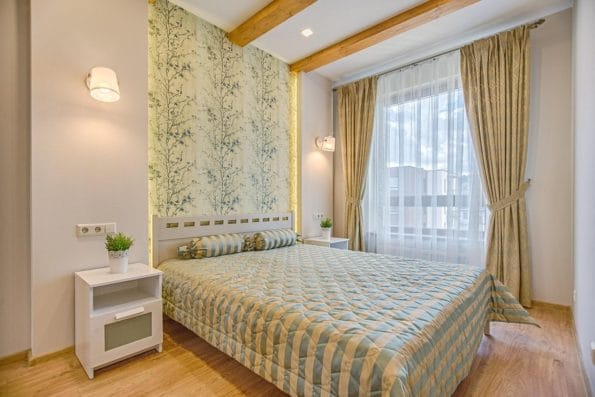 Comfortable bedding is equally as important. Avoid scratchy stiff sheets and comforters; instead, opt for high thread count cotton sheets with a super soft finish. For a true boutique hotel-like experience, dressing your bed in pure white sheets and a down comforter will do the trick. White bedding can be bleached and laundered for a pristine look.
Essential #3: Nightstands with Ample Top Surface & Drawer Space
Flanking the bed with a pair of matching nightstands will provide a look of symmetry and plenty of stash space for personal items. If you have an upholstered bed, go for solid wood night tables for a contrast. Choose nightstands with ample top surface to hold matching reading lamps, your electronics, and beverage or reading material. For additional style, choose a bendy lamp that has cordless portability and ambient light. It has 3 levels of brightness and moves 360 degrees, making it extremely accessible and fun to use. Also, large drawers and cubbies will provide enough room to store personal items and reading materials to keep everything close within reach.
Essential #4: Roomy Dresser with Mirror
To keep clutter and clothes in check, a large dresser is a must-have for every bedroom. A six-drawer dresser, often available with bedrooms set purchases, will provide plenty of room to store clothing, jewelry, and personal papers.
A matching mirror hung above your dresser will add a reflective quality to your bedroom and allow you to check your appearance before heading out to greet the morning. Choose a mirror in a rectangular or oval shape to hang above a long dresser or a square or round mirror to hang above a slender one.
Essential #5: Comfy Lounge Chair with Accent Table
For those who love to read or watch TV in the comfort of their bedroom will love to curl up in a comfy lounge chair at the end of the day. The ideal chair will have super soft upholstery, deep seat, high back, and ample arms. Add an ottoman
All the above essentials can be purchased as a bedrooms set from 1StopBedrooms with all pieces included for a fixed price. This will make furnishing your bedroom with everything you require quick and easy.
Related Categories:
Home
,
Reviews