Fire marshals regularly perform fire safety inspections to assess potential fire hazards in a building or establishment. Various organizations can use these safety inspections and the fire marshal's findings to resolve fire hazards in their areas to comply with existing local fire code requirements. Failure to comply can result in the loss of life and property and business suspensions, if not complete shutdowns.
 The Role of the Fire Marshal  
The local municipal fire chief appoints fire marshals to enforce fire codes through inspections of different businesses in a given area. After an inspection, fire marshals must inform the fire department of their findings and let respondent businesses know what they need to do to comply with fire safety regulations.
According to the NASFM, or the National Association of State Fire Marshals, being a fire marshal also means investigating fire and arson incidents and educating the public about fire safety. They also conduct firefighter training, respond to hazardous materials (HAZMAT) incidents, and assist in various firefighter emergencies.
 How To Schedule a Fire Marshal Inspection  
Depending on where your business is located, the type, frequency, and procedures of a fire inspection will often vary. As a business owner, it's a good idea to familiarize yourself with your area's fire regulations, which you can find on your local fire department's official website.
Having a good understanding of local fire codes is important. Fire marshals and inspectors will typically focus on this to ensure that your business updates their fire protection and prevention programs after they complete their inspection.
 How Frequent Is a Fire Safety Inspection?  
The local fire marshal's office will normally visit small businesses once a year to conduct the needed inspection. Newly-built or remodeled buildings are not required to undergo an inspection. Meanwhile, entertainment, hospitality, and health-based businesses could face more frequent check-ups.
 Areas Covered in a Fire Safety Inspection  
According to experts in water damage restoration in Denver, these are the areas you need to double-check to ensure that an inspection doesn't trigger unwanted alarms and keep your establishment safe.
Pathways and Hallways
Clear pathways and hallways should be available to permit exits from doors or windows. All pathways, including fire escapes and corridors, must be approximately 3 feet wide and have emergency lights that are not blocked or forcibly opened. Multiple exit points are preferred, especially during emergencies.
In case of a power outage, it is also important to have functional emergency lighting with sufficient battery power that can last for at least 90 minutes.
Identity
Your business's name must be visible when viewed by people from the outside. This will make it easier for emergency service personnel to find your business should the need arise.
It's also important to have an evacuation plan that everyone in the establishment can easily look up if they need to. Post them in strategic locations of the building, where people can easily see them.
Electrical Systems
Overloading sockets will not pass any fire safety inspection, so make sure you don't have them in the building. Keep breaker boxes and electrical panels free of obstructions and replace any defective or burnt-out bulbs immediately.
Control Panels
Fire alarm panels should be functional when inspected to ensure compliance with current fire codes. Keep any documentation, such as inspection tags, that confirms services and tests done during the previous year. A fire marshal might request these during his inspection.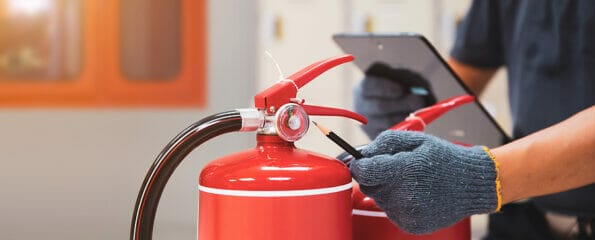 Suppression Systems
Any business should have the resources necessary to respond to an emergency until help arrives. Your property must have a sufficient water supply for the fire sprinklers to work. Fire extinguishers and other suppression tools should be functioning, fully charged, free from debris, and regularly maintained by qualified professionals. Fire marshal inspections usually focus on suppression systems, which are critical components of a fire safety program.  
 Key Takeaway  
Fire marshals are people tasked to enforce local fire codes through annual inspections. Business owners are required to comply with these annual fire safety inspections, which are designed to ensure places of business are safe from fire and can provide the necessary resources to deal with a crisis like fire or an earthquake.
While the requirements for fire marshal inspections can vary from one area to the next, these will usually focus on the electrical and water supply, pathways, and access areas of a given business establishment. Failure to comply with the accepted fire safety standards could result in business suspension and, sometimes, even a full shutdown. If a fire safety violation is not detected, even if it exists, an organization may feel it can continue to operate. However, this only exposes people to fire if and when it occurs. Given this possibility, a fire safety inspection should not be underestimated.
 Image Source: BigStockPhoto.com (Licensed)
Related Categories:
Safety
,
Reviews