More athletes are now considering CBD as the key to optimum wellness and confidence in the arena. But before you decide if CBD is going to be your latest training companion, let's look at what CBD is and if it really can change the name of the game for professional athletes and sports enthusiasts.
The Link Between CBD and The Sporting World
For professional athletes, amateurs, and fitness buffs alike, it is challenging to find performance-enhancing supplements and treatments that allow them to recover quickly and effectively. When it comes to sports and athletics, medications and other supplements must follow anti-doping state laws and be preferably natural, with as few adverse side effects as possible. 
However, based on a 2019 study published in the Frontiers in Psychology journal, chronic use of over-the-counter pain relievers, including non-steroidal anti-inflammatory drugs (NSAIDs) like ibuprofen, diclofenac, and naproxen sodium, might pose some severe health risks, such as gastrointestinal side effects and particular allergic reactions. Moreover, opioid abuse is now considered an epidemic held responsible for thousands of casualties in the US every year, as stated by the Centres for Disease Control and Prevention (CDC).
Enter CBD. The growing interest in cannabidiol (CBD) as one of the newest sports supplements in the market has offered a natural alternative to athletes with significantly less risk of side effects when compared to the risks associated with NSAIDs or painkillers. A growing body of preliminary research combined with anecdotal feedback suggests that CBD and sports may potentially go hand in hand.
What Legendary Athletes Have to Say About CBD
An ever-growing number of athletes from many different backgrounds swear by the promising impact of CBD on their sports journey. 
Alex Montagnani, a British Mixed Martial Arts (BMMA) champion, is one of the few famous athletes who are very open when it comes to their CBD experiences. Montagnani has considered CBD oil as an essential component of his daily lifestyle and training, which he's been using religiously for a while now. In fact, in an interview, he recently talked about how CBD had influenced his training in an incredible way, helping him recover more quickly from muscle injuries and, of course, making his nights of sleep more relaxing than ever. 
Kieran Kevan is another celebrated athlete who has been attesting ardently to the beneficial impact of CBD on his sports career and healthy lifestyle. The reigning champion of the UK Drug-Free Bodybuilding Association (UKDFBA) is also a well-known health specialist who serves as an inspiration to many aspiring athletes and fitness enthusiasts across the globe. In his recent interview with Cannabis News and Lifestyle, Kevan shared how suffering from a tragic injury a few years ago had left him overly dependent on opioids and other pharmaceutical drugs, as well as how CBD has helped him recover from the terrible drug abuse.  
Even ex-player of Wales Football International, Simon Church, has firmly believed that CBD could have saved his career from falling apart when he was forced to retire at a very young age due to his long-term hip injury. In an article published recently in The Sun, Church revealed that if he had only tried CBD a lot sooner, he wouldn't have relied too much on painkillers to get through the torturous pain he felt at that time. Church is now regularly taking CBD to potentially help him manage everyday stress, sleep better, and be able to visit the gym for a regular workout.
As the CBD market continues to flourish and evolve, we may see an influx of sports personalities and aspiring athletes embrace the world of CBD and use more of it in the future.
How to Consume CBD the "Athletes" Way
Countless forms of CBD-infused products hit the sports market every week. With various forms come different ways to consume CBD. Each CBD consumption method has its own bioavailability level, which determines how quickly it delivers CBD nutrients to the bloodstream and their potential effects on their biological destination inside the body. Since CBD edibles have to pass through the digestive system, it usually takes a bit longer to experience their purported effects.
Edibles
CBD-infused edibles (such as sports drinks and protein bars) are a common sight at most gyms nowadays. While they can be delicious and convenient, CBD edibles take a long route to the bloodstream via digestion, where some CBD is metabolized and lost. In other words, the bioavailability of these products can be low. 
Sublingual oils and tinctures
Another oral method of consuming CBD is done sublingually by simply placing a few drops of CBD tinctures under the tongue for around one minute before swallowing. This method of CBD consumption tends to be faster and more effective because the CBD extract is absorbed into the bloodstream via the thin capillaries under the tongue (the sublingual area).
CBD pouches
One potent product that may be new to some is CBD pouches, also known as cannabis dips. This lesser-known method of CBD consumption is performed by placing a pouch between the lips and gums, where it releases CBD, sometimes along with a pleasant flavor. This method of consumption may be new, but many CBD users love its discreet form and quick delivery.
Vape
Vaping is another common way of consuming CBD. While many premium CBD vapes are now safe and free from harmful chemicals, they might not be the best option for athletes due to the potential risks concerning breathing and lung capacity.
Topical application
A popular and practical CBD method in sports appears in the form of topical products like massage oils, lotions, and salves. Using CBD topicals is as easy as applying your traditional creams and lotions. All you need to do is apply a liberal amount of your preferred CBD topical into the desired area.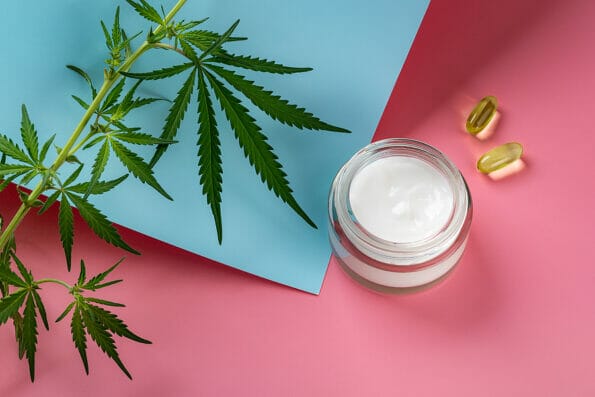 One important note
Most CBD products fall under three different categories: full-spectrum, broad-spectrum, and isolate.
Full-spectrum CBD products usually contain CBD plus the other cannabinoids and hemp plant compounds (such as terpenes and flavonoids), including legal levels of THC. Broad-spectrum CBD products also include CBD and other cannabinoids and hemp plant compounds but no THC. CBD isolate contains CBD and no other compounds found in the plant.
While full-spectrum CBD products are thought to provide potential benefits of the entourage effect, for obvious reasons, athletes and sports people that undergo drug testing should only use isolate products.
The Final Round
The growing popularity of CBD products may potentially mark a huge turning point in the sports industry, with many purported benefits. However, the sources of scientific studies are limited and are needed to support the testimonials of many sportsmen and their experience using CBD. There is still a long way to go before we can fully understand how CBD works and how to best utilize it in sports. But from what we know so far, CBD has promising benefits, which may welcome even bigger victories among athletes and fitness enthusiasts.
Image Source: BigStockPhoto.com (Licensed)
Related Categories:
CBD
,
Reviews
,
Sports