African American people usually have curlier hair type which requires slightly different expertise than regular hair transplant operations. In general, black people's hair types are classified as 4a, 4b, and 4c. Afro-American hair type is generally thick and curly which makes it an ideal choice for adding volume to the transplanted area. The biggest advantage is that fewer grafts are required to be extracted and implanted in the operation area. Although the processes are similar, there are minor differences. Meaning that people who have Afro-American hair type can enjoy a natural look without any problems as long as they choose the right clinic.
Why Is Afro American Hair Transplantation Considered Challenging?
Unlike what most people believe, the afro hair type is suitable for hair transplantation procedures. But why do people think that it is challenging?
Afro hair type is a lot more fragile than Caucasian and Asian hair types. That's why extraction and implantation processes require experience, expertise and patience. Implanting angle matters a lot to achieve a natural look. That's why each graft must be implanted with utmost care so that new hair can match the existing hairline and hair type.
Experience is one of the most important indicators when choosing a hair transplant clinic. As the afro hair type is unique, surgeons may lack experience in this field. An inexperienced surgeon might not provide the best result that you can get and cause disappointment. That's why you should consider an experienced Afro American hair transplant clinic. You should definitely check their reviews, video testimonials and before-after photos.
What Are the Advantages of Afro Hair Transplantation?
The major advantage of having 4a, 4b, or 4c hair types is that you do not need to worry about the volume of your new hair. Experienced surgeons will be able to remove less grafts than other hair types; meaning that even though your donor area is limited, you will be able to have a successful result.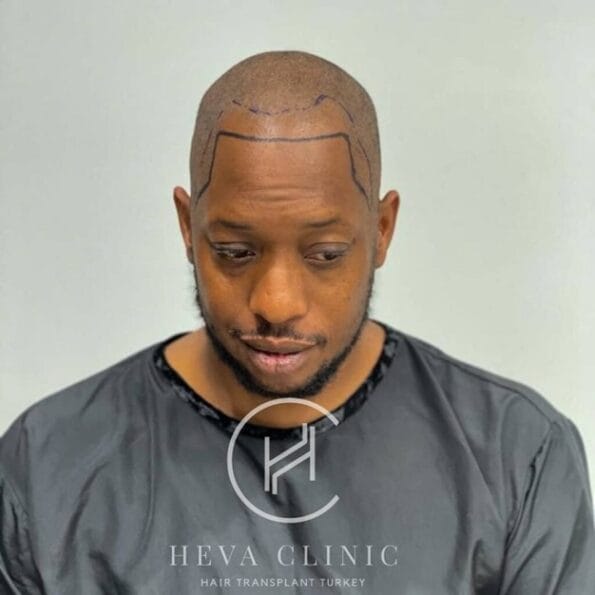 Photo by Heva Clinic on dentalhairclinicturkey.com
Which technique is better: FUE or DHI?
There are three main hair transplant procedures: FUE, DHI and FUT. Briefly, FUT refers to removing an entire strip of scalp and it may leave a scar at the back of the head, and it makes FUT not suitable for people who use short hairstyle. FUE hair transplant technique is the most reliable and common method, it limits the scarring and can provide up to 6000 grafts in a session. DHI technique involves a sophisticated tool called 'Choi Pen' to implant up to 4 hair follicles; that technique takes longer than others but it can provide denser looks. All in all, DHI seems to be suitable for people who want to fill a specific area, and FUE is a good choice for people who have more severe hair loss issue.
Is it expensive?
Hair transplant operation costs vary from country to country due to the average salary of surgeons. Mainly Turkey, Thailand and India are the most cost-effective countries in that industry. The cost of a hair transplant in Turkey is between $1500 to $5000 depending on the number of hair follicles that you need. Turkey is one of the leading countries in terms of healthcare tourism and ranking number one in black men hair transplant operations. The similarities between Arabic and African hair types provide a great experience for many Turkish surgeons.
Image Source: BigStockPhoto.com (Licensed) and by Heva Clinic on dentalhairclinicturkey.com
Related Categories:
Beauty
,
Reviews