Crappies are popular freshwater fish, owing to their value on the plate. But, they can put up a decent fight and can be a challenge to catch for a beginner, especially ice fishing. But, with the right tackle, techniques, and safety precautions, you can catch crappie seamlessly.
The Tools
The first step is putting together the right gear for ice fishing crappie. Tackle used in fishing other pan or small game fish work just fine when fishing crappie. The best fishing rods should have soft tips and be 36 inches. These, together with ultra-light reels, work perfectly.
You will also need a power auger, a portable sonar, a jigging rod, a variety of jigs, and bait to lure.
You can use a manual auger to build the holes, but a power auger works faster and more effectively. Remember, you will need to dig more than a dozen holes to catch something reasonable; therefore, a power auger is the best.
Ideally, the blades should be no wider than 5 inches. You can drill as many holes as needed for a productive ice fishing expedition with a high-quality auger.
The bait you choose matters, and since crappies are quite aggressive, you have to tip the jigs with bait to catch some. Minnows work best for catching crappie, especially the large white crappie.
Additional items you may need, though not mandatory, are a sled to haul your tools and tackle easily and a lantern if you need to fish after dark.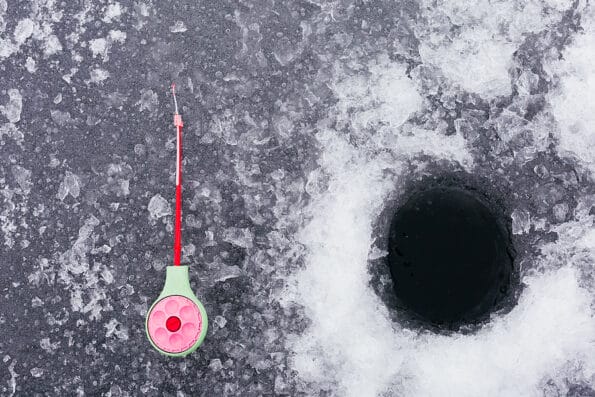 The Location
The best way to pick a suitable location is to start with where you've caught crappie before. Pick points with stable water levels, ideally 7 to 12 feet deep, and around areas with green weeds. These areas attract crappie, and you may have a higher chance of catching more there.
Since crappies tend to cluster in such areas, gentle slopes may be viable locations. They can typically be anywhere; therefore, you need to be patient looking for the best location. You can use the sonar to check for crappie in deeper waters and look for suspended clusters of fish.
Some may be suspended at varying depths at the same time; therefore, a sonar can help you determine how far from the top they are. Some may be close to the bottom, while others may be near the ice.
The best way to catch crappie in deep water is by setting the sonar in the hole you are fishing or in a hole drilled about a foot away. Then watch for fish signals and adjust your jig to get to the best depth to catch them.
If you are ice fishing on flat-land lakes, an irregular structure might attract crappie. Check near humps, cribs, sunken creek channels, and sunken roadbeds. There may be a cluster of crappie hibernating under these irregular structures.
Ice fishing for crappie can be challenging considering how aggressive they are, and the conditions do not make that any better. But with the right tools and selecting the best location, you can have a successful catch.
Image Source: BigStockPhoto.com (Licensed)
Related Categories:
Entertainment
,
hobby
,
Reviews