White tone printers are one of the most popular and effective tools businesses use to transfer customized designs on various products. They are most significantly used as a t-shirt printer but are increasingly being used on promotional products like mugs, coasters, coolers, and ornaments.
OKI White Toner Printers are among the best ones in the market that amateurs and professionals use alike. These printers are now being sold under the DigitalHeat FX Crio brand in the United States, and there are four different models you can pick from.
OKI White Toner Printer Models
White tone printers are easy to use, hassle-free to maintain, and highly versatile. You can make custom designs on various apparel and create unique promotional stickers, products, and a lot more. For this reason, they contribute vastly to the global digital printing market.
Invariably, which printer you choose depends on your budget and the amount and type of work you wish to do.
Here are the best and most exciting options.
The OKI 711WT printer is the most basic, beginner model, suited for typical consumer use. With CMYKW – CMY producing a distinct black, the machine has a print speed of 34 ppm on standard media and about 8 ppm on transfer media. Also, it has an excellent resolution of 1200 x 600 dpi.
It offers a print size of up to 8.5″x14″ and a media size of up to 52″, making it less suitable for commercial printing. However, it is great to create small logo designs on custom t-shirts instead of large prints.
You can also use it to create stickers and static full-color materials and designs on touchpads, large bags, and other promotional items.
OKI 8432WT or DigitalHeat FX 8432
If you print more and do it often, the OKI 8432Wt is an excellent choice. It is a four-color CMYW laser printer, providing the option to change the white toner to print black.
The printer has a remarkable resolution of 1200×600 dpi and can typically be used on transfer sheets, paper, or films about 11″x17″ in size or a bit larger. This transferability is approximately 44% higher than the OKI 711WT printer, making it apt for printing on large items.
The machine is a compact desk-size and exceptionally suitable for start-ups, small businesses, and entrepreneurs. It can easily print on colored, light, and dark media every day.
Besides transferring designs onto polyester, denim, cotton, nylon, and different fabric blends, you can customize mugs, keychains, bottles, coasters, and several other items.
OKI 9541WT or DigitalHeat FX 9541
The OKI 9541WT model is by far the best OKI White Toner printer of all for various reasons. For one, it is a lot bigger than the other models and can effortlessly print transfers up to 13″x19″ in size. This is a whopping seventy percent higher than the other printers. Also, since you can fit more onto a sheet, the cost per inch of paper will be much less.
Secondly, the printer is the only CMYKW five-color model in the market with both white and black toners. While the color on the OKI 8432 is pretty good, the OKI pro9541WT has more excellent print quality, making it apt for custom T-shirt transfers.
It has a high-definition resolution of 1200×1200 dpi, allowing you to print eye-catching color, bold black, and opaque white simultaneously in a single pass.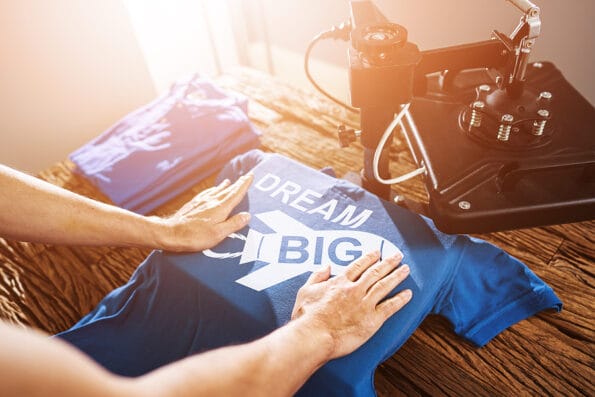 Critical Factors to Consider
There are several reasons for you to consider investing in a Digital Heat FX version of the OKI pro9541WT printer. It enables you to create and transfer unique logos and designs on a variety of media, setting you apart from your competitors.
Therefore, the Digital Heat FX 9541 printer is all you need to make a successful entry into the custom apparel industry. Here's a list of the incredible accessories and provisions the printer comes with, making your work life a lot easier.
It comes with a print optimizer RIP (Raster Image Processor) software that helps you take an existing image and use it to create stunning designs. The sophisticated software is designed in such a way that it makes t-shirt and other apparel transfers super easy.
You will get a complete set of C, M, Y, K, and W (cyan, magenta, yellow, white, and key – meaning black) toners along with the printer. It is the only five-color print model, enabling you to entirely or partially mask colors on a light background.
The package includes a legitimate online training course that can prove to be exceptionally helpful to beginners, as opposed to the DIY videos found on numerous social media websites. This is a one-of-a-kind service that can aid new business owners to kick start their custom apparel company with the proper
Buyers of the high-end Digital Heat FX 9541 will enjoy excellent technical support from the dealers instead of vague written instructions and manuals. There will be instant and consistent support via emails, phone calls, and even the webcam. So, if you find yourself stuck at some point when using the printer, you can immediately contact the customer support service for assistance.
The printer requires very little maintenance, ensuring you enjoy high returns for your initial investment. Moreover, since there is no liquid ink, the printing process is mess-free.
You can transfer fantastic custom designs onto t-shirts, coasters, mugs, keychains, and a range of other media. When it comes to fabric, the printer works excellently on cotton, nylon, polyester, and blended materials. It also works great on wood, metal, and plastic items.
It has a print speed of up to 50 ppm in color and mono transfers both, ranking it among the fastest printers ever. Moreover, its high-definition print resolution of 1200×1200 dpi ensures all your designs are crystal clear and brilliant to look at.
Conclusion
One aspect you should give careful attention to is that you must buy an OKI printer only from a legitimate and licensed supplier. That's because there may be several third-party vendors selling defective machinery at cheap costs, leading unsuspecting consumers to massive losses.
Therefore, always ensure to check reviews of the supplier, ask for references, and check the printer before you pay for it. Excellent customer service is a surefire sign of a reliable and trustworthy supplier.
Image Source: BigStockPhoto.com (Licensed)
Site Disclaimer 
The Content in this post and on this site is for informational and entertainment purposes only. You should not construe any such information or other material as legal, tax, investment, financial, or other advice. Nothing contained on our Site constitutes a solicitation, recommendation, endorsement, or offer by HII or any third party service provider to buy or sell any securities or other financial instruments.
Nothing in this post or on this site constitutes professional and/or financial advice. You alone assume the sole responsibility of evaluating the merits and risks associated with the use of any information or other content in this post or on this site. 
You recognize that when making investments, an investor may get back less than the amount invested. Information on past performance, where given, is not necessarily a guide to future performance.
Related Categories:
Work
,
Reviews
,
Tech