It's 2022, and the general population is concerned about the future of the environment now more than ever. We take it upon ourselves to find the most eco-friendly and sustainable options for our items and consumable products so we can lessen our carbon footprint.
The pandemic has made it more difficult for us to choose reusable items as single-use plastics, containers, and bottles are much more sterile than reusable ones. These containers may be safer for our consumption, but they are harmful to the environment as plastics take millennia to decompose.
In choosing reusable and sustainable packaging, always consider how the material of your packaging will affect the environment during production, as well as after the packaging has been tossed out. Here are 5 packaging options that are guaranteed to be sustainable:
1.   Aluminum Water Bottles
Aluminum is one of the most sustainable materials that can be recycled, reused, or repurposed endlessly without affecting the purity of the metal. When used as water bottles, it becomes a terrific alternative to plastic water bottles as it is lightweight, portable, and just as customizable as plastic bottles are.
My Own Water has an interesting array of aluminum bottled water, and they explain how their aluminum bottles, which have no plastic lining, are much better for your health and for the environment. Since there is no plastic involved, you don't have to worry about harmful chemicals leaching into your water or into the environment.
Aluminum is endlessly recyclable – meaning that it does not lose its quality or purity despite being recycled again and again. Recycling aluminum also uses up only 5% of the energy needed to produce a bottle from raw aluminum. Most recycling centers accept aluminum bottles, but they can also be reused at home without worries!
2.   Sugarcane Takeout Boxes
Sugarcane takeout boxes replace plastic microwavables and styrofoam packaging all at once. Plus, they can withstand high temperatures, which makes them perfect for baking cakes, casseroles, and other goods directly into the packaging.
The "sugarcane" part comes from the material of the packaging. These takeout boxes are made from spent sugarcane fibers from extracting the juice to make sugar. The tough fibers are ground up, cleaned, and processed into a mold to form takeout boxes that biodegrade in a matter of days. They come in multiple sizes, forms, and partitions as well!
3.   Plant-based Mailers
In the age of online shopping and shipping fees, mailer boxes and mailer bags are popular forms of packaging that are meant to protect the items inside. These mailers are great for online shops to ensure their products get to their customers in perfect condition. However, mailers are made from plastic, and the more we shop, the more waste is produced.
Instead of those standard plastic mailer boxes and pouches, opt for plant-based mailers that come in box, envelope, pouch, and bag form. They are made from plant fibers that easily biodegrade, so you can even put them into your compost bin to decompose quickly! In the era where we shop online more than we do in stores, this presents a good solution.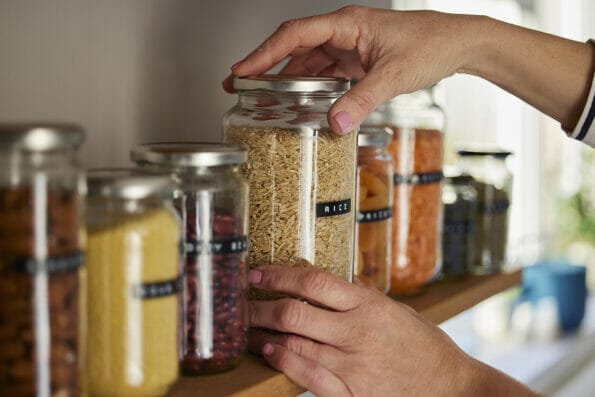 4.   Glass Jar Planters
Glass jars are often used for dry goods, but they can also be repurposed into planters for aquatic and semi-aquatic plants! Nowadays, having an indoor garden with water plants – like pothos and lucky bamboo, is trendy. Follow the trend by packaging your cookies, dry pasta, and other foods in glass jars that consumers can turn into planters later on!
These are not only cute and aesthetically pleasing, they are sustainable. Consumers can opt to use the jars for a myriad of cases, from storing leftovers to turning them into eco-friendly planters for their houseplants.
5.   Tin Ice Cream Pints
If you've ever bought ice cream in pints, you most likely know these containers are often made with plastic materials that are not reusable. The plastic material does not withstand heat well, and can leach toxic chemicals into your food when reused.
Try using ice cream pint containers made from tin or other metals. Not only can you keep the ice cream cold longer, the container is easily reusable in a multitude of ways. Consumers can opt to turn the containers into planters, or use them to store their baked goods. Most metal containers are also heat-resistant, so you can encourage consumers to bake in them.
Image Source: BigStockPhoto.com (Licensed)
Related Categories:
Work
,
Reviews