According to a survey by the organization ParentsTogether, nearly half of the respondents' children currently spend more than six hours per day online, whereas only 8.29% of children were before. 26% of kids spend more than 8 hours online compared to 4% previously. However, the American Academy of Pediatrics discourages screen use before the age of 18 months and recommends one hour per day of quality programming for 2- to 5-year-olds, as well as consistent limits for older children. Despite these recommendations, we are aware that both children and parents often spend more time in front of devices than the recommended limit, and children are becoming addicted to smartphones early on.
A Home Experiment That Reveals The Issue Of Screen Overuse
The Co-Founders of the company behind this invention (Bagby) understood that parenting during COVID-19 was becoming even a bigger challenge. For this reason, they conducted a home experiment featuring their own 14-month old daughter, Luna. The results are alarming and reveal the truth about smartphone addiction in young children. This is why they decided to build something that could be a physical reminder to help other parents reduce their family's screen time, and more importantly, increase their quality family time. Learn more about the screen time experiment here.
Benefits of Babgy's Better Screen Time Family Set 
This Better Screen Time Family Set is a hanging multi-pocket phone and tablet holder mindfully designed for family moments and social gatherings to help you reduce your screen time. Each holder:
Is 100% digital free (No apps required).
Is handmade using recycled materials and is vegan.
Holds 6 phones and 1 tablet.
Includes a chalk pencil, mini chalkboard name tags, and 1 eraser to write the phone's owner.
Comes with a top pocket to name your unplugged session.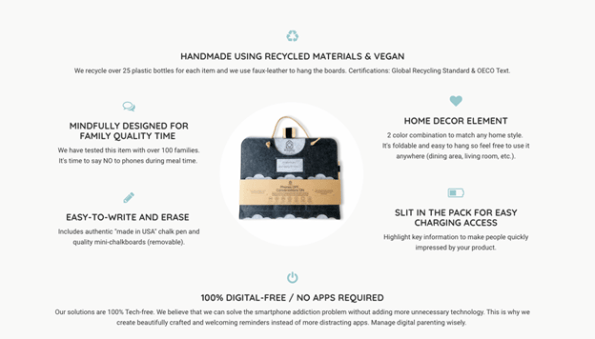 I hope that this product will be a physical reminder to minimize screen time when you hang it. By taking steps to decrease your screen time, you'll increase your family's quality time.

Where to Buy Your Better Screen Time Family Set

Are you ready to start your journey towards mindful screen time? Buy yours today and get these 3 bonuses on us:
1x Printable Screen-Time Tracker (valued at $19.95).
1x "Phone Band" Per Family Member (valued at $15.95).
1x Digital Wellness Report (Valued at $19.95).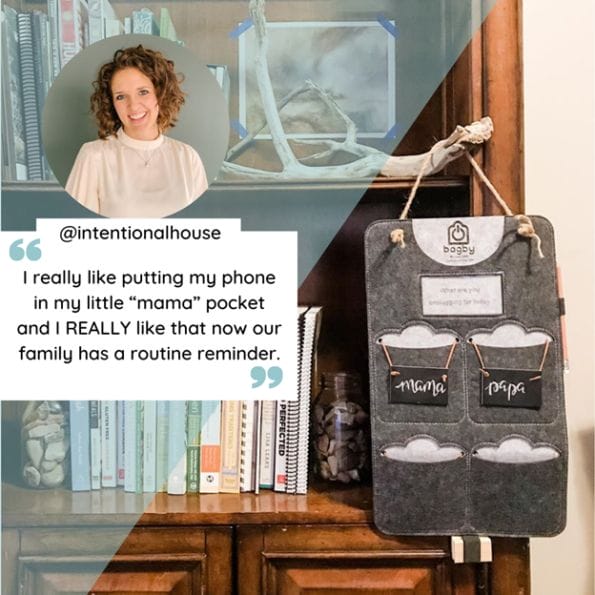 Want something smaller? We also sell a 4 pocket version.
Image Source: Bagby.com
Related Categories:
Family
,
Reviews
,
Tech