Do you have the challenge to convert MKV to MP4 format? In this article, we will show you how can convert MKV to MP4 video format effectively.
Why do we need to convert MKV to MP4?
I am looking for a simple way to convert a lot of my video collection from MKV/AVI to MP4. Every program I have tried, however, seems to leave sync issues with the audio, even if it's just a bit. I've been attempting Handbrake, which is supposed to be the simplest, using the "variable framerate" settings (the constant setting screwed it up big time) and "same as source" for FPS, but it still seems to be off .5-1 second, which is unacceptable to me. Who can help?
Without the right media converter at hand, you will convert files, but you will not get a good quality output of your files.  However, if you have a good video converter, you will be able to get the same frame rate as your input file provided you it has the feature to maintain the same output quality as the source.
Option 1. use Online UniConverter to convert MKV to MP4
Have you heard of Online Uniconverter? Well this free online media converter that allows you to convert audios, videos, edit and compress files.  Therefore, to convert MKV to MP4, you will have to use Online Uniconverter video converter. This platform supports a couple of popular video formats like MKV, AVI, MP4, VOB, MOV, and MOV, just to name a few.  Also, with Online Uniconverter, you will be able to convert faster compared to another online MKV to MP4 converter.
Let us now have a look at how to convert MKV to MP4 using Online Uniconverter Video Converter
Step 1: Upload MKV File
Open your browser and head straight to Online Uniconverter website and ensure you have selected the Video converter online tool. Next, click on "Drag &Drop or Hit to Add File" button and upload your MKV file.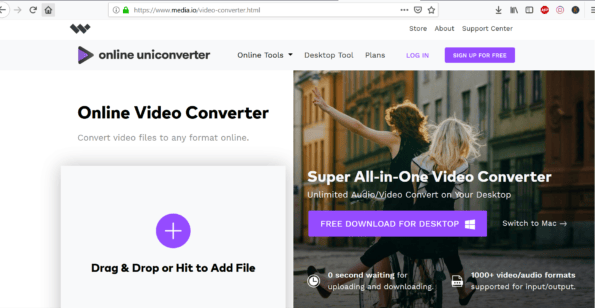 Step 2: Choose MP4 Output Format
After adding the MKV file to the platform, you can now click on "Convert All Files To" and select "MP4" as the output format.
Step 3: Convert MKV to MP4
From there, you can now click on the "Convert" button. This online MKV to MP4 video converter will begin to convert the MKV to MP4 format immediately. Once the conversion is complete, download the file and enjoy playing high-quality output of the MP4 format.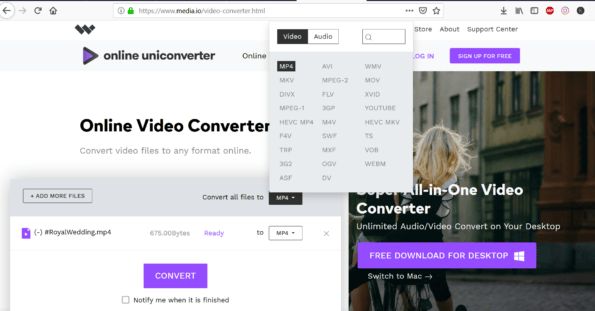 Option 2: Use the Desktop Version of Online UniConverter
Despite using the Online Uniconverter Video converter to convert MKV to MP4, you can also use its desktop version as it is the best choice. With Online Uniconverter for desktop, you will be able to install it either on your Mac or Windows computer and perform limitless conversion of video files. Unlike the Online version, Uniconverter Desktop you will be able to upload any kind of file format and output it to a different format since it supports over 1000 file format. Moreover, the conversions on the desktop are 30 times faster.
How to use UniConverter Desktop to convert MKV to MP4
Before you follow the guide below, ensure you have downloaded the latest Uniconverter Media Converter from Wondershare website and installed it.
Step 1: Open and Add MKV File
Open the Uniconverter Media Converter on your computer and the click on "Convert" button at the home window. From there, you will see the "Add Files" button click on it to be able to access MKV files on your computer. To upload the MKV file, click on it and then click "Open" file.
Alternatively, you can drag and drop the MKV files to the program, or click on the "Add" button on the screen and you will be able to add the file.
Step 2: Choose MP4 Output Format
At this point, you can see the uploaded MKV file on the screen with its metadata info. Now, click on "Convert All Files to" at the top right and then select Video option. Scroll through the options and select "MP4" as the output format.
Next, now select the output quality. To get the same output as the original quality as the MKV format, click on "Same as Source" options. Otherwise, you can select your preferred output quality.
Step 3: Convert MKV to MP4
What follows, choose the output folder by clicking on "Output" and choose where to save the file. After that, complete the process by clicking on "Convert All" button. That is it you have now converted MKV to MP4 format
Why Use UniConverter Media Converter?
At this point, it is evident that Uniconverter Media Converter is the best powerful media converter for your MKV to MP4 format. This powerful media converter is allowing you to convert files within only three steps. Its user interface is clean, and its conversion speed is 30 times faster; hence, it is a time-saving software. Moreover, this software is vested with other robust features that we cannot miss to mention.
Online Media Downloader- It is built with an online downloader that supports over 10,000 websites. You can download 4K videos and standard videos.
Editor Tool- With its editing tool, you can edit both audio and video files. It allows you to trim, rotate, split, crop, add effects, adjusts volume, brightness, colour, and pitch, among others.
Resourceful Toolbox- It is integrated with a toolkit that allows has a metadata editor, VR Converter, GIF maker, screen recorder, image converter among others,
What is Wondershare Technology
Wondershare Technology is a long-serving technology company that offers audio and video software solutions. It has been in place for the last ten years and among the publicly listed companies in the world. Some of its products include Wondershare Uniconverter that we have just discussed.
Moreover, they also own the Filmora Video Editor one of the most powerful media converters for Mac and Windows platforms. With all these great audio and video solutions, Wondeshare Technologies has amassed several users worldwide and making Wondershare products their first choice.
Image Source: BigStock.com (licensed)
Related Categories:
Tech
,
Reviews