One of the brilliant things about gaming is that it does not have to be an expensive hobby. Whether you prefer to try before you buy, see how a game pans out when released, or just want to save pennies, there are many great free-to-play games available across multiple platforms. So much so that the number of options can be overwhelming. From role-playing games, first-person shooters, there are even online casino games you can try for free at https://raj.bet/ [valid where legal]. Here we present 7 great options that cost nothing to play but are packed full of drama, excitement, and action.
Hearthstone
Hearthstone is a free-to-play online game developed by Blizzard Entertainment off the back of World of Warcraft's success. The game was originally called Heroes of Warcraft and links to the Warcraft range in terms of relics, lore, and characters. However, Hearthstone is a collectable card game rather than MMORPG and is not only hugely popular with players, but online gamblers can place wagers at big Hearthstone eSports events.
Rocket League
A major hit for Psyonix when it first hit the shelves, Rocket League is a game easy to learn but hard to master. Originally released as a premium game to be bought outright, Rocket League later went on to become free-to-play. In this exciting game, players use hot-rod style cars to bounce a huge ball into goals in a hyper version of football. It takes time to figure out how the rockets, physics, and sheer speed work together, but Rocket League can be hugely satisfying once mastered.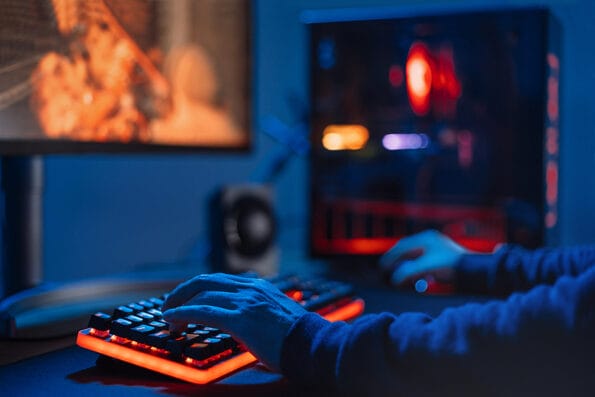 Star Wars: The Old Republic
Fans of Star Wars are given an excellent MMORG to get stuck into via Star Wars: The Old Republic. While not completely free, players get a good chunk of the storylines and side quests to experience. If you like what you see, it is possible to fork out some cash to keep the action going in a game set thousands of years before the films were.
Genshin Impact
Genshin Impact made a huge impression on gamers when it was first released due to its resemblance to The Legend of Zelda: Breath of the Wild. Players are thrust into a big, bright world to do battle, explore, and meet stacks of characters. The goal of Genshin Impact is to rescue your twin who has been trapped on the planet Teyvat by a nefarious bad guy amidst colourfully lit scenery.
Fortnite
It's virtually impossible not to include the juggernaut that is Fortnite on a free-to-play list somewhere. Not only is Fortnite huge with players, but it is also a massive eSport pulling in loads of viewers, spectators, competitors, and bettors. Fortnite's main draw is its battle royale, where players parachute into a zone and battle each other while being able to build things. As the storm shrinks, players are forced into ever-smaller zones to take each other out.
World of Tanks
Like Fortnite, players engage in big online battles, the difference being they are driving tanks – as the name suggests. Since 2010, World of Tanks has been a popular choice amongst gamers, and it is even possible to find esports events catering for the game. Players choose from a range of tanks and battle teams or other individual players. Some restrictions may be placed on the options, depending on the specific match.
League of Legends
League of Legends is an immensely popular MOBA that helped put Riot Games on the map. Players pick from a big roster of characters with the goal of taking out the other team's base. To do so, players must work together to coordinate things like defence, which can get extremely nail-biting. A classic video game, League of Legends is a popular choice with players and has a thriving community behind it.
Image Source: BigStockPhoto.com (Licensed)
Related Categories:
Casino
,
Reviews