If you've been searching for a ceiling fan for a while, you've undoubtedly heard of hugger/low profile or flush mount fans. These amazing little fans are a boon to any home with lower or flat ceilings. They also offer plenty of light, circulation, and other accouterments to delight you and your guests in any room. To say they're multifaceted is an understatement! It certainly doesn't hurt matters that they're an elegant, simplistic design that meshes well with any interior design scheme. Whether you've been looking for a new low profile ceiling fan or just want to do a bit of a redesign, here are four reasons to try out a hugger/low profile ceiling fan soon.
What Is It?
A low-profile, or hugger, a ceiling fan is merely a fan that is mounted directly to the ceiling. In most cases, they do not have down rods (the only true exception to this is when the lower ceiling has a slight angle to it). The blades of a low-profile ceiling fan are designed to be closer to the ceiling. To follow established building safety codes, the fan blades can't approach seven feet from the floor. They need to be higher than that, so that's why these are the ideal fans for a ceiling lower than eight feet in height. They come in various configurations, for both indoor and outdoor use. Lighting and design aesthetics match those of other ceiling fan styles, and they can be customized to suit your tastes.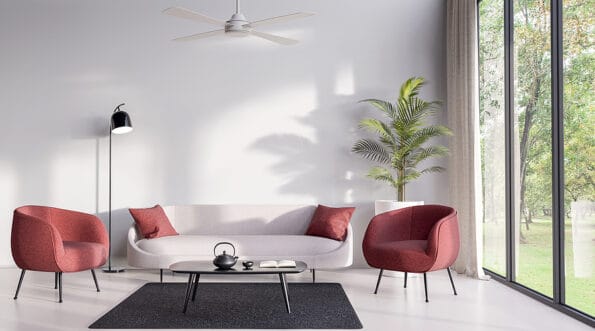 Works For Low Ceilings
It probably stands to reason the most obvious use for a low profile ceiling fan is, well, to mount to low ceilings. Flat ceilings that are less than 7.5 feet high benefit best from a flush mount or low profile ceiling fan. They mount directly to the ceiling. Using one on a sloped ceiling will require some adaptation via an adaptor and a downrod (which sort of defeats the purpose of having a flush mount fan in the first place). Using flush mount or low profile ceiling fans is ideal for these smaller rooms, providing not only a functional design but also an elegant look for your space.
Provides Extra Space
Despite our best efforts, we occasionally don't always have access to the space we need. A flush mount fan can certainly help in this regard, simply because it allows you to conserve and open up vertical space in your room. Since it essentially hugs the ceiling, there's nothing that sticks out or slants downward in awkward ways. Without a downrod bringing it down from the ceiling, the space normally occupied by the rod is now free for you to put up additional shelving, add some art, or otherwise customize the room any way you please. After all, there's nothing wrong with a little bit of breathing room, and using a low-profile fan can absolutely help create that in your home.
Better Cleanliness
Dust is the ancient enemy of a ceiling fan. Dust accumulation negatively affects air quality and can wreak havoc on your allergies. Nobody wants a wobbly ceiling fan, either. Dust can cause a fan to wobble, not to mention other issues. They need to be rebalanced and can spread dust or other allergens into the air. Keeping your fan clean is critical to preventing wobbling, nasty air quality, or other operational issues. The best way to clean a ceiling fan is to use an extendable duster, an old rag, an old sheet, or even a pillowcase to wipe down the blades. A little bit of water on the material itself (not on the blades) will help clean the dust right off. Once the blades are clean, you just need to clean the body and other accessories using a microfiber cloth and perhaps a bit of canned air. That's really all there is to it. Keeping your fan clean will keep it in good condition and operating for a long time to come.
Outdoor Use
If you're wondering whether there are flush mount ceiling fans available for use outdoors, the answer is definitely a "yes." Outdoor fans are rated dry, damp, or wet. Each one means something different. Dry fans are for indoor use only. They can't handle moisture and will likely have issues when exposed to it directly. They can be used in rooms that might experience humidity such as kitchens or bathrooms, however. Damp-rated fans are useful for porches and patios because they can still function with a little bit of rain or other moisture in the area. Wet-rated fans are designed to stand up to mother nature. They can withstand ice, sleet, rain, snow, and other precipitation while maintaining their functionality. Low-profile fans can be ideal for outdoor settings and are the perfect companion to such places.
Image Source: BigStockPhoto.com (Licensed)
Related Categories:
Home
,
Reviews