If you have spent big on your beautiful property, you should keep it in a good and attractive shape. A big kitchen will have a lot of countertop space left after installing food stoves and other accessories. A large kitchen with lots of free space may create an empty feeling.
There is nothing better than beautifying the kitchen cabinets to improve your home aesthetic. Are you confused regarding how to decorate your kitchen countertops without affecting the functionality? We will discuss some modern ideas here.
Decorating Ideas for Top of Kitchen Cabinets
Take inspiration from these ideas and combine them with your needs to set up your dream kitchen cabinet top:
Consider Remodelling the Countertops
Over a long time, kitchen countertops may lose their shine and become dull in appearance. In this case, consider remodeling the countertops with good material. You can choose between laminate, marble, stone, wood, granite, resin, quartz, and other materials. It is vital to do proper research regarding each material as they all have their pros and cons.
Some countertop materials are soft, while some are hard. One may be highly resistant to chemicals, while another may have high durability and strength. You can get in touch with reputable companies for professional assistance with installing kitchen cabinet tops.
Keep a Stand Out Statement Object
Some people like to keep things minimalistic. If you want your kitchen uncluttered and clean, you should try using a statement object to center the kitchen.
This can be a luxury crockery item, custom decor pieces, cutlery sets, artistic sculptures, etc. A kitchen usually has functional appliances and working materials. So, such a statement object will steal the shine and stand out on your kitchen countertop.
Add Some Colour to the Entire Kitchen
A great way to beautify the kitchen cabinet top and the entire kitchen is by adding vibrant colors. Dull colors can make you feel bored while working in the kitchen, and vibrant colors will help brighten the mood. In addition to that, you can match the color of the cabinet tops with various appliances and crockery present in your kitchen.
You can keep colorful containers, stylish glass vases, cookie jars, water bottles, etc., on the Countertop and make sure it does not feel empty. You can even seek professional help to design and decorate your kitchen countertops. Try creating color contrasts, and do leave some white spaces as a place for your eyes to rest.
Keep a Farmhouse-Theme Countertop Item
Another excellent idea is to use farmhouse-inspired vintage accessories and items on the kitchen cabinet tops for décor. You can get vintage cutlery sets, plates, glasses, and other kitchen accessories. Wooden accessories will give a rustic, old-fashioned look to the Countertop.
If you have a modular kitchen with the latest appliances and technology installed, pairing it with vintage, farmhouse-theme décor items is a good idea. A lantern, vintage food scale, old bottles, etc., can also be used for creating a rustic feel.
Use kitchen Staples to Beautify the Countertops
Try dressing up the kitchen cabinet tops using everyday staple kitchen items that will look pleasing to the eye. For example, you can keep your daily use items like soap holder, brush, set of lotions, sanitizers, etc., in attractive cases. You can also make specific spots for specific items.
You can choose a spot for spices and salt, etc., and keep them in colorful jars. Furthermore, you can make a cute-looking spot for the microwave and use colored plates and crockery items. It's best to arrange food items on the Countertop in a unique way that attracts eyeballs.
Add a Hint of Nature
Adding some natural elements to your kitchen cabinets top is a subtle and inexpensive way to make it look better. You can get small flower pots and grow small plants inside them to keep in the kitchen. There are so many indoor décor plants available that you can purchase and place in your kitchen.
Keep fresh fruits and vegetables in transparent glass jars, and they will give off a fresh, natural vibe. Adding plants to your kitchen adds to the natural aesthetic while providing a nice decor for your kitchen countertop.
Add Personalized Decorative Dispensers
If you're a busy person that does not mind a full countertop, you can consider installing custom dispensers to complement your kitchen look. It is one of the excellent decor ideas for kitchen cabinet tops.
These dispensers can have cute designs, bright colors, messages, etc., which helps to add a personal touch. In addition to that, you can use it for liquid soap, sanitizers, sauces, and various other liquids.
Combine these dispensers with hints of greenery or vintage decor for a fabulous and modern touch. When the dispensers look nice, you will use them often, and guests will always be interested in them.
Build a Coffee Station on the Countertop
A good-looking and highly functional kitchen countertop is everyone's dream. You can create stations to use the essential everyday things. When you keep these things normally, they lose their appeal. Installing a station and utilizing it offers both good looks and functionality.
Coffee lovers can install a small but attractive coffee machine on the kitchen cabinet top. It doesn't need to be complicated. A simple one will do the trick. It helps you to make delicious coffee for yourself, your family, and your guests.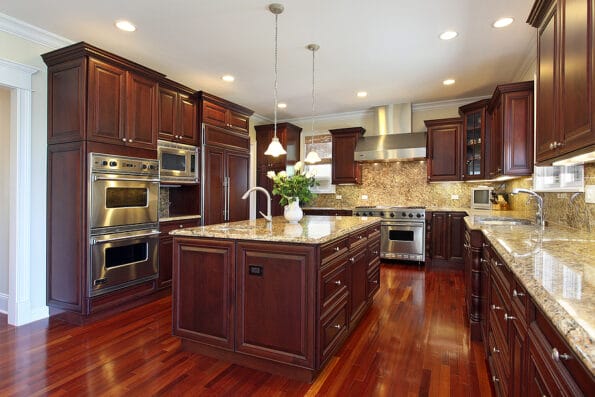 Conclusion:
You can be as creative as you want while decorating your kitchen countertop and making it look attractive. A dull kitchen can spoil the aura and vibe of your entire home.
Kitchen cabinet tops are an essential part of the kitchen, so everyone will notice them if you make them beautiful and unique. So, take inspiration from the above decor ideas for kitchen cabinet tops today and set up your dream countertop. You can check out Caesarstone to learn more about kitchen countertop materials and which is best for your kitchen.
Image Source: BigStockPhoto.com (Licensed)
Related Categories:
Home
,
Reviews