It doesn't matter if you're building a new home or renovating your old one – one of the first things you'll need to decide is what type of exterior material you want. There are many different materials to choose from, so it can be tough to determine which is right for your home.
Each home has its own unique personality and style. So when it comes time to select the materials, it's important to choose wisely so that your home's personality shines through.
However, several other things may impact your choice, so it's best to think about it in advance.
The Things you Should Consider
The Style of Your Home
For example, if your house is a Texas ranch-style home with flat roofs and few exterior embellishments, you might assume that metal roofing would be the best exterior material. Similarly, if you own a Victorian or Craftsman-style brick home with gabled roofs and decorative wood trim around the eaves and porch supports, you might be inclined to choose wood shingles or clapboards.
However, while it's true that you usually get what you pay for when it comes to materials, the cost is only one of several things to consider in your decision. In fact, if budget is your only concern, there are plenty of economical options out there that will still look great on your house.
Maintenance Requirement
Your choice of material should also consider the amount of effort it requires to maintain. For example, if your house is in a coastal area with high humidity and salt spray, you'll want to find a material that's more resistant to moisture than wood shingles.
For areas with little rain, you might be interested in a material that needs very little maintenance. For example, metal roofs only need to be cleaned with soap and water a few times a year.
And, you want to make sure you have a good contractor that'll install the material properly so that you can get the most out of it. A reliable company like Mighty Dog Roofing in West Fort Worth can help you decide on the best material for your needs.
Energy Efficiency
Other important things to consider in your choice of exterior material for your home include its energy efficiency. In other words, not only do you want an affordable material, but it should also be energy-efficient. Energy efficiency is an increasingly important concern these days, and your choice of material can make a big difference.
For example, metal and vinyl exteriors most likely use the least amount of energy to heat or cool your house. Wooden siding may not be as efficient in heating or cooling because it's more affected by heat fluctuations. The right type of material can help reduce your utility bill.
The Environment
Another factor to consider is the environment. When you're choosing an exterior material for your home, it's important to consider not only its impact on your budget but also on the environment.
If you're after more earth-friendly materials, look into what type of recycled content they contain. For instance, metal roofing will incorporate more recycled materials than wood shingles.
Additionally, you might want to choose a material with low chemical emissions and is made from sustainably harvested and/or reclaimed trees or plants.
Another concern is that it fits the environment your house is in.
Insurance Factor
Another aspect to consider is insurance. Your choice of material may affect the cost of maintaining your homeowner's insurance policy. In fact, some materials are considered more fire-resistant than others. For example, metal roofs make buildings less likely to catch on fire, and wood shingles can be extremely flammable since they are almost entirely wood.
So keep in mind the many things you should consider before making a final decision.
The Type Of Exterior Materials
Wood Siding
Wood siding is the most popular exterior material because it has a classic look and doesn't require much maintenance. However, several types fit different styles.
Board-and-Batten – This wood siding is among the most popular materials for homes in New England and other coastal areas because it has a weather-resistant finish. The boards are installed vertically and notched at the top, so they overlap. It has a rustic look, but you can choose from different wood types.

Split Logs – This wood siding offers a unique look and is popular in the Southwestern US. It's often used on log cabin-style homes and requires regular maintenance to keep it looking great.

Engineered Wood Siding –

Engineered wood

siding is made using thin sheets of pressure-treated wood. It's easy to finish, and you can trim it in almost any style you desire.
Stucco
This material is most often used in warmer climates where home exteriors are made to withstand hurricane winds. Similar to plaster, stucco has a rough finish that can be textured for added interest. It's ideal for home exteriors that will be painted because it can absorb paint readily.
Fiber Cement
This type is composed of sand, sawdust, and cement. It starts as whiteboards formed into sheets and then cut into different angles to resemble wood. When it's finished, a fiber-cement siding has a texture that resembles wood and is resistant to moisture.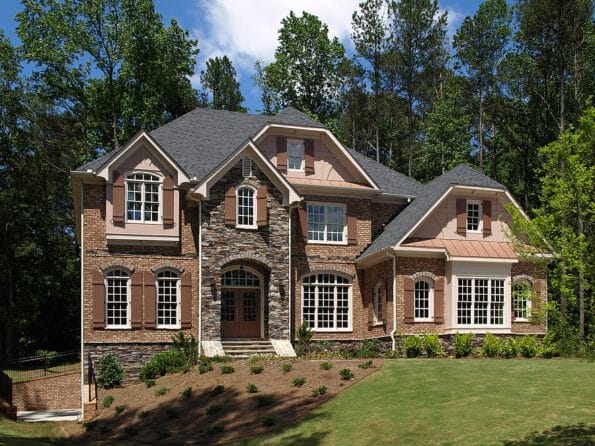 Vinyl Siding
This is the least expensive option because it comes in large sheets, creating an extremely smooth exterior look for your home. You can paint it any color you like, and it doesn't require much maintenance. However, if your house heats up in the sun, vinyl may expand and contract.
Brick
Brick exterior walls are often used on Colonial-style homes or any home designed in the Georgian architectural style. It's also available in brick veneer, which you can apply along with insulation to create a weather barrier behind it. Brick veneer is also suitable for homes with stucco because it provides a good surface for attaching it.
Stone and Cast Stone
Stone walls, particularly fieldstone, are a natural choice for homes in the country because they're durable and can protect against winter weather. However, the stone is heavy, so it's typically only used to cover just one or two floors. Cast stone can be used as siding for any style because it comes in various shapes and textures.
Tiles
Tile is one of the most durable exterior materials, but it's also one of the more expensive options to install. Because it provides a good weather barrier, tile siding is used on homes in hot climates or near oceans because they require little maintenance or painting.Image Source: BigStockPhoto.com (Licensed)
Related Categories:
Home
,
Reviews