Are you someone who thinks you simply cannot beat the beauty of real wood? You might have a love of all things nature and fill your home with plants that you've somehow defied logic to keep alive. Congratulations. Have you considered going all wood with your home aesthetic? We're covering how you can do all wood right, with parquet wood floors, fuzzy textiles, and a mix of tones and colours. Read on for all the details on how to do an all-wood home.
Choosing wood for its finish
The floor is going to end up being the focal point of your wooden aesthetic since it's what would ordinarily be wooden anyway. It's the biggest wooden thing in the room, and so it deserves some care.
Solid wood flooring is, therefore, a great option. It offers a beautiful finish that no one can argue with and will set the tone for the rest of the furniture in the room.
Plus, the nature of solid wood flooring will make for a less than solid aesthetic. It is easy to lightly scratch a solid wood floor, which only adds to the character of the wood, and is easily fixed if it bothers you, but it also comes out in various tones naturally, so you have a floor that more looks like Van Gogh's Starry Night in various shades of tan than a solid slab of brown.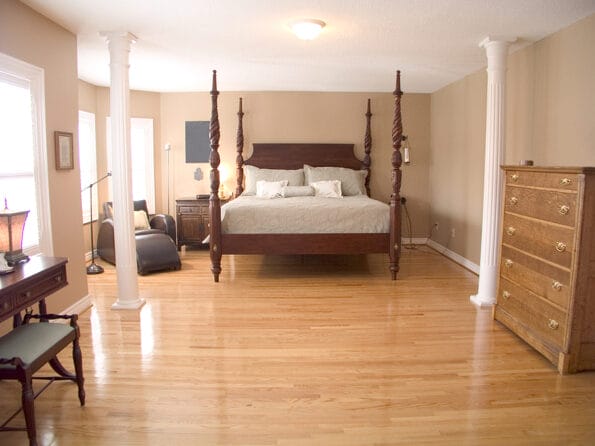 Mix up tones
Your floor doesn't have to be entirely the one colour either. A great trend coming out in parquet floors at the moment is to mix tones and colours of flooring. The pattern of the parquet flooring gives the, at first glance, random nature of the colours of the flooring. You can make a lovely, subtle, yet eye-catching floor with a wood panel that matches in colour but not tone, or tone but not colour. Whatever suits your style.
Upcycle where fit
It's important to mix up tones and colours so that the eye doesn't simply breeze over the room with nothing to land on. It's the same reason all-white rooms are instantly irritating to new renters. You can get away from this by mixing up tones and colours to create something a little more abstract.
The good news here is that wooden furniture is timeless, so not only is there a lot in abundance, but you can update them to make sure they don't match exactly the rest of the room. You can do this in two main ways: bleaching and varnishing. Bleaching will allow you to lighten the colour of the furniture to a cute blonde, which you can then varnish in whatever tone you like, or you can simply strip the existing varnish and go for something much deeper and darker.
On the other hand, a big trend right now is to distress furniture, for much the same reason as the appeal of solid wood flooring: the many shades and tones that come through. There are lots of guides online that can help you sand or paint your furniture just a little so that the under colour comes through.
Throw textiles into the mix
Wood furniture is by definition, a hard furnishing, so you're going to have to get some soft furnishings in there somehow. I can't see how comfy a wooden sofa would be, for example. So, this is your chance to really mix things up. Add as much variation in texture in the textiles you bring into the room. Mesh curtains and heavy curtains, furry pillows and knitted throws, scratchy rugs, and soft upholstery. These will all make the room a lot more comfortable for the body, but also the eye. All that solid wood has to be counteracted with something.
Image Source: BigStockPhoto.com (Licensed)
Related Categories:
Home
,
Reviews