Off the top of your head, can you name all the home accessories and appliances you don't regularly use?
It's probably not a good sign if you even have to think about this question. Your home shouldn't be cluttered with gadgets and gizmos you used once or twice and then shoved in the back of your pantry or utility closet.
If you're readying to throw out the old, great — you'll have more room for the new. Like these accessories and appliances that are almost certain to pay for themselves over the years and save you precious time as they do.
1. Robotic Floor Vacuums and Mops
Say goodbye to time-consuming vacuuming and mopping by hand — and oh-so-expensive professional deep cleans too.
That's the promise of robotic floor vacuums and mops. Thanks to companies like Roborock, a major manufacturer of automated sweeping and mopping devices, these time- and money-saving products are more affordable than ever. They work in the background to clean your floors as you do literally anything else, and the end result is functionally indistinguishable from old-fashioned scrubbing.
2. Slow Cookers
Slow cookers get a bad rap from serious cooks, but that's largely because they make it so darn easy to put together delicious, nutritious scratch-made meals.
Slow cooker recipes can get surprisingly elaborate, too. If you're up for it, 30 minutes of prep in the morning sets you up for a Sunday dinner-style pot roast complete with melt-on-the-fork veggies and rich sauce with fully developed flavors. Try replicating that in a Dutch oven after work.
Oh, and cooking slow cooker-sized meals virtually guarantees leftovers — trimming your cost per serving. That's a win-win if ever there was one.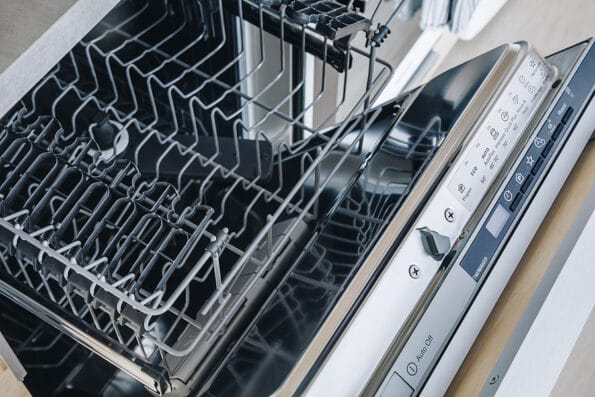 3. Dishwashers
To be fair, most of us have dishwashers at home. Those of us who don't either really love washing dishes by hand (and have plenty of counter space to air dry them) or aren't fortunate enough to have a dishwasher hookup or cabinet space to install one. Or both.
If you do have space for a dishwasher, invest in one. It's as close to a no-brainer as you'll come in this crazy world.
4. Vacuum Sealers
Love fresh food? Enjoy planning meals weeks or even months in advance?
Then you need a vacuum sealer. It'll cost you, like everything else on this list — but the quality and variety you're able to preserve will dull the pain. And with the help of a chest freezer, which we'll discuss momentarily, a vacuum sealer can help you achieve serious economies of scale in the kitchen.
5. Smart Pressure Cookers
Tired of frantically throwing together a meal when you return home from work, exhausted and wanting nothing more than to put your feet up?
A slow cooker is great if you're willing to do some prep in the morning, but not everyone has the time or patience for that. If you prefer to go from 0 to 60 when you get home — or punch out if you're working from home — then invest in a smart pressure cooker.
The Duo series from Instant Pot, the brand that has done more than any other to popularize (and modernize) the pressure cooker, is more versatile than any slow cooker. Use it to cook rice, tenderize meat, develop complex sauces, and more — all in a fraction of the time it would normally take, and with far fewer costly cooking implements to manage.
6. Chest Freezers (Deep Freezes)
Once you understand the potential of a high-capacity chest freezer, you can't unlearn it. The only thing that could possibly stop you from adding one to your home is lack of space — the big ones are nearly the size of a standard refrigerator-freezer combo turned on its side.
If you do have the space, a chest freezer allows you to store weeks' worth of premade freezer meals, raw meat, frozen premade dinners — whatever you want, really. That cuts down on unnecessary shopping trips (saving you time) and inefficient meal plans (saving you money). Yet another win-win.
Spend a Little, Save a Lot
These eight home accessories and appliances will set you back. But their collective cost is a small price to pay for a more efficient and productive dwelling that actually works for the people who call it home.
Who knows? Maybe some of the items on this list will turn out to be your next can't-live-without toys. Perhaps your Crock-Pot or pressure cooker will awaken the inner gourmet in you, or your chest freezer will turn you into someone who loves nothing more than planning ahead.
Whatever your calling, creativity awaits. And so does productivity.
Related Categories:
Home
,
Reviews