Summer is the time to get outdoors and enjoy the sun. A well-decorated patio can be a great place to relax and entertain guests. This post will discuss seven stylish ways to improve your patio.
1. Hang String Lights Overhead for a Cozy Atmosphere
There's something about string lights that makes a space feel cozy and inviting. Whether you're trying to spruce up your patio for a summer party, you're just looking to add some extra ambiance to your outdoor space. Don't just slap up a few strands and call it a day – there are plenty of stylish ways to improve your patio with string lights. Here are a few of our favorites:
● For a chic and modern look, try suspending a few strands of lights from the eaves of your patio cover. If you have an exposed beam patio cover, you can wrap the lights around the beams
● For a more romantic vibe, hang the LED deck lights in loops or swirls around trees or other tall structures. If you already have overhead string lights, try adding paper lanterns or fabric shades
● For something a little more unique, hang the string lights in mason jars or other glass containers. This creates a beautiful effect when the light shines through the glass
No matter your style, there's a way to improve your patio with string lights.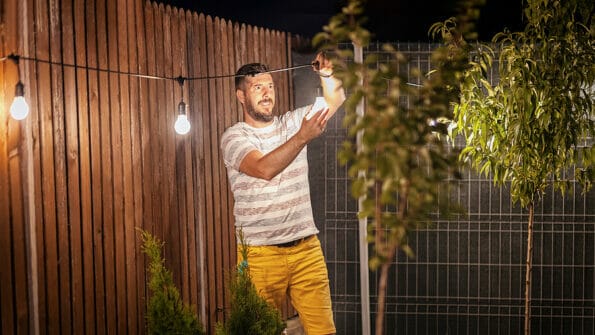 2. Add Some Greenery
One of the easiest ways to add some life to your patio is to add some plants. This can be as simple as adding a few potted plants around the perimeter of your patio or hanging plants from the eaves. You could even create a small herb garden to keep by your kitchen door if you have a green thumb. Plants add some color and life to your patio, but they can also help create a more inviting atmosphere.
3. Invest in Comfortable Furniture
If you're spending time on your patio, you'll want to have comfortable furniture. When starting from scratch, look for comfortable and stylish furniture. We love the idea of an outdoor sofa or daybed. These pieces can be used for lounging, napping, or entertaining guests. Just make sure you have enough seating for everyone.
4. Create a Focal Point
Your patio should have a focus or central point. This could be a fire pit, a water feature, or even a piece of art. Whatever you choose, make sure it is in keeping with the overall style of your patio. A well-placed focal point will add interest and appeal to your space.
5. Use Color to Create a Mood
When decorating your patio, don't be afraid to use color. This is your chance to get creative and have some fun. Use bright colors to create a cheerful atmosphere or soothing neutrals to create a more relaxing space.
If you're unsure where to start, try using color to highlight your focal point. For example, if you have a fire pit, you could use red and orange accents to create a warm and inviting space.
Renovating your patio need not be expensive or time-consuming. With just a few simple changes, you can create an outdoor space perfect for relaxing in the sun or entertaining guests.
Image Source: BigStockPhoto.com (Licensed)
Related Categories:
Home
,
Reviews