Image Source:  https://www.instagram.com/p/CBVhsyhgFX0/
We are used to boys haircuts being generally simple and plain. Yet, this does not always have to be like that. Your little fella deserves to look stylish and trendy no matter whether he is two, twelve or twenty-two. Thus, helping him to choose the cut that will become the talk of the town is your mission as an adult. Do not worry though, we got your back. In the following guide, you are offered the most popular haircuts for little fashionists.
Spiked Up Hair
Spiked up hair is one of the most popular boys haircuts, which you can explore more deeply when visiting our MensHaircuts website. It is daring and playful, thus fully reflecting your little sport's personality. Besides, you should not worry that he will ruin it while running or even rolling on the floor, as it will look snazzy regardless.
Side-Swept Bangs
Although there is a ton of ways to style bangs, side swept is among the most common ones. This simple yet elegant hairstyle gives your kid's appearance a neat and stylish touch. Hence, he can flaunt it either to school or to some formal events where he needs to look spick and span.
A Textured Crop Top
A crop top looks edgy and bold. Yet, to provide it with an extra definition, you can additionally give it a textured cut. On the sides, go for a taper or even an undercut fade if you want your little boy to be the most fashionable mod in the whole school.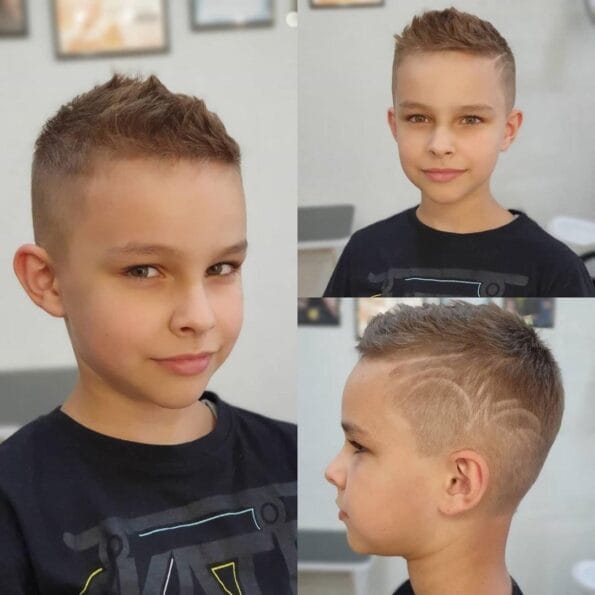 Image Source:  https://www.instagram.com/p/CA-nA9oAHKn/
A Simple Cut With A Hair Design
Creativity is extremely welcomed when it comes to boys haircuts. Thus, it is a good idea to adorn your kid's head with an intricate pattern or elaborate hair design. So that it will not look kitschy, consider something low key for the top, such as a simple short cut.
A Side Part Haircut
No matter whether it is a photoshoot for his yearbook or a casual meeting with friends, a side part cut can do no wrong. In addition to creating a neat and tidy impression, it also helps to define his hair look and accentuate facial features.
A Buzz Cut With A Fade
If your little champ is not really into long hair, then a buzz cut can become his go-to haircut. It is zero maintenance, practical and stylish. For an added flair, you can go for a fade on the sides and back. As a rule of thumb, the higher and balder the fade, the more impact the hairstyle makes.
A Classic Pompadour
Somehow, such a vintage and classic hairstyle as a pomp looks amazing on boys. To give it a contemporary vibe, cut the top of the hair shorter than you normally would and get the sides tapered. This will look more up to date while not sacrificing the style.
https://www.instagram.com/p/B6fIQMrJExP/
A Long Undercut Top
When your junior decides that it is time that he tried on a long mane, do not get in his way. You should not only let him do it but also assist your kid in his endeavors. For the starters, we recommend opting for a long top with undercut sides. This haircut allows him to enjoy all the pleasured of having long tresses while requiring less effort than an all-out long hairstyle.
A Fohawk
Arguably, every boy wants to become a Rockstar at some point. While you cannot guarantee him the full pack, you can suggest starting with a hairstyle. A fohawk will help to achieve the desired effect without the need to change your boy's lifestyle drastically. Besides, you can always transform it into another, more restrained style.
A Boy Bun
If you are a fashion savvy parent and your little man is leaning toward this hairstyle, then we do not see the reason why not to go for it. A man bun has been a popular male hairstyle for quite a while now and when to sport it if not now? Just help the kid with styling as well as the right attitude and he is good to go.
We believe that at this point, you have already decided what hair look your kid will pull off next. If not, we strongly suggest browsing through our guide to the best boys haircuts one more time. In case this does not help, allow your kid to choose. We bet he has a strong inner sense of style and fashion already.
Source: MensHaircuts
Related Categories:
Beauty
,
Reviews