What is "Chartering a Yacht"?
Having a yacht has been the dream of many, and for good reason! These luxurious vessels are frequently regarded as the pinnacle of luxury, delivering a mansion-like experience used for navigating the wonders of Toronto's waterfront. Yachts are often outfitted with water-friendly furniture and multiple sitting areas that make it easy to enjoy the water from the privacy of your own vessel. You'll also find a lot of yachts with on-board dining, swimming platforms, and even Bluetooth surround sound, which lets you create a unique escape from the city without sacrificing quality.
Despite the enjoyment that is often associated with owning a yacht, few individuals have the financial means to do so. Thankfully, yacht charters allow you to enjoy the spoils of wealth without having to spend millions of dollars on a huge luxury vessel. If you've never tried chartering a luxury yacht before, let us guide you through the essentials of how to charter a yacht successfully to ensure that you have the time of your life! To that end, here's everything you need to know about chartering a luxury yacht for a day on Lake Ontario with friends or family, or for a special occasion!
Why Charter a Luxury Yacht-A Completely Customized Experience
A luxury yacht rental will provide you with an unforgettable experience. Plan a customized adventure to some of Lake Ontario's most gorgeous locations while enjoying serene comfort and first-rate service. Toronto Yachts will assist you in making memories that will last a lifetime. Providing you with a unique experience that combines the luxuries of a five-star resort with the excitement of a day out on the water.
Chartering a yacht is essentially a floating luxury experience that can transport you anywhere you want to go in and around Lake Ontario without compromising the comforts of home. It opens the door to an entirely new type of travel experience for you and your whole party to enjoy. Rather than staying in a single room at a resort, a private Toronto luxury yacht charter allows you to enjoy all of the comforts of a high-end hotel while also functioning as a mode of transportation.
What's more, chartering a yacht, much like staying in a five-star hotel, grants you access to luxurious amenities that other recreational alternatives cannot provide. For instance, access to swimming platforms; onboard barbeque; Bluetooth surround sound system; onboard catering, with the option of bringing your own food and beverages aboard the vessel; and lastly, decorating services. Moreover, most luxury yacht charters come complete with access to a highly trained crew, including a captain, hostesses, the chief engineer, and sometimes even a videographer, allowing for a completely customized experience. In that respect, the experience is as luxurious as it is practical—all of your belongings, accommodations, services, and crew cruise around with you for as long as you explore the lesser-known sites and remote islands of Lake Ontario, otherwise inaccessible by land.
Ultimately, a private luxury yacht charter offers you an intimate way to explore the gorgeous Toronto waterfront while also enjoying calm interludes as you cruise around the open waters. That being said, for those of you who have been dreaming of chartering a luxury yacht this summer, it may be easier to plan than you might think. Here are some pointers for selecting, planning, and booking the perfect private luxury yacht charter this summer. All of the information provided to you here in this extensive guide on chartering a luxury yacht is brought to you by Toronto's #1 rated, fully licensed luxury yacht charter company, Toronto Yachts!
 Tips for Booking a Luxury Yacht Charter-How to Make the Perfect Booking?
The most difficult question for first-time charterers is where to begin. Thankfully, the experts at Toronto Yachts are here to help with tips for booking a luxury yacht charter this summer. Luxury yacht charters are available in many formats, most of which will depend on where you reside or want to travel from, your budget, and what you seek to achieve on your voyage. That being said, some yacht charters, particularly those in the off-season or smaller and medium-sized yachts, may be less expensive than you expect. In contrast, those during the on-season (spring and summer months) and larger yachts or longer trips tend to be more costly. As such, when you charter a yacht, it's important to ensure that you understand exactly what's included in your charter package.
To that extent, when looking for a yacht to charter, consider who will be joining you. For instance, bringing children aboard may influence the group dynamic, thus altering how much time you expect to spend onboard as opposed to on shore. Since this will decide how much room you'll really need and utilize while aboard. While some individuals may enjoy being in close quarters, others might prefer greater space, although the need for additional space is likely to cost you more. With that in mind, before moving forward with booking your yacht rental, it is essential to take these tips on how to book a yacht with ease to make sure that you get exactly what you want from your mini water-based vacation.
Cost & Budget
How much can you afford to spend on a yacht? If your budget is substantial enough, you may not be constrained by factors such as the size of the yacht vessel or the duration of the voyage. However, if you don't want to break the bank, you should assess the overall amount you have to spend, including any additional charges such as fuel or paying the crew. Generally, additional charter costs for luxury yachts are 30% higher than their base price. That being said, before you spend time pricing prospective possibilities, determine your trip's budget limit.
While planning a yacht charter is an exciting task, it can also prove more challenging — especially when you begin to estimate the overall cost of your luxury charter. Typically, yacht charters have a base price, which is the daily rate per hour to rent the watercraft pleasure vessel. However, in addition to the base costs, there are several factors that influence how much your private luxury yacht charter will cost. For instance, the type of yacht, charter destination, time of year, food, and beverage services, decorating and videography services, local taxes, and gratuity. That all being said, the good news is, it's easy to grasp the basics of yacht charter pricing with the help of a professional, fully licensed luxury yacht charter company, such as the experts at Toronto Yachts. With the help of a commercially registered yacht charter company, you can more accurately estimate the cost of your next once-in-a-lifetime luxury voyage.
Trip Duration & Destination
Choosing where to travel and how long to travel for is a preliminary question when chartering a luxury yacht on Lake Ontario. Since determining the length and destination of your voyage makes it easier for a commercially registered charter company to determine the perfect yacht charter vessel and itinerary for your voyage. Seeing as the destination may have a significant impact on the type of yacht that you will inevitably end up chartering.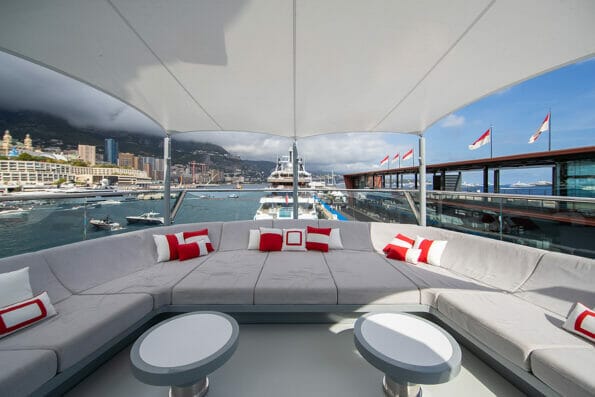 Furthermore, knowing where you want to travel is yet another crucial factor in determining the overall cost of any private luxury charter. Considering that fuel costs are added to the base price of your private charter package, to that extent, how far you're going will influence how much you're prepared to spend. Those who want to visit many locations may face higher fuel costs than those who just want to go fishing or lounge around in the same area of Lake Ontario for the day. With this in mind, once you know how far you intend to travel, it is easy to estimate how much extra you may owe in fuel expenses throughout your charter. That being said, it is our recommendation that you determine the duration and destination of your voyage before proceeding with your booking.
Yacht Size for Charter
As with many things in life, bigger isn't necessarily better. While a larger yacht may appear to be a better way to enjoy a trip, going too large may just result in wasted space—or lost money. To that extent, when it comes to expenses, the size of the yacht is paramount.
Although the notion of a large yacht can be enticing, based on the size of your party and what you hope to accomplish on your charter, it's not always necessary and will likely end up costing you more. Rather, most yacht charter clients are better served by investing in a smaller luxury vessel that's fit for their needs with the right staff. Considering that, an experienced captain and highly trained hosts are worth far more than a few additional feet. Thus, it's important to favor comfort over size when booking your next luxury yacht charter. That being said, as a general rule of thumb, a yacht 100 to 120 feet long is an excellent size for family excursions. Meanwhile, larger parties, such as family reunions or weddings, may wish to consider a medium-sized or large-sized yacht for the voyage.
When to Book
Once you've decided on a yacht and a destination, don't wait until the last minute to make a booking. If you book your charter at the last minute, you may not be able to get your first, second, or even third choice. If both the date and the yacht are critical, it is recommended that you reserve your luxury charter a year in advance. Chartering throughout the summer and fall months, holidays, and popular events, like any other vacation, is in great demand. As a result, it's advisable to book your private luxury yacht rental at least 10 months ahead of time, particularly when scheduling during the "peak" or "busy" season. To that point, reserving ahead of time gives you a better chance of receiving your first pick on your Toronto boat rental, as well as more flexibility and control over the planning process.
Conclusion: Luxury Yacht Charter Due Diligence
Before you begin the process of evaluating yacht charters in Toronto, it's essential that you take the time to thoroughly plan out your trip. Keeping in mind each of the tips that have been outlined above. As discussed in "The Complete Guide to Chartering a Luxury Yacht," every point previously mentioned will play a significant role in ensuring that you get the most out of your next water-based adventure in and around Lake Ontario. That being said, once you've decided on the length of your voyage, where you want to go, how much money you would like to spend, and what size boat you need, you'll need to decide on where you want to depart from.
Thankfully, there are several different sources, such as commercially registered luxury yacht charter companies, like Toronto Yachts, and general boating magazines, which can further assist potential charter clients in compiling a list of options in their respective destinations. Though, with that in mind, we ask that you don't book the first luxury charter you come across. Instead, proceed with the same due diligence you would when booking a hotel room or resort stay. Because ultimately, choosing a professional and knowledgeable luxury yacht charter company is the most important consideration there is when booking your next luxury yacht charter in Toronto. You will want to make sure that whatever yacht charter company you choose can assist you in elevating your charter to a truly memorable, one-of-a-kind travel experience. That being said, don't wait until the last minute to book your next luxury charter in Toronto. Contact the highly trained professionals at Toronto Yachts today for further assistance in making your booking.
Image Source: BigStockPhoto.com (Licensed)
Related Categories:
Entertainment
,
Reviews