With the conclusion of COVID-19, people throughout the world are once again planning vacations to unplug from the pushes and pulls of daily life. After staying inside their homes for so long and indulging in excessive binge-watching, many travelers have questions about whether or not their live TV streaming services will work in different regions and countries.
Strange rules imposed by services like YouTube TV might be problematic for frequent travelers, especially those who are away from home for extended periods of time. As innocent as these guidelines may sound, they can be a major nuisance for travelers trying to watch a video or live stream online. Not to mention, each live TV service has its own set of rules!
To make things easier, we'll briefly describe how live TV services work for travelers. We'll also go through which services have the fewest constraints.
Short Journeys Should Be Trouble-Free
Your live TV service shouldn't interrupt your streaming experience for brief cross-city trips. Streaming is available for every live TV service, if you're far from home but traveling somewhere within your country or region (from where you initially purchased the subscription). However, there are a few issues that could make your journey more challenging than expected.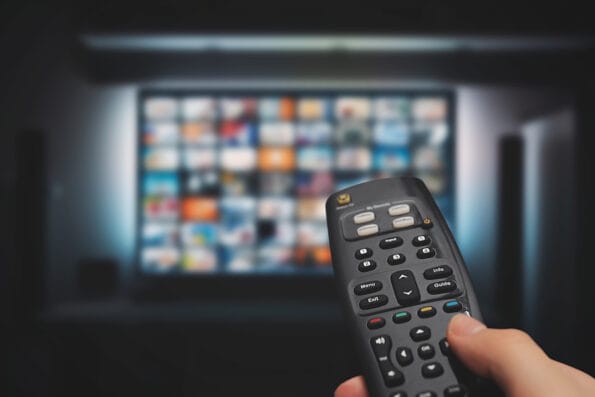 The selection of local channels available on your live TV subscription will vary depending on your location. You may also find that some programming, notably NFL games, is unavailable. Also, you can't record local programming on most live TV providers unless you're at home. (However, you can still watch recordings via a DVR.)
The most significant disadvantage, at least for shorter journeys, is that you might be required to stream on a mobile device or a laptop. While you are away from home, you are unable to use "living room devices" with either Hulu Live TV or DirecTV Stream. So, if you want to set up the live TV service on a larger screen, you may have to configure your settings again from scratch.
Journeys Far Away are Not So Much Trouble-Free
The thing about most live TV services is that if you try accessing them from a different country, you will receive an error message that says, "The content is not available in your location." This is because most live TV services impose geo-restrictions and content blocks that prevent their content from being viewed anywhere outside an approved list of countries. 
For instance, you cannot access Hulu Live TV from anywhere outside the United States. Therefore, if you are traveling outside of the country, you won't be able to utilize the live TV service, and it may just be better to pause the subscription. After all, Hulu is quite aggressive in terms of policies and even gets deactivated after 30-days of inactivity.
On the other hand, if you're persistent on accessing content on your live TV service on journeys far away, there is a solution. You can access Hulu Live TV, DirecTV, YouTube TV, or any other live streaming service worldwide with the help of a VPN service, which basically helps you get around geo-restrictions and content blockades through geo-spoofing. 
All you have to do is connect to a VPN server in a country where you purchased the live TV subscription, and you should be able to access it seamlessly, regardless of where you are traveling in the world. If you want to avoid this route, you can always subscribe to a live TV service that is accommodating of travelers. 
What are the Best Live TV Services for Travelers?
You can use YouTube TV or Hulu with Live TV when traveling, but only if you're willing to abide by a number of discretionary guidelines. However, there are alternatives, if you want a service that is easier on the wallet and comes with fewer constraints. To name a few:
SlingTV –

Ideal for those who are constantly on the road and need access to live TV. You can watch without logging in from home or having to use a mobile device. When you travel, you can even record local stations on your DVR (though these local channels are determined by your location).
FuboTV –

A close second is the FuboTV service. It remembers your "home area" but doesn't start enforcing bizarre restrictions after you've been gone for a while. The one quirk is that you can't stream on a mobile device, if someone else in your household is already using fuboTV on a smart TV.
DirecTV –

Compared to most companies, DirecTV Steam has a very relaxed attitude on employee travel. In addition to your "Home Network," you can connect up to two other devices to DirecTV Stream while you're away from home.
Can You Watch Live TV Outside of the US?
The United States is the sole market for all of the world's leading live TV providers. If you're traveling internationally, you won't be able to utilize these services because they are restricted to your home country. This is why Streamints recommends that entertainment-geeks and traveling enthusiasts utilize a VPN service to bypass geo-restrictions and content blocks.
It is possible to watch all your favorite live TV events using a VPN service. Simply connect to a VPN server in the United States, and it will fool the live TV service into thinking that you're residing in the country. As a result, you won't encounter any error messages and can successfully stream your favorite football, cricket, or UFC match live!
Final Words
It is safe to say that live TV streaming is a suitable option for travelers as long as they are traveling within their home country and region. Otherwise, they may require the assistance of a VPN service, or alternatives like SlingTV, FuboTV, and DirecTV that impose relatively fewer constraints and travel-friendly features.
Image Source: BigStockPhoto.com (Licensed)
Related Categories:
Television
,
Reviews