Residents can wholeheartedly agree that California rarely gets any rain or snow. And when summer hits, it hits hard, especially when July or August comes around. If you thought the rest of the year was already humid, these months might make you feel like you're being scorched alive if you stay under the sun long enough.
However, scattered across the state of California are hundreds of bodies of water for irrigating the land, and for your leisure if you want to cool off. And what better way to cool off than to go boating?
Why You Should Go Boating
In addition to being a great way to cool off, boating can also help you relax, which could provide health benefits due to the link between nature immersion and mental health. Even when it's not the peak of summer, you can go boating to filter the stress you've accumulated out of your system. With a serene environment surrounding you, you're bound to recharge your weary self.
If you're not looking to pass the time in deep reflection and retrospection, boating can be a fantastic bonding trip between you and your family or friends. Sightseeing, fishing, swimming—all these activities are much more fun with company!
Of course, not everyone's comfortable with expending that much energy, so what about sharing a pensive conversation with your partner? With nature as your only witness, boating can be a meaningful retirement activity for older adults who prefer some peace and quiet.
3 Steps To Get A Boater Card
So, you might already have a strong desire to go boating. That is until reality comes crashing in and you're reminded of the technicalities. However, they're not as tedious as you'd think. As soon as you get your boater card, you can steer your boat into the sunset! So, here's what you have to do first: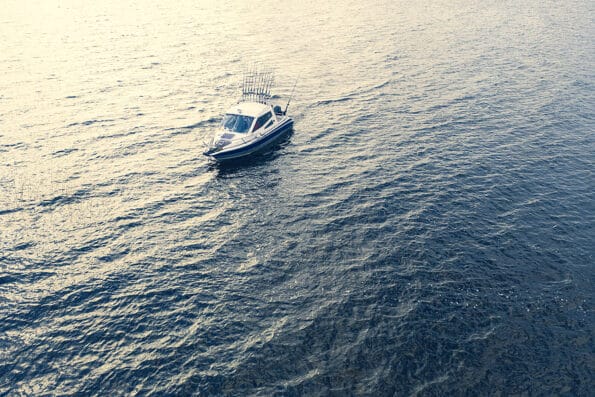 Fill Out An Application
Although a boater card might not be as crucial as a voter's ID, it's still important to have it on you if you're an aspiring boater. According to the California State Parks Division of Boating and Waterways (DBW), the boater card confirms you've passed the boater safety education exam, therefore securing your capabilities in handling a boat and its passengers. 
Luckily, you don't need to be on-site to apply for one. In fact, you can even take the CA boating license test online nowadays without any issue. All you have to do is provide basic information (such as your full name, birthday, phone number, and address) and wait to be approved. After that process, you'll already be registered as a potential boater. 
However, before that happens, you should know about the California Harbors and Navigation Code, Section 658.5, which states that no person below 16 years old is allowed to steer a boat with a motor of more than 15 horsepower—with the sole exception of a sailboat that doesn't exceed 30 feet in length.
Study The Basics
As mentioned earlier, you need to pass a test first before becoming a bonafide boater. This test determines whether you're equipped to handle boat riding or not. So, before you get yourself all worked up, you need to prepare yourself by studying. 
Just think of it like you're getting ready for a driver's test, except you'll be driving through the water instead of on solid ground. With the driver's test, you need to learn the road signs or the many mechanics of your car—the same goes for being a boater. 
In this case, you have to study the following: 
How to start a boat,

Boater cues, 

How to navigate, 

Boat safety tips,

Government regulations, and 

How to operate a personal watercraft (PWC) 
Despite how boring or technical studying all this information might be, it's necessary. Who knows what might occur out in the water? And that's not the only thing to look out for since you'll also have to consider the wind speed and many other factors that will affect your boating experience. Fortunately, interactive courses are available to help you learn how to apply what you've learned in real-life simulations. 
Although studying this seems to be a daunting task, don't be overwhelmed. Depending on the course you chose, there are programs you can do for a few hours. On the other hand, some programs are more extensive and can go on for months (depending on your availability). 
Pass The Test
After studying and taking practice quizzes, here comes the dreaded final exam itself. Of course, if you aced every single one of your quizzes, you're probably not too worried. You can expect the exam to have less than 100 questions, and they're all be randomly picked from the topics you've learned.
When you pass, you can finally possess your very own boater card after a few days! However, this card will only be a temporary one because the permanent boater card might take around two months before arriving at your doorstep. Don't worry; your temporary boater card should be valid for approximately 90 days before expiring.
Sail Across The Water
Spending time on the water is a great way to de-stress in California. If taking a dip isn't your style, then why not give boating a try? However, before you get to it, do you have any idea how to drive one? If not, then you should prepare to get a boater card. It only takes a few easy steps, as discussed above.
Image Source: BigStockPhoto.com (Licensed)
Related Categories:
Entertainment
,
Reviews