Pool Sports: An Overview
Cue sports have become prevalent in the world and have been passed on as a legacy through generations. Pool is considered as one of the most popular cue games, played with cue sticks, a specially designed pool table and stripes and solid colours balls.
This sport is close to Billiards and Snookers, the unique conglomeration of cue sports. It is played on the specialised pool table in which six pockets are installed. The player needs to pocket all the balls to end the game in his favour. There are different modules and variations attached to the game of pool. Some of the popularly recognised pool games are:
Eight-ball/ Eightball 

Nine-ball

Blackball

Ten-ball

Seven-ball

One-pocket

Straight pool

Bank pool
Since this game originated from Billiards and Snookers, it is often referred to as "Pool Billiards." Some people identify this sport as billiards as it has close association with the ten-pin bowling gesture like the former. 
The two types of balls used in the Pool games are: Stripes and solid-coloured. 
Apparatus used in Pool Games
Pool is an endearing cue sport that requires much skill and dedication to go forth with. Learning pool games might seem a bit tricky and difficult but with practice and time you can master this art. The equipments required while playing pool games are:
The players compete in a specially crafted pool table with six pocket compartments.  The dimensions of a pool table can range from 3.5 by 7 feet (1.07 by 2.13 m), to 4.5 by 9 feet (1.37 by 2.74 m).

The diameter of balls comes in different variations. Starting from 2.25 inches (57.15 mm) to 2.375 inches (60.33 mm). 

Cue stick of 58.5 inches (148.6 cm) long. 
International Governing Council
This form of cue sport is not just for recreational purposes, but can be upgraded to professional level too. As an internationally recognised competitive game, pool has been regulated and administered by the WPA (World Pool-Billiard Association).
Asian Pocket Billiard Union (APBU including the Middle East)

All Africa Pool Association (AAPA)

Billiard Congress of America (BCA in conglomeration with the United States)

Confederación Panamericana de Billar (CPB with Latin America and Caribbean)

European Pocket Billiard Federation (EPBF along with Russia and the Near East)

Oceania Pocket Billiard Association (OPBA in association with New Zealand, Australia, Pacific islands). 
As a leading council, the WPA represents this cue sport in the International Olympic Committee and the World Confederation of Billiards Sports.
This article discusses how you can play, win and earn 8-ball pool real money by practicing pool billiards online.
The balls are being arranged in a triangular format, leaving no free spaces. 
The Concept of 8-ball Pool Game 
The 8-ball pool game is one of the most prominently played cue sports by the masses. It is also identified as Eightball or highs and lows or solid and stripes. Along with the equipment introduced to you in the above paragraphs, this cue sport involves sixteen pool billiard balls, 15 object balls and one cue ball. 
Different numbering is conferred to each ball for easier identification.
The object balls are labelled from 1-7 (the solid-coloured balls).

The striped balls are labelled from 9-15. 

The black ball is labelled as number 8. 
Each player is assigned their own set of either solid-coloured balls or stripped balls. Thereby the balls are strewed with a method called break shot. Once the strewing is done you will have to aim for the 8-ball into the "called" pocket to win the match. 
This game demands discipline, dedication and strategy for excellence. So keep practicing and elevate your skills to the utmost pedestal.
Online gaming platforms to play and earn real time cash
Are you searching for online gaming platforms which can suffice your devoir to play, practice and earn at a simultaneous rate? It has been made possible with the advancement of technology. Now you can download several mobile applications or refer to the trusted online websites available in the online space.
In real-time you can play with your friends and family and earn astonishing cask prizes after each win. Listed below are some top sites and mobile applications that can help you play and earn 8-ball pool real money [valid where legal] after every successful gameplay. Have a look.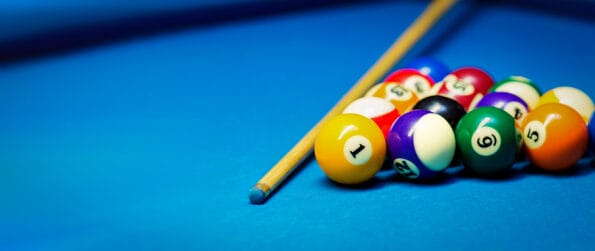 Get Mega 
Get Mega is a global platform to play and earn real cash. It is a curated and top rated website that offers a huge assortment of card games and casual games. You can also download their mobile applications from the Google Play Store for an enhanced view. This online gaming platform is 100% reliable and pure with a whopping account of 50,00,000 downloads. The "Go Pool" feature powered by Get Mega recommends three requisites to ace the game: "Strategy, Creativity and Motor." To get into the elite club of top players and earn real-time 8-ball pool real money, you need to play mindfully and vigilantly.
MPL (Mobile Premier League)
MPL online gaming space is the most preached way to practice and chisel your skills on the 8 Ball Pool game. This advanced 8-ball pool real money gaming space will help you earn legible cash instantly. 
Gamezy 
Gamezy is an integrated platform that offers a vast variety of real-time cue games. You need to visit their official website and look for the link mentioned to download the mobile application. 
Important strategies to Win the 8-ball Pool Game 
The 8-ball or eight ball pool game is a highly committed sport played in singles and doubles. The solid-coloured balls are: yellow, blue, red, violet, orange, green, maroon and black. While the striped balls are: yellow, blue, red, violet, orange, green and maroon. The cue ball is white in colour. 
The strategy to practice, play and earn cash from the state-of-the-art feature pool game is to set your aim right! To do so follow the below mentioned steps: 
After you join the online gaming space, you and your partner will be asked to choose the pair of balls (either striped or solid-coloured). These pairs of balls will be designated to you after which you will have to ascertain whether you will keep on or behind the head string to play your shot. 

Once you have chosen the key spot of the balls, you will have to set your momentum. Study the routes, set your position and move your cue stick in circular motions to get the perfect shot. 

You can rotate the cue ball at your perusal. 

Loosen the cue stick to take the free shot. 

Sort the way in between the free spaces and pocket the balls designated to you.
Conclusion 
The 8-ball game is one of the most seeked out cue sports by the people. If you want to build a career in this sport then keep practicing and learning new strategies. It is recommended to adopt the online platform and earn real money to inculcate the intricate art of Pool Billiards, the exquisite way. Keep on with your practice and earn authentically and legally after every win. 
Image Source: BigStockPhoto.com (Licensed)
Related Categories:
Games
,
Casino
,
Reviews