When you're looking for a vehicle that's meant to help you excel at your business, you need to ensure that you're choosing the right one. Not only do you need to consider the usual aspects that contribute to choosing a great option to drive, but you need to factor in everything that you need to perform your work properly. Here are a few things that every contractor should consider when buying a new vehicle for work.
The Benefits of Buying Used
No matter how important a purchase you're making, when it comes to a business expense, you always have to consider the bottom line above all. As in the case of any vehicle, the price tag will decrease dramatically as soon as you consider used vehicles. Talk to a Toronto Chrysler dealer about the difference in the price range between a new and used vehicle before you get started to decide which option will work best for your needs. Make sure the vehicle can handle all the essential stuff like a truck toolbox with drawers and gas tanks you need to transport.
Buying Something in Excellent Shape
Buying a new car is always a significant and expensive investment, but in the case of buying one to help you complete contracting jobs, you can't take any chances. While buying a used vehicle is guaranteed to save you money, you can't take any risks by going so cheap that you'll face recurring breakdowns. You need to arrive to meet clients on time, so buy a reliable vehicle that will ensure that you do.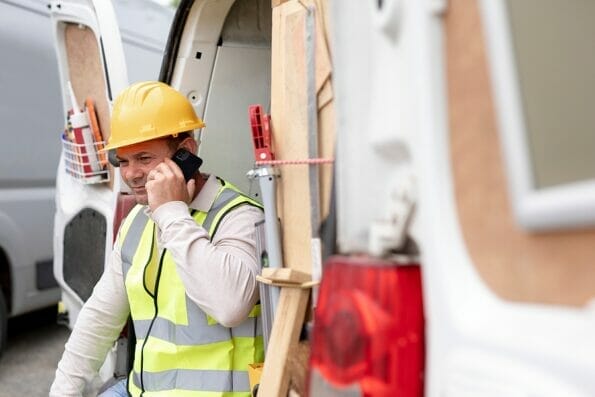 Pickup Truck
There's a reason why some products stay popular forever – and that's because they've been tried and tested to come through when you need them most. If you decide to buy a pickup truck to support your contracting or handyman business, then you'll be far from the first person to do so.
That said, if you buy a truck, you're going to need to invest in a few accessories like a locking cover or bed tool chest to ensure that your equipment stays safe at any location.
Cargo Van
Another great option for a contractor is to choose a cargo van. The main advantages of a cargo van over a pickup truck are that they offer
More Storage Space
More Security for you Tools and Supplies
Another advantage of a cargo van is that they are easy to drive around in an urban area and can come in handy in everyday use as well. If you're looking for an excellent option in a new cargo van for your contracting company, one of the best you can get is the Ram ProMaster by Chrysler, which has recently been redesigned for
Efficiency
Interior Comfort
New Levels of Safety
Connectivity
Truck with a Trailer
If you're eager to own a pickup trick but would also like to benefit from the extra storage space and security offered by a cargo van, then you can also opt to get the best of both worlds by buying a trailer.
While this option will provide you with an affordable way to add more space, you might not be able to reliable guarantee the safety of your equipment. That said, if you only need extra room for inexpensive items that you're not worried about, this option may get you through until you can afford an upgrade.
Deciding on the best vehicle for your needs will depend on the work that you do. Why not get some extra help making the decision by talking to a salesperson at a dealership who can offer you information o various models, as well as financing and insurance options?
Image Source: BigStockPhoto.com (Licensed)
Site Disclaimer 
The Content in this post and on this site is for informational and entertainment purposes only. You should not construe any such information or other material as legal, tax, investment, financial, or other advice. Nothing contained on our Site constitutes a solicitation, recommendation, endorsement, or offer by HII or any third party service provider to buy or sell any securities or other financial instruments.
Nothing in this post or on this site constitutes professional and/or financial advice. You alone assume the sole responsibility of evaluating the merits and risks associated with the use of any information or other content in this post or on this site. 
You recognize that when making investments, an investor may get back less than the amount invested. Information on past performance, where given, is not necessarily a guide to future performance.
Related Categories:
Work
,
Cars & Vehicles
,
Reviews