Moving to another location, whether that new home is down the street or in a different state, is an exciting time. Unless you only have a few things that you can fit into the back of your car, you may be wondering how much it costs to move all of your furniture and other belongings. When you calculate your moving cost, there are a lot of different variables you will need to keep in mind, such as if you need movers or not. 
If you need help sorting out the different factors that affect the overall cost of your move, then you came to the right place. This brief, moving guide will cover what expenses you need to be aware of, how to stay organized during your move, and who you can reach out to for more help!
Helpful Organization Tips
We all know that moving, regardless of whether it is down the street or across the country, can easily cause you to become disorganized. A great way to stay organized is to download helpful moving apps on your phone. 
Apps that can help you stay organized:
If you have items that you need to get rid of before you move, you can list them on LetGo. You have the opportunity to set the price of each item, and if someone wants to purchase your item, they will reach out to you. 
Sortly is a powerful app that helps you create a visual inventory of your items with notes, photos, and tags. This enables you to keep track of the things you have in your home. You can then either donate those items, sell them, or pack them with the rest of your items. You no longer have to wonder if you packed something or left it behind. 
Nextdoor helps you to connect with your neighbors. You can find home improvement professionals to come to clean your home and prepare it for the next person. They also have marketplaces for you to sell your items if needed. 
Create a Master Moving Binder
Creating a master moving binger is a great way to stay organized when moving. This binder will make it easy to keep track of your moving contracts and receipts, but it also helps to consolidate all your moving information and tasks into one easy-to-find location. 
Items to store inside your binder:
Moving checklists

Utility company information

School records

Medical records

Financial documents

Other important personal information
If you ever need to find these items, you won't have to look through different boxes trying to find them. You know where to find your important documents just in case something comes up.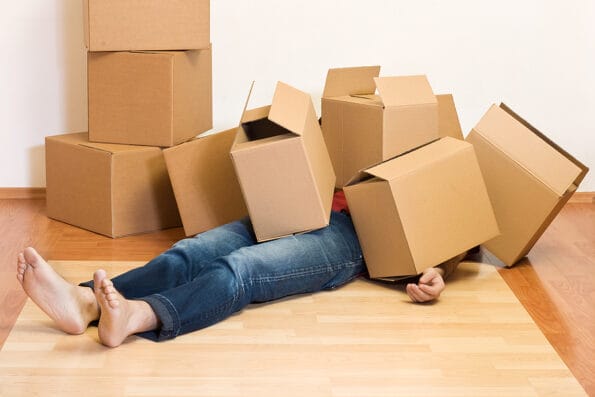 Customized Checklists
Moving to a new home involves many different moving parts, such as handling financial obligations and dealing with moving company logistics. You will need to keep track of so many different details during your move. 
Figuring out what you need to do and when you need to do it is definitely not an easy feat. To help with that, you can create a comprehensive checklist of things you need to do for your upcoming move. 
Having a list of things to do on hand will make it easier for you to keep track of what you have already accomplished and what you need to finish next. For example, you can list that you need to declutter, pack, and clean the kitchen. Once you check that off your list, you can then move on to another task on your list. 
Packing Tips 
If you are someone who labels your moving boxes according to their corresponding room, then you know how difficult it is to find that box solely based on the written label. To make it easier, you can color-code your boxes and labels.
With these color codes, you can easily find items that go to a specific room. For example, you can use a yellow label and yellow tape on boxes with items for the kitchen. 
Pack a Moving Day Essentials Bag
While packing your items, it is easy to forget that you may need an additional change of clothes or other necessities to have on hand while transporting all your other items. Without these things, your moving experience will not be as pleasant as it could be. 
Essentials to pack:
Toilet paper

Paper towels

Toiletries

Pet essentials

Medication

Bottled water
If you have children, you may want to pack snacks or other items to keep them busy during this time. Make sure that you also pack your credit cards and essential IDs in this bag or box, so you have them on hand as well. 
Calculate Your Moving Cost
Now that you are aware of some great tips to organize your stuff, it is time to move them to your new home. No two houses are the same, so your moving costs aren't concrete.
You will need to consider the distance you're moving, the number of movers you need, and the number of things you need to be moved. You also will need to consider the different costs each mover charges. 
Travel and Distance Fees
For moves under 100 miles, you may be able to obtain a quote over the phone based on the number of items you need moving. Since the distance is much shorter than a long-distance move, a few local movers offer flat-rate travel fees instead of charging per mile. With that said, when moving long distances, you can expect to pay more for time, mileage, and fuel. 
Number of Movers Needed
If you have larger pieces of furniture or boxes you need moving to your new home; you may need to hire movers to help you. On average, movers charge between $25 to $50 an hour. Some companies charge you per mover and per hour.
If you need movers to move a small amount of items from an apartment, you can expect to pay around $50 to $100 per hour. You can expect to pay upwards of $200 an hour for larger homes, especially if you have heavier and larger items. 
Amount of Items 
If you are moving from a smaller one-bedroom apartment, there is a high chance you don't have a lot of items to move. This means that your overall cost for moving services will, on average, cost less.
On the other hand, a fully furnished, three to four-bedroom house will take much longer to pack and move. This larger move will also require a larger truck to move said items. 
When comparing a small apartment and a larger home, you can expect to pay around $250 to $500 to move locally. With a larger home with more items to move, you can expect to pay approximately $1,500 or move. If you have to move larger items and appliances, keep in mind that you may need to pay additional fees to move them as well. 
Size of Your Moving Vehicle
The size of your moving vehicle definitely plays a factor in your total moving costs. The bigger the vehicle, the higher the cost to rent that truck. 
Accessibility
Movers also will take into consideration how much access they have to your apartment or your home. For example, if you have multiple flights of stairs without access to an elevator, your movers will need more time to move heavier furniture and other items. Depending on how difficult it is to access your place, your moving company may add an additional $250 to $500 fee to your overall bill. 
Time of the Year
It is no question that people like to move during seasons that work best for them and their schedule. For example, most people want to move during the summertime when the weather is favorable and their children are out of school.
During this time, the demand for movers is much higher, which means their fees are more expensive. If you can avoid moving during the spring or summertime, try to move during the fall or winter time when movers have lower rates and better availability. 
Full-Service Move Cost
If you are too busy to pack and move your entire house, you can opt for a full-service move. This service usually includes having movers come and pack up your belongings for you.
They will then move the items to your new home, unpack your stuff, and reassemble them. Most moving companies that offer full-service moves also include clean-up. 
The cost for a full-service move depends on the number of things you need moving; the distance traveled, accessibility, amount of required movers, and the cost of the truck. If you want a full-service move, you will pay upwards of $2,000 to $10,000 depending on the different variables listed earlier. 
How to Move My Car
If you have a car that you need to move a long distance, there is an excellent chance that you won't want to drive your vehicle that far. Just like you can pack up your items and have them moved for you across the country, you can do the same for your vehicle.
There are many different types of car moving companies that can transport your vehicle for a fee. They also have their own calculator on their websites to help calculate your moving cost. 
Open-Air Transport
If you want the cheapest option for moving your vehicle, you can opt for open-air trailer transport. The auto transport company will load your vehicle onto a semi-truck trailer with other vehicles.
Have you ever seen a truck pulling brand new cars into a dealership? That type of trailer is the same trailer used to move your vehicle. This may expose your vehicle to the elements, but it is much cheaper, and it is still a reliable way to go. 
Closed Transport
If you want your vehicle to have the protection of a container, you can opt for closed transport. Another vehicle may accompany your vehicle during the move, but they are both enclosed inside of a sizeable container. If this sounds like something you want, expect to pay more for the added protection. 
Nexus Auto Transport
With so many different auto transport companies out there, it may be hard for you to pick the one best for you and your situation. There are some people who can move your vehicle for a low price, but they may not have the proper insurance to take care of your vehicle if it sustains damage during the transport process. 
Nexus Auto Transport has the expertise, experience, and insurance to ensure that your vehicle has the protection it needs during transport. Whether you choose a closed transport or an open-air transport, you are sure to have your vehicle arrive safely without any issues. 
The best part about Nexus Auto Transport is that they offer competitive rates, no matter how far or how close you need to transport your vehicle. They also provide an option to pick up your automobile from one location and deliver it right at your door. 
Transport Your Vehicle Now!
Moving across the country with a vehicle in tow can be exhausting if you do this task on your own. Not only do you need to calculate your moving cost for your personal items, but you also need to consider the cost of moving your vehicle as well.
Contact us now if you are looking for a reputable company to move your vehicle on your behalf at an affordable and competitive rate. Nexus Auto Transport has the expertise, knowledge, and dedicated team to make sure your vehicle safely gets to your new home. 
Image Source: BigStockPhoto.com (Licensed)
Related Categories:
Home
,
Reviews