The fashion industry is a fun and fast paced industry to work in. One which many could only dream of being involved in. Starting your own online clothing store is a great way to enter the industry and potentially turn your love for fashion and clothing into a genuine source of income. Many people will attempt it but it can be hard to succeed, so here are some top tips to help get you started.
Find your market 
First things first. You must identify your target market. One reason many retailers struggle to maintain business is because they cast their net too wide, trying to reach an audience that is too big for their capabilities. To begin you should narrow it down to target groups based on several factors, e.g. gender, age, social group, financial status. This will aid the buying process as you pick and choose the clothing you think your audience will want to buy. 
Build a relationship with a fashion wholesaler 
When sourcing the clothing for your online clothing store, particularly if you intend to stock the latest trends and fashions, working with a wholesaler is key. Finding a reliable fashion wholesaler and working with them closely will ensure that you have access to a wide range of clothing collections for various demographics at low prices. Of which you will be able to purchase in bulk for your online store. 
In most cases you will be able to locate local wholesalers or global wholesalers online. Where you can browse their stock and register an account with them. From this point you can begin purchasing stock for your fashion retail collections, keeping up to date with the newest trends and seasonal essentials. 
Some top tips for working with a fashion wholesale company: 
Find a wholesaler with a large catalogue of clothing and accessories so you can purchase the majority of your stock from one place. 

Work closely with your fashion wholesaler, contacting them directly regarding stock and pricing. Over time this relationship will benefit you and your online store. 

Keep up to date with your payments, ensuring your invoices are paid on time. 

Visit trade shows and show rooms to see sample garments with your own eyes and to determine the quality of the products and fabrics you will be stocking. 
Launch an ecommerce store 
The heart of your online clothing business will of course be your ecommerce site. It is really important you choose to operate on a platform that is designed for online retailers. By building your site on an ecommerce platform you will be able to add the products to your site, set up a payment process and add additional features like a blog or news feature.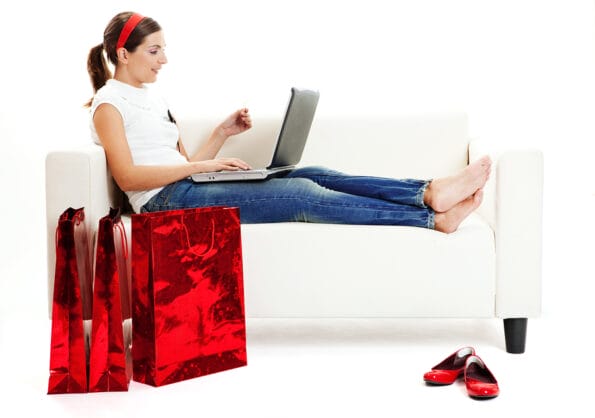 How your ecommerce site looks is up to you but this must coincide with your branding. 
Marketing your store 
Once you are up and running, marketing becomes a pivotal focus point of any online business. To build brand awareness a comprehensive marketing strategy which covers various aspects of marketing is very important. This could see you delving into the world of social media marketing to reach your target audience and SEO to optimise your website for search engines. 
Image Source: BigStockPhoto.com (Licensed)
Related Categories:
Work
,
Reviews
,
Web