Lab Coats: An Essential Part of the Healthcare Profession
The clothes we wear have a significant impact on how we are regarded and how we perceive ourselves. We frequently identify a person's profession based on the uniform he or she is wearing—black coats for lawyers, police khaki uniforms, white lab coats for medical professionals, and so on. But have you ever thought about why physicians wear white lab coats or why they are an essential part of the healthcare profession to begin with? Well beyond the practical, much of what healthcare professionals wear is loaded with symbolism. Not to mention, with the emergence of germ theory between 1850 and 1920, physicians tried to be more scientific in their practice and attire.
To that end, in an effort to remake the appearance of healthcare professionals, white lab coats were designed to be a symbol of hope and healing. The white lab coat was initially worn by surgeons, then by hospital doctors, and finally by in-office general practitioners. However, by 1915, it had become the norm for all medical professionals. Since then, white lab coats have grown in popularity due to their clean, crisp, and sterile appearance, in addition to their association with integrity, honesty, and professionalism. In fact, people often see a white lab coat as a symbol of professionalism and an individual who is committed to ensuring the best quality of care for their patients. To that end, a white lab coat has become a symbol of healthcare professionals as being safe, clean, and in positions of power. This picture has stayed with doctors until this day.
Why Do Lab Coats Matter?
When most people think of a doctor, the first thing that comes to mind is either a lab coat or a stethoscope. While the usage of lab coats is not restricted to physicians, as scientists in a lab routinely wear lab coats to protect themselves, it is often associated with the medical environment. The crisp, clean, and attractive white lab coats are a relatively new addition to a doctor's professional clothing, but they have immaculate significance now.
The lab coat is an inspirational figure for all those who work in the healthcare industry. Today, everyone in a chemistry lab, hospital, path lab, and so on is dressed in white lab coats. That being said, there are a variety of reasons why it's necessary to wear a lab coat to work. For instance, you will feel more at ease at work if you invest in high-quality lab coats. Scientists and physicians generally work in incredibly stressful surroundings and pursue extremely difficult occupations, so wearing comfortable lab coats may go a long way.
Additionally, when you wear a lab coat to work, you are more likely to be conscious of your appearance. Becase lab coats give you a sophisticated appearance, your professionalism is likely to be enhanced. Moreover, one of the most significant characteristics of a lab coat that should be mentioned is its impartiality, followed by its neat and tidy professional appearance. Not to mention the health and safety factors, which can be considered the primary benefits of wearing a lab coat at work. Finally, lab coats are a simple and secure option for medical personnel. It allows professionals to search through their closets without having to find something to wear every day. To that end, lab coats are the optimal choice for all healthcare professionals.
Now that we have the significance of lab coats within the healthcare profession covered, we can move on to discussing a few key factors for how to choose the right lab coat for you and your profession.
How to Choose the Right Lab Coat for You: Everything You Need to Know
Given the plethora of options for lab coats that are available to those working in the medical field, a lot of healthcare professionals experience some difficulty when it comes to choosing the right lab coat. With a variety of different styles, fabrics, lengths, brands, and functionalities, finding the right lab coat to match yours as well as your profession's needs can be overwhelming. To that end, we have put together a list of a few of the key factors to take into consideration when choosing the right lab coat for you. Please read on for more information and lab coat essentials.
 Type of Workplace Environment
The first thing to take into consideration when choosing the right lab coat is determining its overall functionality in relation to your chosen profession. For instance, in a healthcare environment, the lab coat needs to offer superior coverage to protect against contaminants and bacteria. Whereas in a more clinical setting, you may wish to wear a consultation lab coat that demonstrates the same level of professionalism to your patients, though with a little more wiggle room. That being said, if you work in a dental office, a lab coat with knit cuffs and a complete closure is better suited to ensure protection from splatter. Similarly, vets require a lab coat that does not collect pet hair.
Body Type
Next on the list of considerations is body type. When choosing the right lab coat for your body shape, it is of the utmost importance. This is particularly true for female healthcare workers, as their assets require greater attention to detail in terms of the design and fit of the lab coat. However, as a rule of thumb, in order to maintain a certain level of professionalism at work, you will need a lab coat that complements your particular body type. Many fitted lab coats have darts, princess seams, and tapered shapes that flatter your figure. However, you must be careful to select these fitted lab coats based on your body shape.
Fabric Type & Quality
Almost all lab coat suppliers, such as Head To Toe Uniforms, offer a wide selection of lab coats constructed from a variety of fabrics. Most commonly seen are those made from poly cotton, poplin, twill, and cotton. Generally speaking, if you happen upon a lab coat made from poplin, it will likely be light and breathable. Meanwhile, lab coats made from twill will often be heavier and crisper. That being said, information pertaining to the fabric blend can be found on most Medical uniform suppliers' websites. However, to make things a bit easier for you below, we have included a short list of the most common fabric blends for lab coats. They are as follows:
Poplin: Also known as broadcloth. This type of fabric is a simple woven cloth with threads passing over and beneath one another alternately. This results in high thread count, longevity, smoothness, and a silky feel.
Twill: This fabric is created by weaving weft threads beneath and over numerous warp threads to create a thicker feel. This resulted in designs like diagonal rib, herringbone, houndstooth, and others. This cloth is perfect for chilly climates due to its resilience.
Micro Sanded: Abraded surface lab coats have a flexible drape and a flannel feel. This lab coat is not suitable for veterinarians since animal hair is known to cling to it more than other fabric combinations.
NOTE: Lab coats can also come in specialty fabrics such as barrier protection and fluid resistance. Similarly, a comfortable stretch fabric with antibacterial properties, for example, is a popular option.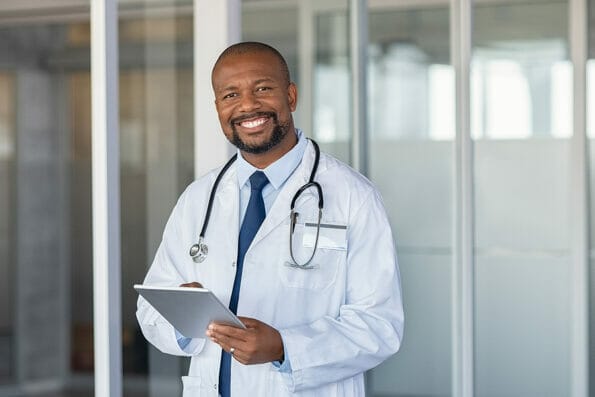 Lab Coat Dimensions
One of the last important considerations to make when it comes to choosing the right lab coat for yourself is the dimensions of the lab coat. Considering that, length plays an important role in the overall fit and functionality of your professional attire. That being said, length is often labeled as the center back length, which is usually measured from where the collar attaches to the garment to the bottom of the back. Below, we have attached some standard lengths in an effort to make this consideration even easier for you. They are as follows:
Consultation Length = 27-32 inches
Mid Length = 29-32 inches
Full Length = 35-45 inches
CONCLUSION: Get Ahead in Your Healthcare Career—Discover the Significance of Lab Coats!
That's right! You heard it here first. Those who want to stay protected while also maintaining a professional appearance at work demand the use of lab coats, especially for those who work in the medical or scientific fields. A lab coat is a must-have piece of medical attire.
That being said, a lab coat is not only representative of your chosen profession, but rather is a symbol of health and wellness that is widely accepted amongst the masses. As such, after reading this article, we hope that you have a greater understanding of why lab coats are an essential part of the healthcare profession, in addition to how to choose the right lab coat for you! Moreover, if you are purchasing a lab coat for the first time, we hope to have made it a bit easier for you to make an educated selection. If you keep in mind the aforementioned list of considerations, the experts at Head To Toe Uniforms guarantee that you won't be disappointed!
To that end, for further assistance in finding the right lab coat for you, contact the highly trained uniform professionals at Head To Toe Uniforms today. With their help, you can select the design and type that are most appropriate for you and your profession.
Image Source: BigStockPhoto.com (LIcensed)
Site Disclaimer 
The Content in this post and on this site is for informational and entertainment purposes only. You should not construe any such information or other material as legal, tax, investment, financial, or other advice. Nothing contained on our Site constitutes a solicitation, recommendation, endorsement, or offer by HII or any third party service provider to buy or sell any securities or other financial instruments.
Nothing in this post or on this site constitutes professional and/or financial advice. You alone assume the sole responsibility of evaluating the merits and risks associated with the use of any information or other content in this post or on this site. 
You recognize that when making investments, an investor may get back less than the amount invested. Information on past performance, where given, is not necessarily a guide to future performance.
Related Categories:
Work
,
Reviews