Selling second-hand clothes online is a great way to make extra money and declutter your wardrobe. It's also great to help others update their wardrobe without breaking the bank.
Selling 2nd-hand clothes online allows you to meet your customers' demands from anywhere in the world. Your business will likely flourish if you sell replacements for popular brands on a well-known site. If you're new to selling online, this article highlights things you can do to ensure your experience is smooth. 
Tips for Selling 2nd-Hand Clothes Online
Use a Secure Payment System
When you sell second-hand clothes online, use a secure payment system like PayPal or Stripe. These payment systems have fraud protection and help ensure you receive your payments safely.
Make Your Prices Reasonable
The key to making money with second-hand clothing sales online has reasonable prices for what you're offering customers. Don't price them too high or too low. If your prices are too high, it discourages shoppers from buying anything from your store as they don't want to spend much money on an item. If you price them low, customers may think that your products aren't good and won't buy them.
Pick the Right Type of Clothes
You can sell any clothing online, but ensure it's a product people want. When choosing items for sale, think about trends and seasons. For example, if you want to sell winter coats in spring, you'll likely have trouble finding buyers.
Also, consider the quality. Are they brand-name or generic? Are they high-end or low-end? You can tell by looking at the label or researching the brand online. If it's a brand name still in style and has plenty of demand, it will have a higher selling price than a generic item that was popular five years ago but is no longer in style.
Mention Flaws, If Any
If the item has defects or flaws, mention them in the description in advance so that the buyer is not surprised when they receive them. If you mention a small tear on one side of a shirt, the buyer won't return the item as they know about it beforehand. You can include a picture of the defect to let buyers know what they're getting. This saves you from paying shipping charges for returning items due to defects.
Ensure all clothes are in good condition and clean before selling them online. If there is any damage, such as tears, fix it before putting it up for sale or avoid selling it altogether because even if you do get someone interested in buying it from you, they may back out at the last minute due to the damage on the item or leave a negative review.
Choose Your Categories
Consider multiple variations like sizes or colors, and choose categories that match these options. For example, if you're selling dresses in different sizes and colors, it's best if you create separate categories for each one with its URL so that shoppers can find what they're looking for easily when searching for specific styles in clothes online. The advantage of this is that buyers can view multiple styles at once without having to sort through all kinds of different dresses just to find the one they want.
Take Good Photos
Take high-quality photos of your items before you list them for sale. Ensure there are no wrinkles or stains on the clothing, and the item should look attractive when photographed.
Taking high-quality photos of your items can make the difference between a sale and a no sale. If your photos are blurry or unclear, potential buyers won't even consider looking at your item, let alone buying.
Before you put an item up for sale, ensure that you have good lighting and space around the item being photographed so that it looks its best to attract buyers' attention. You may consider hiring a photographer or graphic designer to take professional-looking images of your items at an affordable price.
Include Measurements
The measurements help buyers know the size they need before purchasing from you.
If you're listing second-hand clothes on eBay or another platform, including the measurements of each item. This helps potential buyers know whether or not they'll fit into the clothes. Having measurements helps protect you against people who might try and scam you by buying an item and then returning it for a full refund when it doesn't fit.
Respond Promptly to Questions and Offers
The faster you respond to inquiries, the better your chance at closing sales. If someone asks about an item or makes an offer on it, respond within a few hours while they're still interested in making a purchase. If they have further questions or concerns regarding sizing or shipping details, address them. This helps you avoid losing potential buyers who may not be willing to wait long before receiving answers.
Taking care of customers makes them feel comfortable buying from you again in the future.
Package Your Items With Care
Sellers should package their products carefully to ensure they arrive safely at the buyer's address and are not damaged during transit.
Packaging and shipping costs are a big part of selling second-hand clothes online and can add up over time if you aren't careful about how you package your items. To reduce costs, use recycled materials instead of buying new packing materials at the store. You'll save money while helping reduce waste.
Keep Your Keywords In Mind
Don't just type in "jeans" or "shoes." Consider the words people might use when searching for these items, and include them in your description and the title of your listing. If someone searches for "jeans," they may also search for "blue jeans" or "skinny jeans." Be sure to include all of these terms in your listing.
Don't Photoshop Your Photos
It may seem like a good idea to try and make your items look better than they are, but it can work against you in the long run. You lose credibility with potential buyers when you alter an item so much that it doesn't look like what it is. If you want to show off how great an item looks, take pictures of it in natural light without any filters or editing tools.
Write Accurate Descriptions
You should describe your items honestly and accurately. You don't want to give them false expectations about your product. Ensure to include relevant information in your description, including the garment size, whether there are any stains, rips, or tears, and whether it's damaged.
Also, include the condition, brand new or worn once. If the item is brand new but has been unopened for years, mention that in your description so buyers know what to expect before purchasing something new with the old packaging.
Post Your Listings on Multiple Sites
The more exposure you have when selling clothes online, the better. You should therefore post your listings on more than one website. You can use sites like eBay Depop or Facebook marketplace.
If you have many clothes in good condition but aren't trendy, Poshmark and Thredup could be good options. On the other hand, if you have newer items that are still in style, Facebook Marketplace and eBay might be better choices. Research the market first to know which sites work best for your items.
Posting your listings on multiple sites increases your chances of selling them quickly and for more money.
Research the Market
You should research the market before posting any listings online. This helps you determine the best price range for selling used clothing online in your area or country. When researching the market, look at how much similar items are selling on various websites like eBay. Also, check at prices of new clothing similar to yours to know how much it would cost if someone were to buy new instead of used clothes.
Research the Best Market to Sell 2nd-Hand Clothes Online
Selling second-hand clothes online can be very lucrative if done correctly. However, with so many websites, you need to choose an affordable website that sells your clothes at low costs and allows you to save money.
Here are some sites that sell 2nd hand clothes online.
eBay
This is one of the most popular websites for buying and selling second-hand items. The website allows users to list items for sale anytime, and millions of products are listed on eBay daily. eBay is used by millions of people worldwide, making it one of the largest online platforms for selling used goods.
eBay doesn't charge anything for the first 250 listings, after which it's $0.35 per listing. After you sell the item, the fee is 15% for items under $2,000 and 9% for items over $2,000.
Mercari
Mercari is the best market to sell second-hand clothes online. Your transaction is safe and protected by Mercari. Download the app and create your account, post pictures of your second product, and post. To sell your clothes on Mercari, follow Mercari selling tips to make money online and learn more about how the platform works.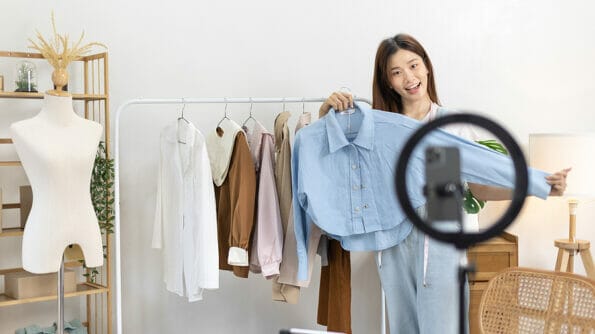 Mercari charges 10% for the sale of every item. They also have a processing fee of $0.30 and 2.9% of the sale.
Poshmark
This mobile app allows you to sell your used clothes, accessories, and shoes. It's free to download and very user-friendly.
Poshmark charges a flat rate of $2.95 for sales of less than $ 15. For sales over $15, it charges 20% of the sale price. The site has millions of users and is easy to navigate.
Poshmark allows you to sell a wide range of brands, and you control them. This makes it the best website for selling second-hand clothes.
Facebook Marketplace
This is great for selling your used clothing due to its ease of use. You can set up shop in just a few minutes and start listing your clothes to people near you.  According to Statista research, the Facebook marketplace recorded over 1 billion users in the first quarter of 2021. Making it one of the popular marketplaces for selling second-hand clothes.
Selling in the Facebook marketplace is free, making it ideal for most users who want to sell their used clothes while reducing costs.
ThredUp
ThredUp is a fast-growing marketplace for second-hand clothing. The company's model is simple. They send you their kit for free, and you fill the clothes and send them back to them, and they will sell them on their website. You get paid when your clothes are sold.
They charge up to 90% on the minimum sales, and the charges reduce with the increase in sales.
Depop
This app allows you to sell second-hand clothes online in an easy way. Create a profile on the app or website and upload pictures of the items you want to sell. This is a great way to get rid of old clothes that you no longer wear or make extra money from them.
It's free to list your items on Depop, and they won't charge for the duration they were listed. Once sold, they charge a fee of 10%, which is fair to sellers.
Is Selling 2nd Hand Clothes Profitable?
Selling second-hand clothes is a great way to make extra money. It's also fun to declutter your wardrobe and get some new items.  
Many people make money selling second-hand clothes online, but a few lose money. It's all about knowing what works for you and understanding how the industry works so that your chances of success increase when you start selling second-hand clothes.
You can buy from thrift stores and charity shops or ask friends and family if they have any unused. There are several people looking for affordable clothes online, so there's no shortage of potential customers for your products.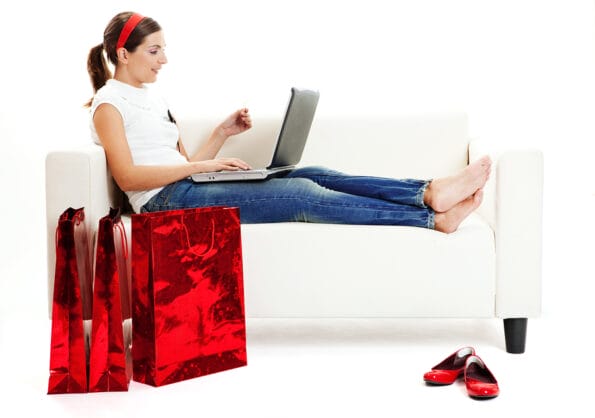 Benefits Of Selling 2nd-Hand Clothes Online
You can earn extra cash and declutter your wardrobe by selling old clothes online.
Here are the benefits of selling second-hand clothes online:
You don't have to spend money on marketing or advertising. You just need to create an account on one of these platforms and start listing your items.
You don't need any inventory upfront. You can start selling once you need to get rid of some old clothes.
You can choose how much and how often you want to sell based on how the time and energy you want to invest in the process.
Selling 2nd hand clothes online opens you up to a wide audience of shoppers; therefore, you should be able to get rid of your old clothes for a fair price. The more information you include with your online clothing listings, the more likely you attract buyers.
Sources
Image Source: BigStockPhoto.com (Licensed)
Related Categories:
Work
,
Reviews
,
Shopping