A Guide on Everything There Is To Know About Wi-Fi Security Lights
Do you have Wi-Fi security light fixtures installed? If not, you need to invest in them, ASAP!
Now, I know you might be wondering; why? Well, we can all agree on one thing – "Safety is important!" It is a critical aspect of our well-being and a necessity for all. And by securing our homes, we ensure the safety of every member of our household as well as any valuable assets we may have.
Anyway, before you go to bed tonight, make sure you ask yourself, "How safe am I? Or is my family, my assets, and my house safe from unwanted intrusion?" As you try to answer that, take note of these facts:
The world keeps changing in terms of technology. This means that most of the security measures that worked a decade ago may no longer be effective today.
Also, burglars, thieves, intruders, and vandals keep learning new and clever tricks on how to bypass traditional security systems. This is why using old light systems puts you and your property at risk.
So, I'll ask again; are you safe?
In this post, I'll walk you through one of the most advanced security lights systems of 2020; it uses Wi-Fi technology to keep your home safe and intruders at bay.
I'll talk about things like:
What is a Wi-Fi Security Light?
How do they work?
How are they beneficial to you?
Their features and functionalities.
As well as, how to find the best ones available.
So, sit back, relax, and enjoy your reading.
What is a Wi-Fi Outdoor Light?
First things first, an outdoor light is any fixture used to illuminate the exterior of a home, business, or even a compound. They are also referred to as security lights. Nowadays, there are a ton of models and technologies available to choose from. And that can be a bit confusing (but, don't fret; I'll walk you through how to find the best ones later on in this post).
However, the wisest thing to do is to go for the most efficient and ideal systems for your home or business. A good example of an effective and burglar-proof security lighting systems is the LED Wi-Fi fixture. I recommend LED (Light Emitting Diode) because it's the best and most efficient light technology on the planet.
These lights often get connected via a Wi-Fi network and can relay information on activities happening outside, around them. That way you can get real-time information on the state of your security at any time. Now, this begs the question; how do these lights work? Read on to find out…
How Do Wi-Fi Motion Sensor Light Fixtures Work?
It's quite simple, actually. These fixtures have Wi-Fi capabilities; meaning that they can send and receive data over a wireless network at home or at work.
Basically, when these sensor lights detect movement, the first thing they'll do is switch on. If you ask me, it's a genius way of warning the intruder that their presence has been detected. Once that happens, the fixture will then activate a silent alarm and start recording video footage (if it has a camera).
The footage or alarm will be transmitted via the network to your server and then to your devices – computer or smartphone. That way you'll be able to see what's actually happening and if there's any reason for you to be worried or need to take action.
So, what does this mean?
Simply put, you'll be able to keep tabs on the safety of your home or business at all times – even when you are miles away (assuming your Wi-Fi network has internet access). Cool feature, right?
Anyway, you might also be wondering; are there any other benefits of Wi-Fi motion sensor light fixtures?
If so, this next part is for you…
Three Key Benefits of Using LED Wi-Fi Security Lighting Systems
1. You'll Have Access To Them At Any Time and From Anywhere
The biggest benefit of using LED Wi-Fi flood light fixtures is access. Regardless of where you are, you can remotely access, activate, and control these fixtures at any time. This makes it ideal for outdoor security and a must-have system for those who travel a lot.
2. Very Easy To Troubleshoot
Being connected to a network means that you'll be able to easily and quickly note if any of your Wi-Fi lights stops working. That way you can fix the issue fast before further damage occurs or intruders learn of the loophole.
3. Very Efficient and Effective
As I mentioned earlier, LED lights are very effective, efficient, cheap to maintain, and easily controllable. And that makes them awesome fixtures to have for your security lighting. The best part about using LED lights is that they switch on instantly, use very little power, yield more light, and have an impressive Color Rendering Index (CRI). This means that your fixture's camera will be able to pick up more details and accurate colors when recording.
Impressive, right?
Anyway, let's look at the features and functionalities you get from these lights, next.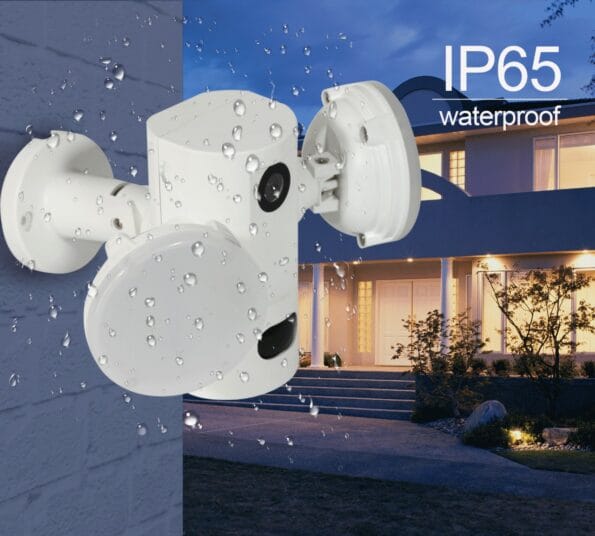 Six Common Features and Functionalities of These Lights
Features and functionalities are important because they determine your overall experience using a light fixture.
So, what do you get from these LED Wi-Fi outdoor flood lights?
1. Network Connectivity
This is, perhaps, the biggest and most important feature of all. Mainly because it allows you to interact with your security lights wirelessly and from wherever you are. This is great since it helps you to keep an eye on your property and even ward off unwanted guests without the need for a physical appearance. We can both agree that it's much safer that way because it keeps you out of harm's way.
2. Motion Sensing
These lights are also triggered by motion. That means that they turn on and start relaying information to you as soon as they sense some movement around your property. It gives you a heads up and enough time to act on the threat. At the very least, you'll know who's trying to break in and whether they are armed.
3. Daylight Sensing
Some of these wireless light fixtures also come with photocells that allow the light to turn on/off depending on the time of day. This makes them ideal for homes that have small kids, elderly persons, or disabled members who aren't able to switch on the lights themselves.
4. Real-Time Intruder Alerts
Another cool feature about Wi-Fi LEDs is that they'll send you alerts on possible threats in real-time. Therefore, you'll get more time to plan and execute your reaction to the threat. It could be time to contact law enforcement or even take your family to safety in case the intruder is armed.
5. Video Recording
The best part about these fixtures is that you can record the burglar and use the footage to help the police in recognizing and locating them. Plus, this feature allows you to see what exactly is happening i.e. is it a credible threat or just your neighbor's dog wandering around your backyard?
6. High Water-Resistance
Lastly, these lights are built to withstand the harsh outdoor weather including heavy rains. They often come with a high IP (Ingress Protection) rating that means it's shielded from damage by dust, moisture, and water.
Now, before I wrap up, let me leave you with a few tips on how to find a good wireless LED light fixture.
How to Find the Best Ones Available
As I mentioned earlier, there are hundreds – if not thousands – of security lights to choose from and that can be confusing. If you've been wondering, "How can I choose a good, quality Wi-Fi sensor light?" the following tips may come in handy.
1. Examine Its Features
You have to make sure you buy a fixture that offers you most – if not all – of the features mentioned above. That way you'll get a better experience using them, hence, more value for your money. Some even come fitted with loudspeakers that you can use to talk to the intruder or ask them to leave your property before taking more drastic steps.
Bottom line: focus more on which features you get and not the price. If you get many features, then a higher price tag will be understandable. A good example of a high-quality wifi motion sensor light is the ShineLong Eye LED Security Light; that's because it comes with all the features above plus more.
2. Find a Good Manufacturer
A product is always as good as the people working behind the scenes to produce it. If the manufacturer doesn't have high standards in terms of quality and user experience, their products won't be any better. Therefore, aim to deal with a company that's committed to giving you the best products and experiences at all times.
3. Always Look for Customer Reviews
Customer reviews will tell you what people think about the product you want to buy. That way you'll be able to paint a clearer picture of what to expect if you buy the product. Also, reviews will give you useful insights on how the manufacturer responds to customer complaints so that you can know how they relate to their clients.
And there you have it – everything you need to know about Wi-Fi security light fixtures. In my honest opinion, these are great fixtures; mainly because they offer unrivaled convenience, reliability, access, and above all, more safety for you, your family, and your property.  What else do you need?
****
About the Author
Nat Huang is the Chief Marketing Officer for ShineLong LED Technology Company, a Chinese manufacturer that specializes in providing LED Triproof lights and commercial lighting solutions to its global customer base through an official website. Follow him on Twitter @imrNat.
Images are provided by shinelongled.com
Related Categories:
Tech
,
Reviews