Seascape New Zealand (Image by Martyn Cook from Pixabay)
Mother Nature crafted New Zealand with the surreal beauty of a movie set. Few destinations around the world boast a sundry of tourist attractions packed wonderfully in a small area as the famed NZ. Fish-rich rivers, fjords, rain forests, coastal glaciers, sparkling coves, and snow-capped peaks are some of New Zealand's wonders of nature that tourists can explore. This is one of the top territories where travelers can witness powerful geothermal forces that birthed landscapes in the bourgeoning mud ponds and hissing springs.
Thanks to its dramatic landscape, New Zealand is a hot spot for road trip junkies. Campervan hire services embody the outdoors of this beautiful country, which is essentially what traveling in New Zealand is all about. Traveling by campervan gives you flexibility and accessibility to secreted gems as nothing else can.  In fact, New Zealand is one of those countries where motorhome rental services are absolutely popular for the convenience of travel. So, here is an essential general guide to a campervan road trip to New Zealand.
What is a campervan road trip?
How does a campervan trip differ from the 'normal' road trip? Well, for novices, you rent a campervan instead of the normal rental car and use it for touring different destinations. Normally, this will cover quite a range of vehicles, from small converted mini-buses that sleeps just a couple of travelers to huge, family-sized vehicles with full-range amenities. Going even deeper, rented campervan vehicles can be budget vans, hi-top mini-vans, 4 x 4, luxury two-berth, six-berth, and even 7+ berth automobiles, among many others.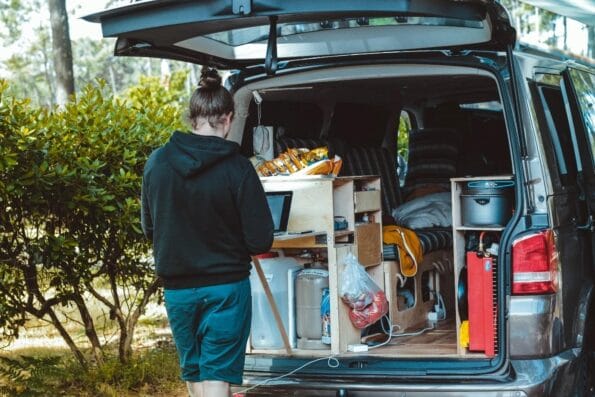 2-Berth Campervan (Image by campingbil from Pixabay)
No matter the vehicle, one thing common about campervan road trips is an unforgettable experience!  One writer once said that "a campervan road trip don't run on gas—it runs on unbridled freedom." It heeds the call of the open road and its amazing possibilities, where every turn, twist, and the junction can lead to new adventures. The main adventure of campervans for hire in New Zealand is that the vehicles must have at least one bed and some sort of a kitchen.
This means that you can stay at a campsite and prepare your own meal, rest when you can, and ensure your itinerary is as flexible as you'd like, meaning you get to save a lot of cash that you'd otherwise spend on hotels or expensive restaurants. Having a campervan as your temporary home also means you can make a rough outline of your travel plans and hit the road!
Choosing a campervan for your NZ road trip
When it comes to hiring caravans or motorhomes in New Zealand, there're a lot of options. However, there are a variety of top-notch reviewers that will help you narrow down the best that suits your budgetary and exploratory needs. Choosing the best caravan rental entails asking yourself a variety of these questions:
Do I need a self-contained vehicle? 
Most of the huge campervans for hire in New Zealand are certified, self-contained, which means they have some sort of 'bedroom,' kitchen, and toilet on-board.  This practically means that you can travel anywhere in the county and take a long stop in places without running water. But, it also means that you're in charge of managing your own waste responsibly. So, if you're planning to stay in established holiday parks or campsites, you probably won't be needing this one. But if not, this type of campervan should be your top choice.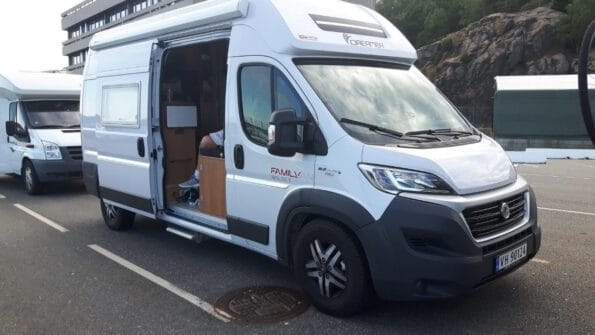 Self-contained Campervan (Image by Brina Blum from Unsplash)
How many people are you traveling with? 
As mentioned previously, the possibility is endless when it comes to campervan variety in New Zealand. The smaller ones can technically accommodate two people comfortably, while the larger ones can accommodate even a family of 7+. Figuring out the number of people you're traveling with should determine the type and size of the motorhome that's right for you.
Of course the price. Compare the price of a variety of campervan companies for hire in New Zealand to find the style and budget that suits your traveling needs. If you want luxury, you'll have to pay a little more; if you want a budget van, there're options for that. But ensure that whatever you are paying, there is a value by considering a variety of different things. Does the company charge extra for such thing as an extra driver, one-way rental, towels, beddings, insurance cover? What about GPS? Compare the prices!
The best time to go on a campervan trip to New Zealand
The period from summer and Dec to Feb represents the high season for travel in New Zealand when it is nice and warm. Kiwis are on vacation, and this is the time of festivals, so campervan travellers should also expect campsites to be crowded and attractions full of tourists. If you decide to travel around these months, it's vital to be organised. In our opinion, the best time to go on a campervan trip to New Zealand is the offseason, autumn, and spring.
These months afford you greater scenery and fewer crowds. Spring is great for trips with a theme, while winters can be perfect for scouring the country by a motorhome. The prices for campervans during these months are also unbeatable; there are far fewer people on the roads and in the camps and holiday parks. However, we suggest getting a camper with independent heaters (either gas or electric), which allows you to spend the night with heating.
You should also keep a sharp eye on the weather maps and pack a warm set of clothes. But, as noted prior, campervans exemplifies what freedom in road trips mean. Your excursions shouldn't be too rigid…that said, the best time for a campervan road trip may as well be right now!
Related Categories:
Reviews
,
Travel