Wallets are one of the most essential things in every adult's life. Iit carries the most important belongings, such as money, bank cards, passports, business cards and so on. Therefore, investing a top quality, long-lasting wallet is a no-brainer. The Harber London offers exactly that – a range of real leather wallets that are not only timeless in their design but also incredibly functional.
What is Harber London?
Harber London is a luxury leather goods brand. In their wide selection of products, Harber London offers bags, sleeves, wallets, other accessories and gifts. The company's ethos is to create products that will help you carry your belongings in a better, more funcional and more fashionable way. Most of their products are adapted to modern living with laptops, phones, bank cards and so on, yet are designed with beautifully classic styles.
As a brand, Harber London values honesty and perfectionism. That is why the company doesn't come out with many products, but the ones they do are made with the finest materials and a touch from the heart.
Types of wallets
There is a variety of Harber London leather wallets to choose from, based on your specific needs and lifestyle. Most of these come in different leather colours as well as with an option of personalisation. The particular wallet designs include:
Bifold Wallets – these are the most common ones that are versatile in their functionality. They have space for everything you may need day to day, such as bank cards, cash or bills, while still maintaining a compact size for carrying around.
Card Holders – specifically designed to carry cards, for those who need them to be very accessible for daily use. Some of these designs can hold over 6 cards, which makes them extra spacious and functional.
Passport Holders – the perfect choice for those who travel a lot and like to do it in a smooth manner. The clever layered pocket design allows not only for a passport but some additional items as well, such as cash in a few different currencies and multiple cards.
Zip Coin Wallets – the elegant and compact design of these allow for an easy carry in the pocket. They have a high capacity coin pouch with some extra functionality for carrying cards and bills.
RFID Protection – Some of the Harber London wallets come with RFID technology for the ultimate protection. RFID stands for radio-frequency identification which essentially uses radio waves to scan information off credit cards, ID licenses and so on. The RFID protection in wallets ensures that your belongings are protected from such an event.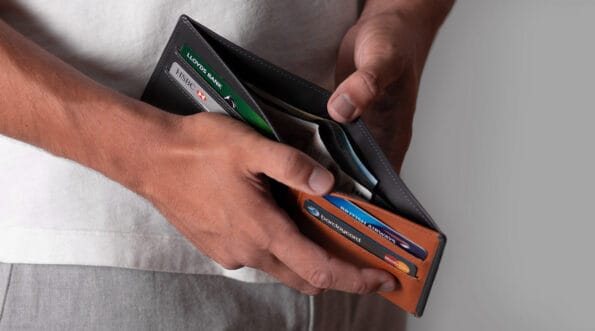 Materials used for the wallets
The Harber London wallets are handcrafted with the top quality materials that are all long-lasting and environmentally certified. Most of the wallets have Full-Grain leather in them, that is considered a premium material. Such leather tends to age beautifully, forming a patina which makes the wallet even more unique and full of character.
Some other materials include cotton twill and soft microfibre that add a soft touch to the wallets, while natural wool felt is an eco-friendly and renewable material for the longevity of the products. All in all, Harber London has put a lot of thought into the materials they use and the way they incorporate traditional craftsmanship with the modern need for functionality.
Related Categories:
Fashion & Gear
,
Reviews